When it comes to high density exotic hardwood decking and siding, the simplest option has always been to let the material weather naturally to a silvery shade of gray. For many architects, contractors and homeowners, this process has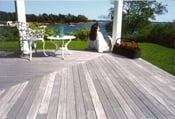 been perfectly acceptable, even desirable, and they have welcomed the outcome. Depending on exposure, the process can take anywhere from 6 months to over a year. The weathered-silvery gray color tone typically highlights the architectural lines of the structure and brings out the striking wood grain patterns and beautiful exotic figuring of the hardwoods. For high density hardwood species such as Ipe, Cumaru, Garapa and Machiche the aging process actually enhances the beauty of these hardwoods.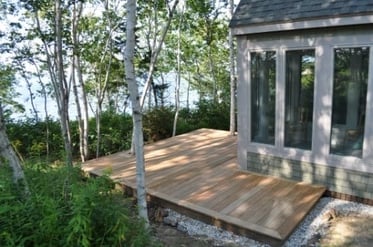 Along with their incredible hardness, it is the high density properties of these hardwood cladding and decking species that give them outstanding performance qualities and a wide range of product benefits. Ipe is so resistant to decay and insects that it has become the benchmark material for all exterior hardwoods. Ipe wood siding has a hardness of 3,680 lbs (more than triple the toughness of red oak). It's also why Ipe hardwood has such amazing resistance to scratching or gouging. But, beauty is in the eye of the beholder! There are many other wood siding buyers who prefer to have an exterior finish applied in the color tone of their choice and have it preserved for a 2 to 3 year period of time.
Up until now, most finishes could not penetrate these high-density hardwood decking and wood siding species effectively.
However, research has been under way for the past several years to uncover the best means to finish the surface of high density hardwood cladding and decking. Along came nano technology and we now have better finish options for high density hardwood decking and siding material than ever before. While this process is still in its early years, manufacturers have already had some very successful results. We have found that these new coating products provide the finish results many wood siding buyers are seeking. In one recent rain screen application, we had a client who wanted a fairly uniform shade of gray and did not to wait the six to twelve months for the wood cladding to turn a silvery gray. So, a 'Cape-Cod Gray' finish was selected for this Ipe wood rain screen and applied in two coats, "wet-on-wet" for the desired effect.

For another customer, they want to enhance the warm brown color tone found with the species Santa Maria for their rain screen cladding design. Here again, the method would be a "wet-on-wet" coat of Vermont Natural Coatings Acorn Brown. In this case, Santa-Maria, a medium-high density hardwood is an excellent choice for their rainscreen cladding material. This species is our "stainable, sustainable" favorite for rain screen siding. Santa Maria is a sustainable, medium, high density hardwood cladding material that can be stained to a full range of color options. These product features now give the design and construction communities the ability to work with a wide color palette to complement any rain screen design.

Please visit our website or follow any of the links below to learn more about designing with rain screen systems and beautiful rain screen cladding options:
Rain Screen Wood Cladding Options
Architectural Rain Screen Details
REQUEST A FREE RAIN SCREEN QUOTE