Ipe Hardwood Decking and Lumber Project in Canton, MA
Written by Carolyn Crook on
"The site of the former Canton Airport is now being converted into a park by the Massachusetts Department of Conservation and Recreation for use by all. As a historical footnote, Charles Lindbergh once landed at this site."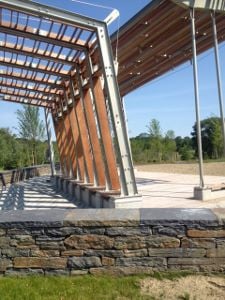 When the landscape architects were planning the design for the brand new "1st Lt. Arthur E. Farnham, Jr. and Sgt. Thomas M. Connolly, Jr Memorial State Park Blue Hills Reservation" in Canton, Massachusetts, Ipe hardwood was selected for the lumber and decking components. A collaboration of the architectural firm of Touloukian Touloukian, Inc., landscape architects Crosby Schlessinger Smallridge LLC and the contracting firm of CRC Company Inc. teamed up to help bring this project to fruition for the Massachusetts Department of Conservation and Recreation. This little used and abandoned former air field is being transformed into a lovely state park for the benefit and betterment of the entire region.

When we first met the landscape architect in the very early stages of this project, our goal was to simply introduce them to our products and service offerings and see if there might be a fit between our companies on this project. At the meeting, we were asked us to review some drawings. We immediately noticed that FSC® (Forest Stewardship Council) certified Ipe hardwood was specified for this project. Because we are an FSC certified chain of custody supplier, we were excited about the opportunity to possibly supply FSC certified Ipe for this project.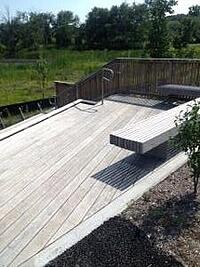 Upon further discussion about the project, we learned that this was a publicly funded project and the project budget was very limited. After pricing up the FSC certified Ipe materials, there was a major design challenge. The FSC certified Ipe hardwood did not meet the project's budget requirements. We then asked if FSC had been selected because this was going to be a LEED project and learned that was not the case. The architects did not want to reduce the scope of this project and had a dilemma. At that point we explained that if sustainably harvested material was their number one concern, we could offer a more cost-effective alternate to FSC. We explained that they had another option. Although the Forest Stewardship Council (FSC) is an excellent organization, it is not the only method of providing sustainably harvested materials for this project.
Because meeting the budget was crucial to the success of this project and the FSC materials did not meet this important criteria, we shared the fact that Mataverde Premium Ipe hardwood was also available in another sustainably harvested yet lower cost alternative to provide the Ipe hardwood for this project and still remain on time and on budget with a full scope of d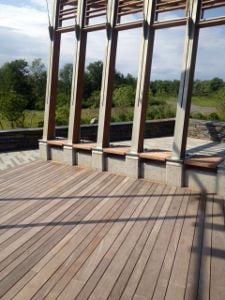 esign. With their hope of a full project design restored, the architectural team exercised extreme diligence in assuring that the alternate certification Ipe hardwoods for this project were in fact, sustainably harvested materials. The IBAMA SEMA registration, paperwork and documentation, combined with the Lacey Act compliance documentation were proof of the fact that the alternate Ipe hardwood for this project was truly sustainably harvested following all the environmental laws, rules, regulations and protocols in both Brazil and the United States.
Why was the design team intent on using sustainably harvested Ipe hardwood for this project design? Another critical design requirement was the natural beauty and durability of exterior hardwoods being selected for many of the structures on the grounds. The past success and experience of the architect and landscape architect were well-informed that Ipe is an extremely durable, fire resistant high-density hardwood. They wanted to use a species that would prove to be a long-term investment for this community park. Not only was the initial cost of the Ipe hardwood a big help in meeting the project budget, the cost of the materials over the anticipated lifetime of the project actually makes Ipe hardwood the lowest cost material overall. Life cycle cost analysis of Ipe and other high density hardwoods have determined that many of these remarkably durable hardwoods are actually the lowest cost materials over the long run.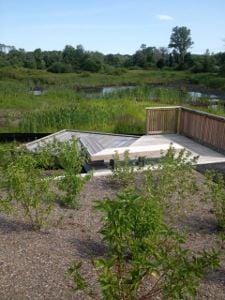 As this site was formerly the Canton Airport and had also been used as an industrial site in its past, remediating contaminants and restoring the natural habitat were key priorities of the Massachusetts DCR. Rob Lowell, environmental section chief for the DCR was quoted as saying, "There was no vegetation here. It looked like a moonscape." The site was marked in state plans as an area of critical environmental concern. Extensive plantings to stabilize and restore the area are now in place around the various structures on the grounds. "There is a huge palette of native plants."
According to an article on wickedlocal.com, Ruth Helfeld, Landscape Architecture Head for DCR, said the plantings have two goals; one is for slope stabilization of the capped area, and the second is for habitat restoration. A listing of 80 types and more than 30 varieties of native plants and trees are dispersed throughout the area, including ferns, dogwoods, willow, oak, cedar, spruce, and elm and birch trees. Ground cover and shrub berries include blueberries, cranberry, chokeberry, bayberry, inkberry and winterberry and will soon grow side-by-side with colorful marigolds, asters, coneflowers and verbena.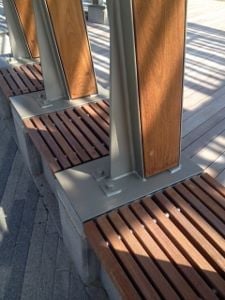 The Ipe decks, benches, pergolas and other structures help tie the entire landscape design together. Long lasting and all natural Ipe hardwood fit into the DCR's restoration plans perfectly. Two Ipe decks now overlook the wetland areas, providing visitors with a birds-eye view of the natural habitat. Many thanks to all those involved for taking a heavily contaminated abandoned site and helping to convert it to a beautiful park.
Please visit our website to learn more about sustainable harvesting of high density hardwoods, Ipe decking, other hardwood decking options and more:
Sustainable Harvesting Options
Other Hardwood Decking Materials
REQUEST A QUOTE FOR SUSTAINABLE HARDWOOD DECKING
For a wealth of helpful information about sustainably harvested decking and other decking options, please feel free to download our widely acclaimed white paper, "The Ultimate Guide to Building Green with Sustainable Decking". Download your FREE Decking Guide today.
Comments
Related Posts