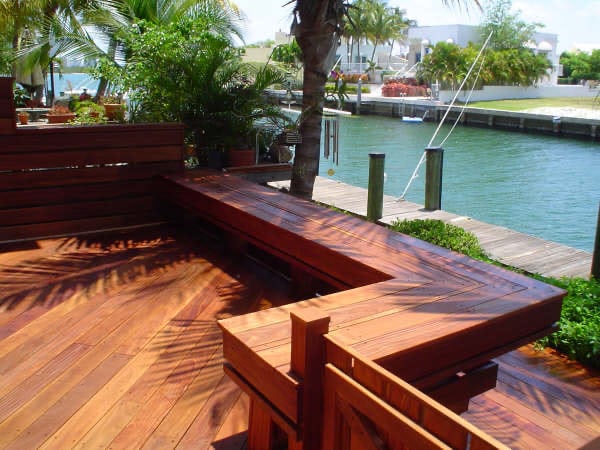 Mataverde premium hardwood decking is extremely durable and creates a beautiful focal point for any outdoor space. Learning how to properly care for your 100% natural hardwood decking will keep it looking new and extend its lifespan for decades of your enjoyment.
Low Maintenance Option Many people prefer the look of naturally weathered wood. To achieve this low maintenance finish apply one coat of Penofin oil sealer annually to allow initially to allow the decking to acclimate properly on your site. This "first coat" is similar to putting on sunscreen before going to the beach the beach - it helps protect the wood from getting a "sunburn". This protective coat will help your decking adjust to its new home while minimizing potential UV damage. After the initial coat, you can allow your decking to adjust naturally to a weathered silvery gray appearance. Environmental conditions and changing seasons will naturally facilitate the alterations which create that weathered patina.

Other Finishes Seal Once tinted finishes are a great option for high density hardwood decking and will allow you to customize the wood color to meet your individual preference. These finishes will darken and enhance wood tones while providing protection from mold, mildew, and UV rays. Some contain a waterproofing agent as well. For best results, a new coat is recommended annually to keep color vibrant.

Cleaning Procedures It couldn't be any easier to clean Mataverde hardwood decking. Simply mix mild dish soap with warm water to remove dirt,as needed. Elbow grease is usually all that's required but a pressure washer cuts time, if desired. To kill mild spores, it's advised to use a product containing Sodium Percarbonate. Some people prefer to apply an acidic deck brightener to balance the wood's pH as well.
For more tips on cleaning and maintaining your deck, ipe hardwood decking and best decking materials visit MataverdeDecking.com. Photos of completed decking projects and tips on selecting the right decking material may also be useful:
Request a Complimentary Decking Quote
Top 10 Reasons to Pre-Finish Hardwood Decking