PROVIDENCE, R.I. – The new Ruane Friar Development Center was recently completed at Providence College. This 70,000 square foot facility serves as the home for the Friar's men's basketball program, including an athletic training center, Hall of Fame, offices, two practice courts and many other amenities. The outside of the building features sustainable cladding, including Ipe hardwood rain screen siding. It looks fantastic, check it out.

Opening ceremony at new Ruane Friar Development Center at Providence College
Ipe hardwood siding adds the warmth and natural beauty of real wood for this building. The design team at Perkins Eastman chose Ipe hardwood because of its great natural looks. Also, for its sustainability, superior strength and long-lasting durability. Because natural wood siding is so popular throughout the New England coast, the warm look of real wood siding made great design sense for this project. The use of real wood compliments the sleek look of the metal and glass on the rest of the building facade.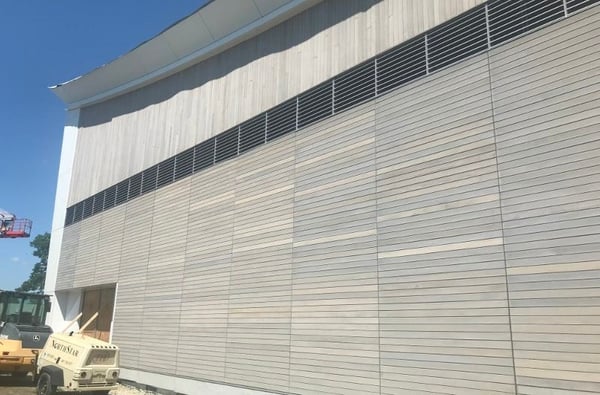 Wood rain screen horizontal modules and vertical installation under construction at Providence College
Another design challenge was to create a high performance building. This includes the building envelope and facade. The Climate-Shield System is a high performance rain screen system that met all the wind load requirements for the design team.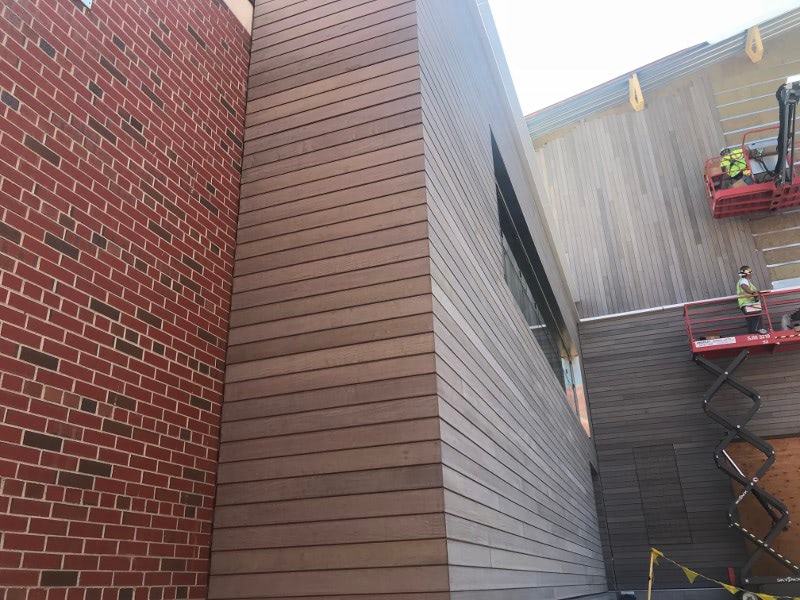 Natural appeal of Ipe hardwood siding complements the cooler look of brick
To achieve the silvery appeal of weathered wood immediately, the design team took it several steps further. They sorted the wood siding by color and grain pattern for each facade. Then they chose a sealer with a semi-transparent Cape Cod Gray tint to instantly create a rich weathered patina look. Because the tint is semi-transparent, the warm look of the real wood beneath, peeks out. The sealer also provides UV protection which helps the wood siding acclimate and season on the building. Over time, the wood will age to a silvery patina on its own or re-sealed and maintained as desired.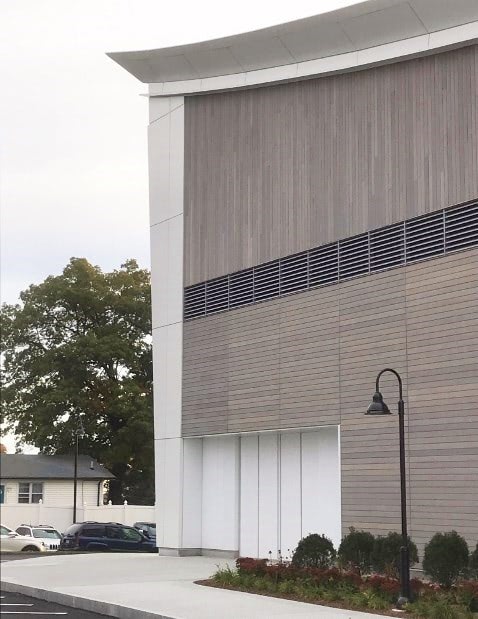 The Ipe siding was designed and installed in horizontal modules with vertical siding featured above
The Ipe rainscreen siding runs horizontally on much of the first floor, in modular lengths, with a vertical accent. This creates a nice linear effect horizontally, and also vertically, at the ends of each module. The Ipe siding runs vertically on much of the second story. This creates a striking visual effect which accentuates the height of the building.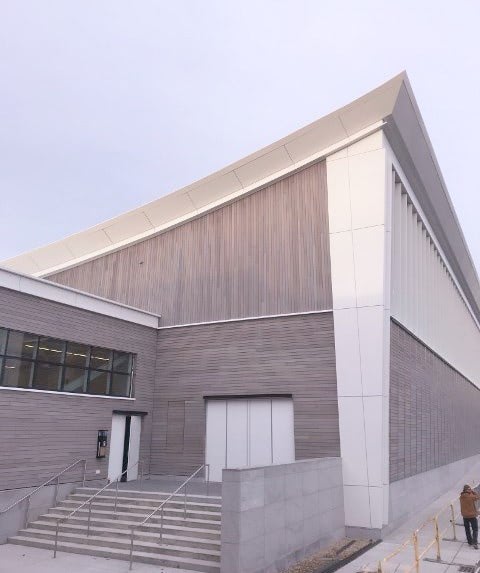 Much of the rain screen design utilizes Climate-Shield marine grade aluminum Z-girts. The use of z-girts allowed the design team to provide exterior insulation. Architects employ this sustainable design practice more frequently than ever. It helps keep the heating and cooling costs down, saving energy and money. Go Friars!
We hope you enjoyed this article. Please visit MataverdeDecking.com for additional information about rain screen design, Wood siding options, rain screen project galleries and lots more.