Rated as the top place to visit when you're in Connecticut, the Mystic Seaport is a memorable experience for people of all ages. This slice of American maritime history offers spectacular views and amenities. They recently constructed a new building to showcase many of their additional exhibits. The design team chose FSC Certified hardwood decking for all the porches and decks that wrap around this beautiful structure.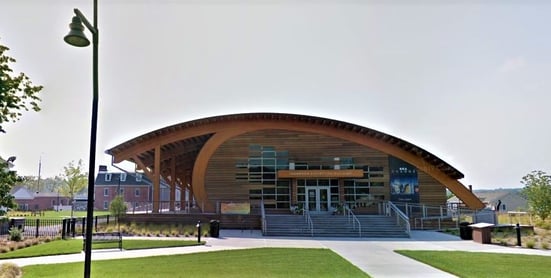 The Mystic Seaport features a museum, art, artifacts, a village, a working shipyard, boats, whaling ship and so much more. ​ At first glance, the Thompson Exhibition Building at the Mystic Seaport Museum may seem a little too modern for its surroundings. But when you look more closely, this award-winning design masterful classic woodworking, is shaped like a wooden boat hull.
​And the specified building materials have been in maritime use for centuries. The mahogany decking is a great example. Genuine mahogany wood from the Caribbean remains a sought-after hardwood species for interior and exterior use. The team at Centerbrook Architects did a masterful job with the planning and design of this 14,000 square foot building.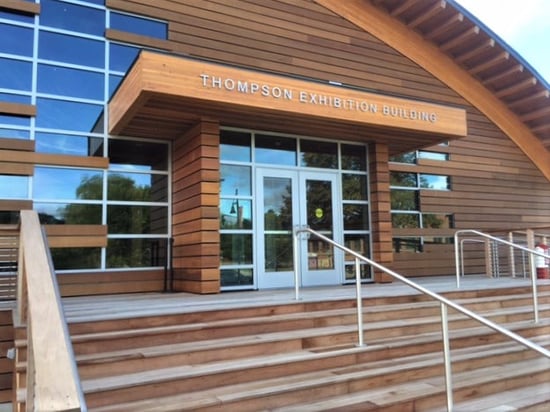 Given the amount of foot traffic the decks here receive yearly, we were surprised the design team specified a softer hardwood like mahogany. Ipe hardwood decking is in use on many other buildings at the Seaport and lasts beautifully for years. When we saw the full design vision, though, we realized why mahogany decking is such a great fit for this design. Mahogany has natural beauty, is durable and blends into the nautical theme wonderfully.
For better stability in a low clearance deck design, 1 x 4 nominal decking works very well. Narrower deck boards allow more air flow from beneath the deck. This allows the deck to ventilate and 'breathe' better. Using narrower deck boards also means more fasteners are required. Which is great, because now there is more fastening power per board.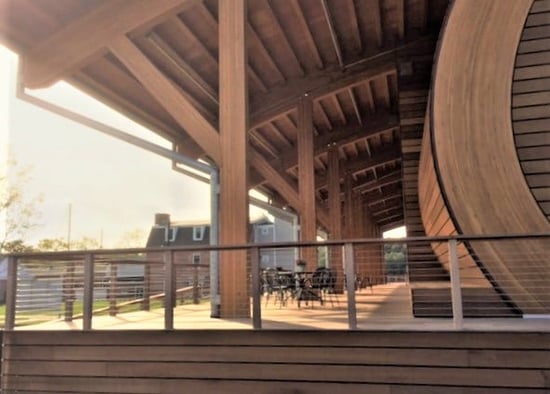 Face screwing wood deck boards into the deck joists is the best (and strongest) way to build a deck. It helps stabilize the deck frame and helps control the movement of the individual deck boards. This applies to all decks, but is especially true for high traffic, commercial deck construction. And face screws also work best for low clearance decks. The construction team installed all the decking with stainless steel deck screws for best performance. Well done.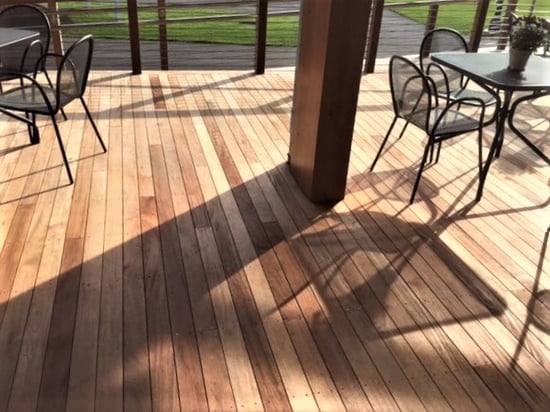 ​Featured in a number of prestigious design journals, including Architect Magazine, the Thompson Exhibition Building is a truly inspired work. ​This impressive structure has already won 4 design awards. The first one from the American Institute of Architects for design innovation. Another national award came from Woodworks – Wood Products Council​, for excellence in wood design.
FSC (Forest Stewardship Council®) certified mahogany decking covers all the exterior porches, decks and stairs. The use of sustainably harvested wood products garnered interest from the green building communities, too. This project received yet another award, this time the "Institutional Award of Merit" from the CT Green Building Council.
Congratulations to the amazing team of architects, engineers, artisans, carpenters and master craftsmen. Bringing this award winning project from an inspiration to reality is quite an achievement. Visit the Mystic Seaport yourself or bring your family. It's open year-round and is well worth the trip. Enjoy.