Boston, MA – This year's Architecture Boston Expo was very well attended. The traffic was heavy, and the interest level was high. The show was hopping. And Trespa Pura's new Tropical Ipe wood décor was the star of the show. Architects loved it. This new siding decor has the great looks you would expect from genuine Ipe hardwood, without the need to refinish it. Ever.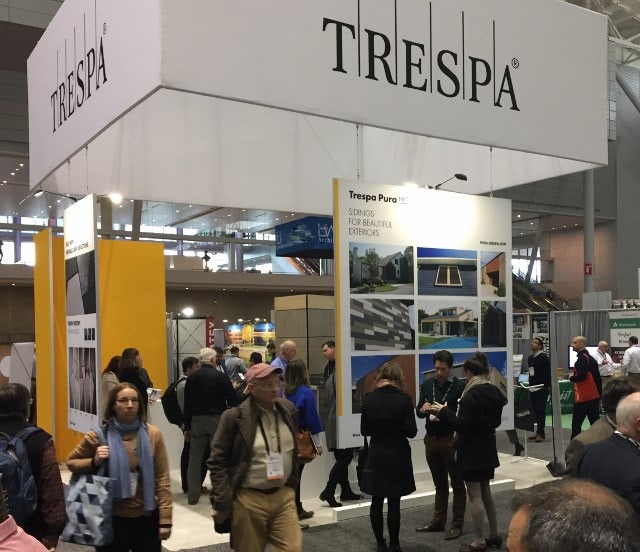 New Trespa Pura 'Tropical Ipe' wood decor siding make a big impression at ABX Boston
Trespa Pura architectural claddings are budget friendly for designers, builders and owners. Their high performance and great looks, combined with the low maintenance aspect, make these siding solutions a great option to consider for exterior facades. The upfront cost of this premium siding is affordable. The installation costs are right in line with other premium rain screen claddings. And best of all, because maintenance is so low, the long-term costs are exceptionally low.

From a design perspective, Trespa has earned the trust of architects and designers world-wide for over fifty years. The Trespa Pura cladding line adds another brush to the designer's palette. Eight different wood decors are readily available. Designers are free to use different decors, either together or alone. Trespa Pura also works great as an accent and focal point when combined with other claddings. In mixed-material facades, Trespa works well together with stone, stucco, masonry, metal and wood.
When we first saw it, we fell in love with the new Trespa Pura Ipe wood décor. What a great idea, we thought. The architects we met at the show totally agree. Trespa Pura offers the exotic tropical hardwood allure of real Ipe wood, but with a low maintenance finish that lasts. Trespa Pura siding keeps its original color throughout its usable lifetime. Trespa Tropical Ipe decor takes the best graining and color variations you would normally see in real Ipe, but without too much variance.
Other Trespa wood decor siding options offer similar great looks and value. Imagine this. Close your eyes and think about what a beautiful piece of your favorite real wood siding would look like, if it were perfect. You might just see Trespa. Check it out for yourself, order a few samples today.
We hope you enjoyed this article. Please visit MataverdeDecking.com for additional information about Trespa Pura color options, cladding design options, browse Trespa project photos and lots more.