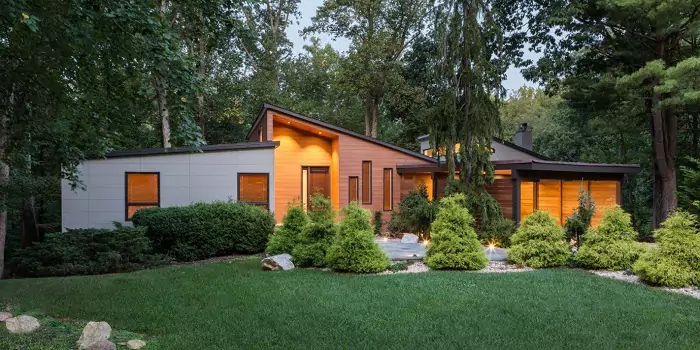 Pura NFC Siding - What Can It Do For Your Home?
Written by
Liza Sivek
on
Discerning home owners want an exterior with beauty that's more than skin deep. Pura NFC Siding provides superior protection against moisture, insects, and other elements. Pura siding colors look like real wood and stay vibrant for decades. If that is important to you, (and we think it is). learn more about what Pura siding can do for your home.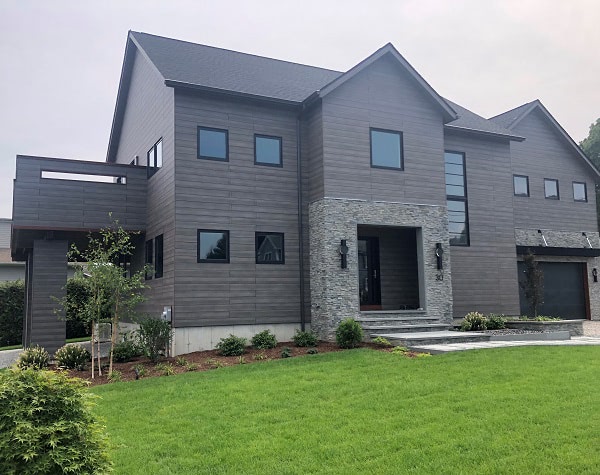 New construction custom home on the Rhode Island shoreline using Pura Mystic Cedar wood décor for an instant, consistent, weathered gray look.
Why should I use Pura NFC Siding?
Pura NFC Siding by Trespa is an electron beam cured HPL Laminate, incredibly fade and damage resistant.

Pura siding has amazingly minimal maintenance needs, just a soap and water cleaning as needed.

Pura siding will last for decades, protecting your home without losing its good looks or vibrant color.

Pura siding offers eight realistic wood décor colors for the warm look of wood with a uniform color.



RELATED:

Trespa Pura Sidings, Soffits and Other Smart Design Ideas
---
For more details and photos of real world siding projects,
download a FREE Trespa Pura Residential Project Portfolio

---
How is Pura NFC Siding made?
Pura NFC Siding by Trespa is a HPL Laminate, a high quality and extremely resilient material. With HPL Laminate, will get a rustic natural wood aesthetic, engineered to last.
Starting with a natural-fiber core encased within a sealed surface, Pura is made to lock dirt and weather out, and lock vivid color and texture in. Pura HPL Laminate siding is finished with proprietary Electron Beam Curing. What does this mean for you?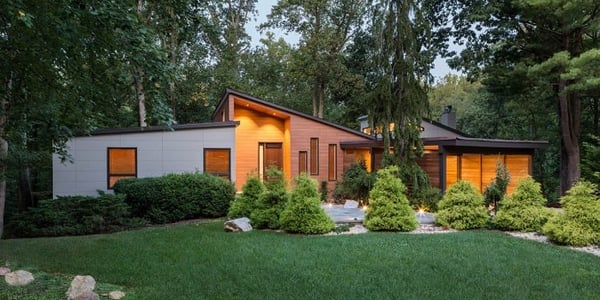 Pura siding in Romantic Walnut wood décor was chosen for this contemporary home remodel.
Pura will resist dirt build up; be highly UV resistant; and extremely strong and flexible. Cleaning is as simple as a little soap and water. There is no need for repainting or replacement from everyday wear and tear, or most extreme weather situations.
This is no empty boast about bending strength - check out this video an architect sent us showing how strong and flexible Pura is under stress! We think it's a pretty impressive example.
---
"Pura NFC is a versatile solution for most siding projects and gives maximum design freedom with a long lasting, beautiful finish. The sidings can be installed either vertically or horizontally. They can be easily handled and are simple to cut. Pura NFC is the perfect answer for both innovative and traditional projects."
– MataverdeDecking.com Trespa Pura Siding Installation Page
---

---
What benefits will I get using Pura NFC Siding? (And how long will they last?)
Vinyl and fiber cement siding may last for several years, but will they keep their looks over a useful lifetime? Maybe. These siding choices do not have high fade resistance or stand up to damage as well as Pura.
It's easy to see why homeowners love Pura NFC Siding. Not only do they save money by not having to replace siding in a short time, they also enjoy the added benefit of a longer lasting product. Pura siding keeps it's looks longer than other claddings, by design. Such as:
Pura siding exteriors keeps its vibrant, just installed, color for the life of the siding.

Pura siding is made to combat UV rays and heat, to resist fading and warping of your siding material.

Pura siding will not easily dents, scratch, puncture or split from everyday wear and tear, including extreme weather.





Rubbing tree limbs, errant soccer balls, and flying storm debris are a much lower threat than to Pura NFC siding than fiber cement siding or vinyl siding materials.

The high bending strength of Pura means no worries about splits, cracks, or bending in high velocity winds.
Even better, all these high-quality benefits are tested and proven by the Trespa International labs to ensure it performs as promised.
RELATED: Watch short videos showing Trespa Pura quality testing
---
---
How do you install Pura NFC Siding?
To install Pura NFC Siding, you can choose a traditional or rainscreen installation method. The complete Pura NFC solution means installation doesn't have to drag on.
Your siding contractor can put Pura siding up faster than other manufactured sidings. You can start enjoying your new and more beautiful curb appeal! Maybe throw a picnic for your neighbors, who will want to know how you created such a good looking exterior!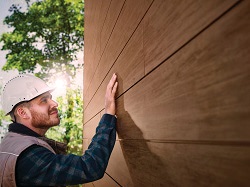 You, and your contractor, will be pleased with the ease and speed Pura NFC siding can be installed.
Traditional Rainscreen Installation method for Pura NFC Siding
The traditional Pura Siding installation method uses wood furring strips with the Pura flush siding profile to create the rainscreen gap. A siding "rainscreen gap" is what allows moisture to escape from behind your siding, and not all rainscreen gaps are the same.
Because traditional siding installation can create pockets in the furring strip sections, where moisture can get trapped, hardwood furring strips are recommended. Hardwood furring strips are have stronger resistance to mold and rot from moisture than pine and softwoods.
RELATED: Learn more about Trespa Pura NFC flush installation method with furring strips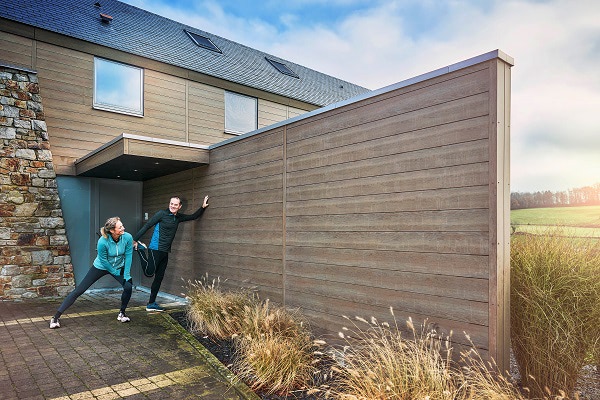 ---
Ready for more? Download the free
Trespa Pura Residential Project Portfolio and get inspired.
---
Climate-Shield Rainscreen Installation method for Pura NFC Siding
The Climate-Shield Rainscreen System is made with an aluminum profile, so no wood furring strips behind your exterior. The rainscreen system allows your Pura siding to "breathe" and moisture to escape.
Why is this important? It allows moisture to go through and out the siding easily, by easy draining or evaporation. No furring strips means there are no trapped pockets of moisture and no wood to for mold and rot to attack. This makes for a healthier, lower maintenance home exterior.
RELATED: View the Trespa Pura Siding Project Picture Gallery
A gorgeous exterior design combining stone and rainscreen siding using Pura Slate Ebony wood décor
RELATED: Learn more about Trespa Pura NFC siding with the Climate-Shield rainscreen
Now that you know more about Pura siding, are you ready to consider it for your home? Do you have more questions? Are you curious about pricing? Feel free to contact our team, with no obligation, for more information.
Related Posts