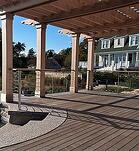 Durable, dense and rich in color and graining, hardwood deck boards are an excellent material choice for any outdoor space. And while you can't go wrong with any of Mataverde's premium decking species, some may be better suited to your project's specifications than others. In this article, we'll examine three of the most popular types of premium decking products to help you determine if one is the perfect fit for your project. All three featured species come with a 25-year limited warranty.

Ipe Decking: Sometimes called "ironwood" or "Brazilian Walnut", Ipe decking is one of the longest lasting, most durable hardwoods in the world. Its spectacular graining and warm colors are preserved with very minimal effort or it can be left to weather naturally to a silvery gray hue. Naturally resistant to rot, insects and fire, Ipe is the toughest wood decking material available.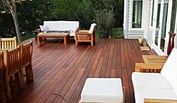 Machiche Decking: Available FSC-certified, Machiche is a sustainably harvested wood decking product that is also sturdy and long-lasting. Machiche's natural reddish brown color tones will darken slightly over time. To preserve your Machiche deck's warm brown tones, coat annually with Penofin, a rosewood oil-based sealant. If you like the silvery weathered look,simply finish once with Penofin once and then let it go.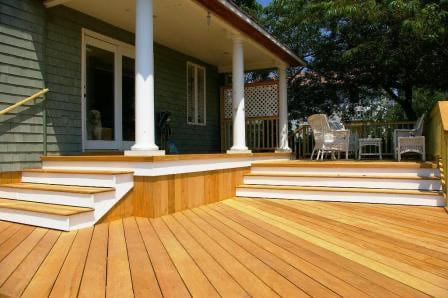 Garapa Decking: If you are looking for a hardwood decking that is durable and affordable, Garapa is a great choice. Garapa's golden tones and ribbon-like moire appearance are similar to oak, however it is 20% denser in comparison. Preserve Garapa's unique amber tones with an annual coat of Penofin or go for the silvery look. Very minimal effort is required either way.
All three Mataverde wood decking species offer a 25-year limited warranty and deliver a beautiful and durable deck. To help determine which hardwood is right for you, calculate your project's decking material allowance and think about the amount of traffic and exposure to natural elements your new deck will endure. We've offered some additional resources below and we're pleased to assist you anytime.
---
If you would like more information about Garapa Decking, Ipe Decking, Machiche Decking and comparing decking products, please visit MataverdeDecking.com.
Compare Various Decking Materials
Discover the Five Best Ways to Choose Decking Materials
If you are not sure what to choose for your decking, the widely acclaimed booklet, "The Ultimate Guide to Selecting the Right Decking Material" has been a help and inspiration for many. Download this FREE Decking Guide today.