Trespa siding looks great when used with other claddings. These new luxury homes in Hayvenhurst neighborhood in Encino, CA all sport a different Trespa Pura wood décor cladding. And they look great with the stucco and brick on the rest of the homes. Nothing says "welcome to the neighborhood" like Trespa sidings.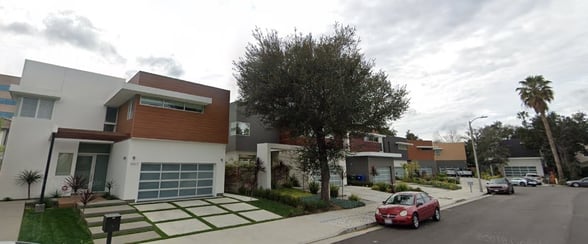 Trespa Pura sidings...all in a row, brightens up the whole neighborhood
These new homes show off the beauty of Trespa Pura wood decors. These decors offer the great look of natural wood, but require no finishing, painting or staining. And they are ridiculously easy to clean and maintain. Slate Ebony wood décor has the darker rich deep grey tones. Trespa Romantic Walnut wood décor offers the rich look of cedar siding, without the refinishing. Trespa's Classic Oak has a light refreshing appeal.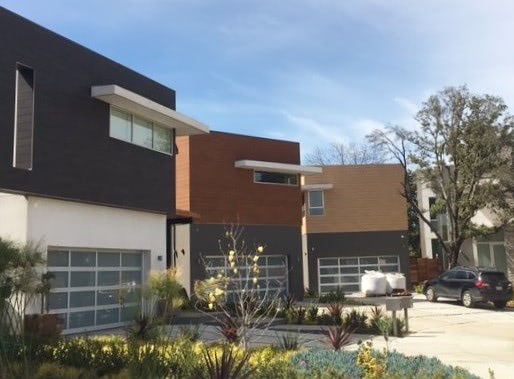 Trespa Pura siding wood decors, L to R, Slate Ebony, Romantic Walnut, Classic Oak
And Trespa's newest wood décor siding, Tropical Ipe, has the rich beauty of real Ipe hardwood, with a no-fuss finish, and at a lower cost. And just look at how well the Trespa Pura sidings play with the other sidings. Stucco and some brick were chosen to use alongside the Trespa Pura on each of these new luxurious homes.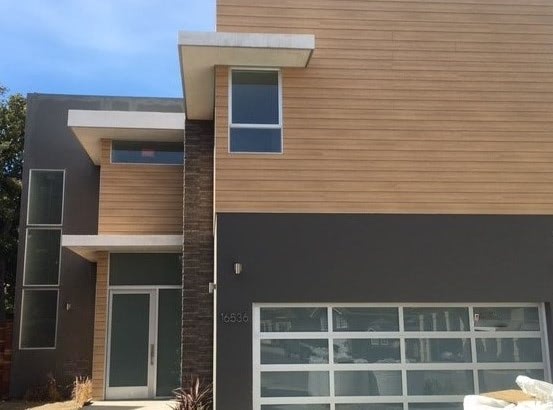 Trespa Pura Classic Oak wood decor siding looks light and airy
Check out how nicely the lighter color of Trespa Pura Classic Oak wood decor works with the darker brick accent and stucco walls. The light oak tones really brighten up the whole front of the home.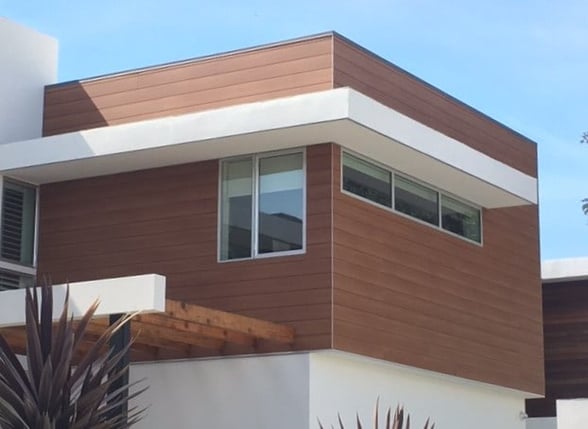 Trespa Pura Romantic Walnut wood decor siding complements stucco
Look at how well the rich tones of Trespa Pura Romantic Walnut work with the lighter color of the stucco. The Trespa wood decors create a beautiful focal point for the front of this lovely home.
Looking for design ideas for your home? Download the Trespa Pura Residential Project Portfolio today. Go ahead - get inspired!
We hope you enjoyed this article. Looking for more info? Please check out Trespa Pura siding colors, Trespa design details, Trespa Pura installation, photo galleries and more.