Once upon a time, there was an abandoned shell of a building in Washington, DC. Local residents thought it was an eyesore. It looked like a scene from a horror movie. The developer razed the old structure and built beautiful new apartments in its place. They selected Trespa Pura NFC sidings to create a whole new look. Check it out.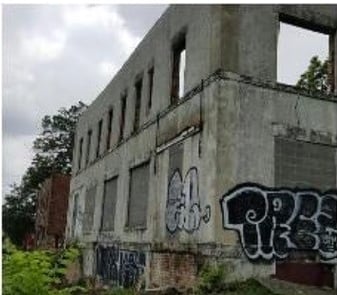 Before picture: abandoned building property in Washington, DC
The Jocelyn Group has earned a solid reputation as a developer in the heart of the nation's capital. Their formula is simple. Buy old properties and create beautiful new apartment buildings. When construction started at 1515 Rhode Island Avenue, the neighbors were ecstatic. The completed building is beautiful.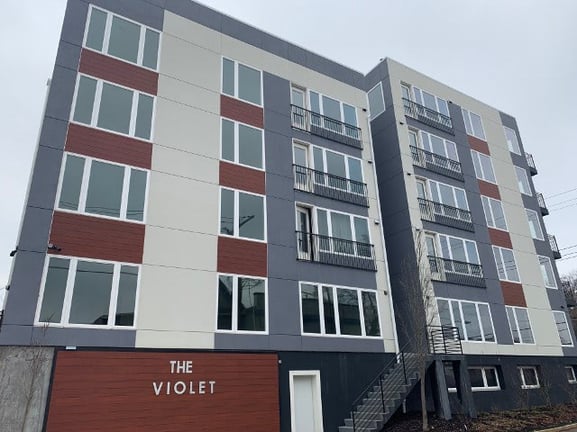 After picture: completed apartment building on the same lot in DC
The exterior façade uses a combination of stucco and Trespa Pura sidings. The warm look of the Trespa Pura wood décor siding complements the cooler earth tones of the stucco nicely. Trespa is available in several 'Uni Color decors' and eight wood decors. Check out Trespa Pura siding color options here.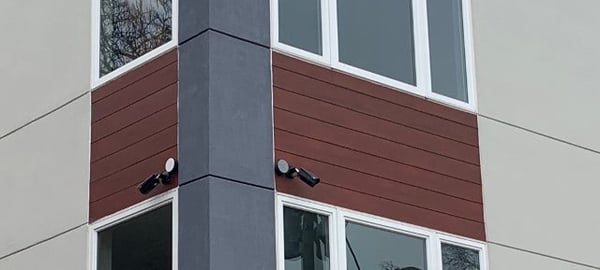 Closeup of Trespa Pura Royal Mahogany cladding with the two colors of stucco
Originally, the design team was considering real wood siding. They wanted the look of real wood, but not the maintenance. So, Trespa wood décor siding was the perfect fit for their needs. The developer selected Trespa's Royal Mahogany décor because it looks awesome on this project. And you can, too.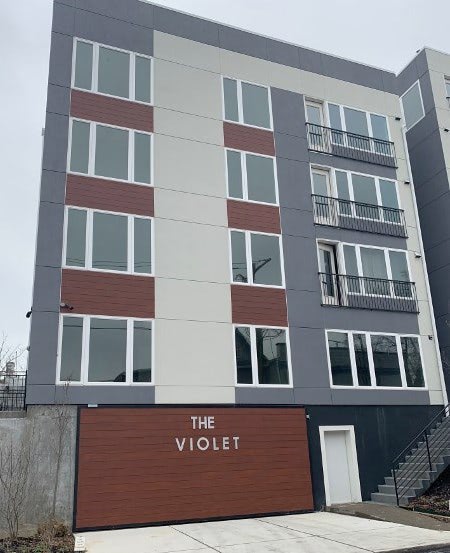 Trespa Pura royal mahogany wood decor looks great with the stucco colors
Whether you are cladding your home, an addition or a building, consider Trespa Pura siding as an option. It offers the great look of natural wood siding, without all the maintenance. And they lived happily ever after.
We hope you enjoyed this article. Please visit MataverdeDecking.com for lots of information about Trespa Pura siding colors, installation, design options, project photos and more.