Trespa Pura is a unique cladding material. Their wood decors collection offers eight great siding colors. Trespa is very low maintenance and high-performance siding. Are you considering a new cladding for your home or business? Trespa works great for both residential and light commercial projects. Check out all the decors in the new Trespa Pura project portfolios today.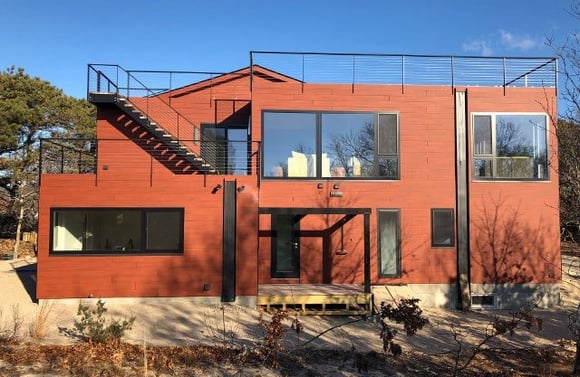 Trespa Pura siding, Royal Mahogany wood decor on new home
Trespa Pura Siding Shines on Homes and Residential Structures
For residential projects, builders, designers and homeowners can select their favorite decors. Trespa looks like real wood but doesn't require the usual maintenance of natural wood. No painting, staining or re-finishing is required. If a beautiful and high performing, low maintenance siding is on your radar, read on. Check out Trespa color options here. Or browse through the Trespa photo gallery here.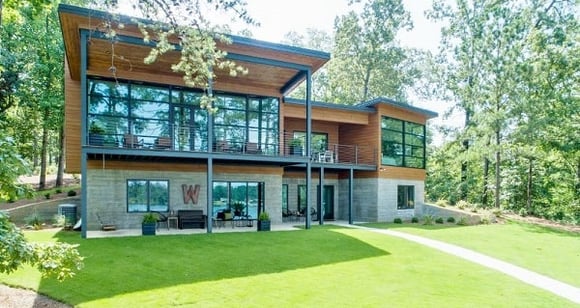 Trespa Pura siding, wood decor on home in the Southeast
If you'd like to share something more substantial with your partner, spouse, friends or clients, download the Trespa Pura Residential Project Portfolio today. The new Trespa project portfolios give you a better idea of what the materials look like than a picture. If you like specific decors or colors, feel free to order Trespa Pura samples. Add curb appeal, beauty and value to the outside of your home.
---
Trespa Pura Looks Great on Light Commercial Buildings
For light commercial projects, Trespa Pura is a terrific cladding option to consider. The same warm and beautiful Trespa decors that look so lovely on a home, will look great on this type of project, too. And the same low maintenance aspect of Trespa sidings is perhaps even more important here. On a light commercial project, refinishing, repainting or restoring siding usually costs a lot. But Trespa Pura doesn't need any of these things. Trespa test their decors to withstand more than ten years in Florida sun - without fading.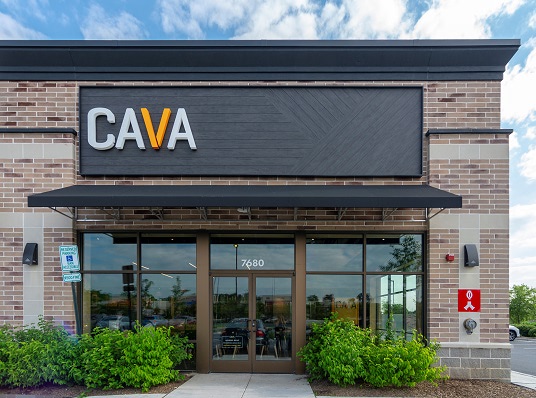 Trespa Pura siding, Slate Ebony wood decor used as accent on restaurant
When trying to determine what the best cladding option is for your business, best to consider all the important things first. Do a little homework. How do the various products look? Will they invite clients into my business or scare them away? What does the cladding say about my building or business? How much will it really cost? Don't make the mistake of looking at the up-front costs only. Think about long term costs, too, including maintenance and savings.
Trespa Pura siding, Romantic Walnut wood decor on office building
Trespa Pura is impact resistant, fade resistant, beautiful, durable and budget friendly. Use it for an accent or clad your whole wall. For a better idea how Trespa siding decors will look on a light commercial building, download the new Trespa Pura Commercial Projects Portfolio today.