Featured Climate-Shield Rain Screen Projects
Chase Bank - Mill Valley, CA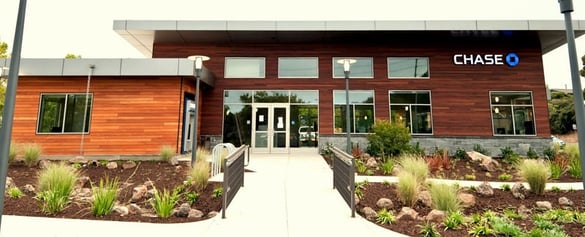 CHASE BANK - Mill Valley, California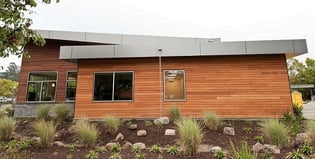 ARCHITECT: Douglas Fong, Chase Bank
SUPPLIER: Adobe Lumber
INSTALLER: Wheeler Construction, Santa Rosa, CA
RAIN SCREEN: Climate-Shield® Rain Screen System™
MATAVERDE® CLADDING: FSC® Machiche siding (1x4), FSC Garapa siding (1x6 nominal)
This commercial location was most recently an abandoned site, formerly occupied by a gas station. After careful environmental studies and a thorough cleanup, the site was deemed ready for construction. The approval by the Mill Valley Planning Commission, came after numerous study sessions. Special requirements regarding the size, height, and look and feel of the structure, and that the building materials must be "authentic" were all addressed and resolved by Project Architect Douglas Fong.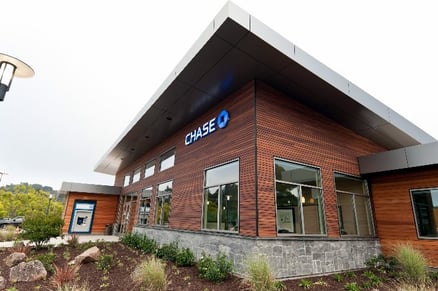 The Climate-Shield® Rain Screen System™ was chosen as an energy efficient and highly sustainable building envelope design component. Climate-Shield is widely recognized as the highest performing wood rain screen system on the market. To meet the concerns regarding "authentic" building materials, two sustainably harvested, long-lasting, natural hardwood materials were specified for the cladding.
LEED Certification was an important design consideration for this project, so FSC Certified Machiche hardwood was selected for much of the main structure and façade. The darker brown tones of Machiche wood siding add a great look and provide a sense of solidity to the design. The narrower width (1x4 nominal size) and varying grain and color tones of this hardwood species add visual interest. The lighter honey-brown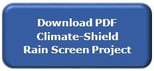 colored Mataverde Garapa FSC certified hardwood cladding was used as an accent to provide balance and natural beauty to the wings of the building. Together these wood cladding species add natural warmth, durability and longevity to the structure. Wheeler Construction of Santa Rosa, CA did a skillful job with the installation of the entire cladding system.