WHAT IS IPE WOOD?
Ipe Wood (pronounced E-pay) is an exotic and beautiful South American hardwood that is sometimes referred to as "Brazilian walnut". Rated highly durable by the U.S. Forest Products Laboratory, the scientific name for this long lasting and beautiful hardwood species is Tabebuia spp.
---
PRIMARY CHARACTERISTICS of IPE WOOD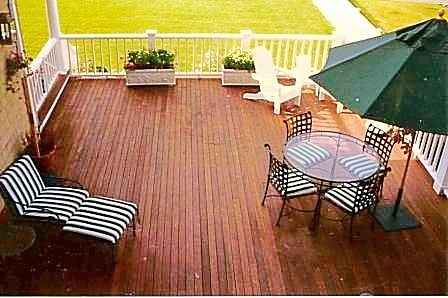 TEXTURE

The texture of Ipe wood decking is fine to medium, and it has a straight to irregular grain pattern.

COLOR

Typically there will be a full spectrum of color ranges from tans to olive browns to reddish to dark browns with

this hardwood species

.

Ipe can be sealed to maintain its natural color and beauty, or left to weather to a beautiful silver gray color.

DURABILITY

Amazingly dense, long-lasting and rated as very resistant to attack by decay fungi and termites. There simply is no stronger wood decking material.

HARDNESS

Ipe has a Janka hardness of 3,680 lbs (more than triple the toughness of red oak). Unparalleled resistance to scratching

and

gouging.

LIFE EXPECTANCY

It is not uncommon for this decking material to last 40-50 years or longer, when properly maintained.

APPLICATIONS

Ipe wood is ideal for exterior residential and commercial applications such as boat docks, residential decking, boardwalks, pool decking, foot bridges, outdoor furniture, wood siding etc.

The natural fire resistance of Ipe wood, makes it a great choice for decks that are near fire pits, chimneys, chimineas, charcoal grills and more. Cigar and cigarette burns are not a problem with Ipe decking.

DENSITY

Ipe wood has a density of 1.04 g/cm3 (actually sinks in water)

FIRE RESISTANCE

Awarded a "Class A" rating by the NFPA (National Fire Protection Association) for its natural fire resistance. This is the organization's highest possible rating - the same as concrete.
---
SUPPLY AND DEMAND of IPE WOOD
DEMAND
Due to its unique characteristics, the global demand for Ipe wood has been and will continue to remain strong.
Ipe is milled into a wide variety of nominal sizes from 1x2 to large timber sizes like 4x12 and 6x6.
The various sizes of Ipe wood are used to make a plethora of items such as; Ipe decking, Ipe structural lumber, Ipe posts, Ipe beams, interior flooring, porch flooring, tool handles, truck floors, railroad ties, wood siding, rain screen cladding and many more.
SUPPLY
The best subspecies of Ipe wood are grown and harvested in Northern Brazil. The ideal growing climate of this region allows the Ipe trees to grow and mature quickly.
The price of Ipe hardwood can also be affected by fluctuations in currency. If the US dollar is weak and the Brazilian currency is strong, then the cost of Ipe wood products in North America is higher. As a result of a vibrant Brazilian economy, there have been significant price increases for Ipe throughout the USA and Europe.
---
THE HARVESTING PROCESS of IPE WOOD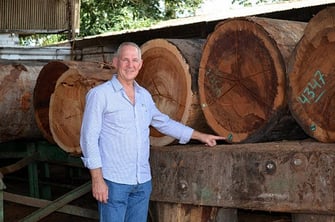 PHOTO: Mataverde CEO Steve Crook stands beside newly harvested Ipe trees on a business trip to Brazil. Our company is dedicated to ensuring that Mataverde's Ipe Decking and Siding - along with our other hardwood materials - are sustainably harvested and available FSC® certified and IBAMA/SEMA certified.
In Brazil, the harvesting process of Ipe wood is controlled by the Brazilian government to insure legal and sustainable harvesting of these natural resources. The two widely accepted methods to establish legal chain of custody are:

Forest Stewardship Council® (FSC) – An independent 3rd party body that ensures compliance with all eco-harvesting practices and principles. FSC Ipe wood suppliers adhere to strict guidelines for harvesting, milling, transit, shipping, etc. throughout all levels of the supply chain from the forest harvesting site to the end user. FSC certified exotic woods such as Ipe are generally less available and carry a significant premium price.

IBAMA /MMA – The Brazilian government's environmental agency which creates a comprehensive chain of custody methodology to further enforce compliance with eco-harvesting principles using satellite and GPS Technology. All levels of the supply chain are followed from the forest project where the Ipe is harvested to the port of export.
The harvesting season for Ipe and other high density, exotic hardwoods is a short cycle that often begins in July and lasts until the rainy season (typically December, January and February). During the rainy season, harvesting is neither possible nor permitted.
View Mataverde's FSC Compliance Certificate
Compare Ipe Wood to Other Decking Materials