STAINLESS STEEL CABLE DECK RAILING
Railing Systems for your Mataverde Deck
Stainless Steel Cable Rail Systems for Your Deck


Make your Mataverde Premium Hardwood Deck stand out.
If clear sight lines and sleek beauty are what you have in mind for your deck railing system, consider a Stainless Steel Cable Deck Rail system. Cable rail systems for your hardwood deck are very customizable; there are a host of options for posts and rails, as well as hardware and cable size. Create a stylish and long-lasting railing system to suit your personal taste and project needs.
---
Hardwood Decking Cable Rail Options
When cost is a primary concern, 1/8" cable is a viable option. It can meet all code requirements while offering the clearest sight lines due to its narrower diameter. The limitation is with longer sections, where a heavier cable is recommended.
3/16" Cable is the most popular option for several reasons; it improves the strength of the system, is still economically priced and although it is a heavier cable, still affords clean, clear sight lines for your deck railing system.

In certain commercial applications 1/4" cable may be required.
* All cables are available in Stainless Steel or Vinyl Coated Stainless Steel in white, black or clear.
---
Cable Rail Post Options
Ipe Decking End Posts and Decking Corner Posts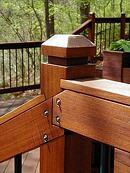 When building a Mataverde® Ipe deck, 4x4 Ipe deck posts are a very popular option for deck end posts and deck corner posts. Other materials may also be used as long as they are strong enough to handle the tension of the cables.

Intermediate Railing Posts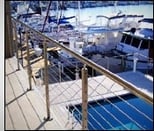 Mataverde 4x4 Ipe deck posts are also a popular option for intermediate postsbecause they match the Ipe decking and accompanying posts. Mataverde 4x4 Ipe deck posts may be drilled so the cable can pass directly through them. This creates additional strength for the cable rails and reduces the amount of tension required at end posts.
Selecting a stainless steel intermediate post ia another excellent choice for applications where continuous clear sightlines and a sleek appearance are desired. They match the cable rails and provide additional rigidity to the system.
---
Hardware Options
The rail spacing and tensioning is what provides the bulk of the code requirements. Maintaining the requisite spacing at 25 lbs of tension at the midpoint of each cable is the key. If you would like to balance code requirements while maintaining the beauty of your new rail system, there are several options to consider.
The following items have been selected for their simplicity, strength & elegance:
ST06: This internally threaded tension adjuster is used with LLP Swage Studs for short to medium cable runs.

Threaded Studs: Cap nuts on both ends

Termination Stud: Easy setup and installation. Simply drill holes in your verticals for the cable to pass through. The termination cap pulls to tension.

Turnbuckle and Termination Stud: Allows for excellent adjustment flexibility, particularly on long runs.

* Additional hardware options are also available
Discover the wide array of Mataverde Hardwood Decking species