Decks are more popular than ever before. And they come in more shapes, sizes, styles, and designs every day. If you are looking for inspirational deck design ideas for your project, this is a great place to start. We have assembled a 60-page book with over 150 deck design ideas for you. It is yours for free and we hope you enjoy it.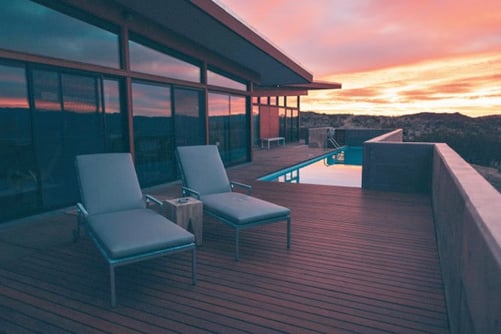 Feeling cooped up? Can't wait to get of your house and enjoy the outdoors? Get some great deck ideas here. Download your own free copy of the Deck Design Ideas Book today. There are special sections in this book for all types of deck designs with real project pictures of each deck design. Go ahead - get inspired.
Single level deck ideas
Single level decks are the most popular style of deck. They are easier to build and less costly than multi-level decks. Single level decks can be large or small. And you can always expand them or add on later as your lifestyle changes. Check out over 40 pictures of single-level deck ideas here.
Single level decks are easier to design and build
Multi-level deck ideas
Multi-level decks are a little more complex to design and build. But they can be so impressive. With multi-level decks you can create special places for various activities. One level can be for dining and entertaining, another for reading and relaxing. A separate play area? Why not? Check out more than a dozen multi-level deck design ideas here.
Multilevel decks can be large or small
Low clearance deck design ideas
Sometimes your space is limited, and a low-clearance deck is the only way get your project done. Low-clearance decks require some special care and planning to perform their best for you. There are design and construction tips, project pictures, and ideas for this type of deck in this section.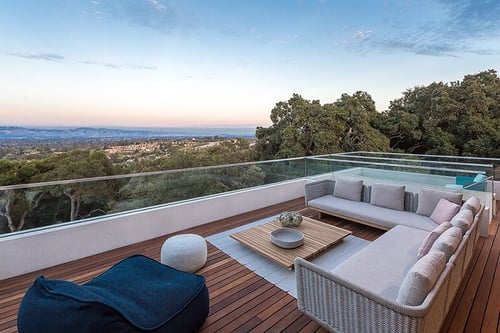 Low clearance decks require special planning
Decks with built-in and heavy load elements
If you don't care to buy new deck furniture all the time, decks with built-ins are a great idea to consider. Built-in benches and planters are immensely popular. And there are so many design ideas to choose from. And if your deck has a heavy load feature, like a hot tub, or a screen house, get some helpful design tips here.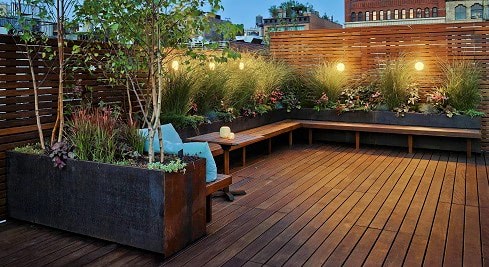 Ipe hardwood deck with built-in seating and planters
Covered Porch Ideas
Covered porches are usually narrower decks that are partially protected by a roof. Because they are closer to your home, and have a roof, covered porch decks create their own ambiance, shelter and comfort. Get design ideas for your covered porch in this section.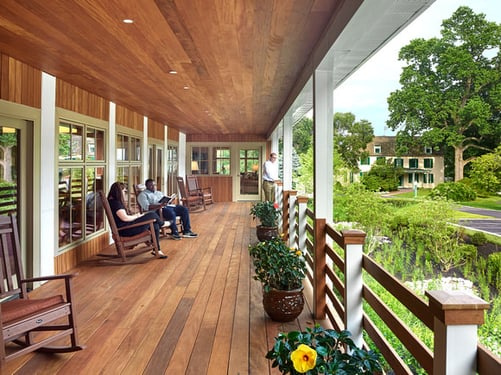 Cozy Garapa hardwood covered porch with siding, soffits and railings
Outdoor Room Ideas
realtors and architects consider decks and outdoor spaces an extension of the indoor living area. And some decks are so spectacular, they are almost like an outdoor room. Check out some great design ideas for outdoor rooms here.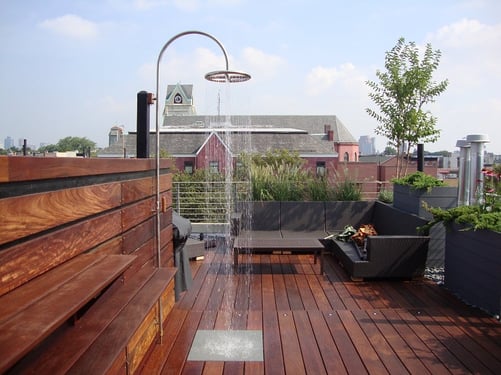 Dining, seating, shower and hot tub create an outdoor room play area
Decks with Pergola and Overhead Design Element
Pergolas have been around for thousands of years. They are a classic design element for a deck, patio, or outdoor space. Decks with pergolas and other overhead design elements, like gazebos and arbors can be simple or elaborate, plain or ornate. Check out decks with pergolas and free-standing pergolas here to get inspired.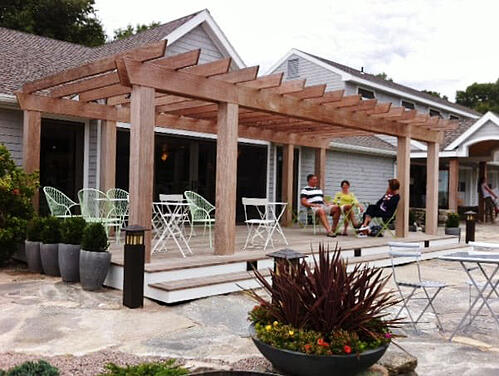 Ipe hardwood deck with pergola overhead design element
Looking for more deck design inspiration?
Visit hardwood deck project galleries
Check out hardwood decking options