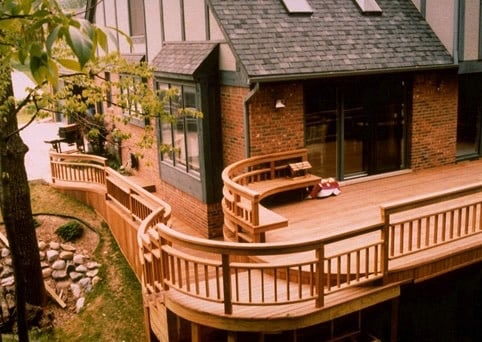 ARCHITECTURAL DETAILS
Mataverde Decking, Deck Railing & Lumber

Making the Right Architectural Specification for your Decking or Outdoor Structure
We have created this Architectural Details and Deck Specifications page specifically for architects and design and construction professionals. To help speed up your design process with accurate details, we have compiled all of our standard architectural drawings, details and specifications for decking, lumber, posts, beams and railing profiles.
These architectural drawings are available in PDF and AutoCAD file formats and we invite you to download them, as needed. We have also created time saving 3-Part CSI Specification Sheets to ensure accurate specification information for your construction documents. Browse these helpful deck building plans to ensure you're making the correct buying choice.
---
ARCHITECTURAL DETAILS AND PROFILES:
Decking and Deck Railing
PRE-GROOVED DECKING (SLOTTED DECKING) DETAILS

These pre-grooved decking profiles make hidden fastening of hardwood decking install easily and beautifully. Pre-grooved 5/4x6 and 5/4x4 nominal decking is available in Ipe Decking, Cumaru decking, Garapa decking and FSC Machiche decking. You can create a beautiful screw-free decking surface and save the time, labor and aggravation of cutting your own slots on the side of each piece of decking, by ordering Mataverde pre-grooved decking boards.

For best decking performance and long term results, we suggest using pre-grooved decking on projects that are at least 36" above grade and have adequate under-deck ventilation. Please contact your Mataverde Decking Specialist for additional information

DOWNLOAD PDF OF MATAVERDE PRE-GROOVED DECKING PROFILES
TONGUE AND GROOVE DECKING PROFILE (T&G Decking)

Tongue and Groove decking, commonly referred to as T&G decking or T&G porch flooring, works great for covered porches and 3 season rooms. Tongue and groove porch flooring is another beautiful screw-free decking material option for areas that are fully covered by a roof.

Because tongue and groove porch flooring has no gaps between the deck boards, it is imperative that the deck be pitched away from the house or structure to drain any standing water off the deck surface. Proper air flow and under-deck ventilation are key criteria for best long term performance of tongue and grooved porch flooring.

DOWNLOAD PDF FILE OF MATAVERDE T&G PORCH FLOORING PROFILES

Download Mataverde Decking and Railing Profiles, Architectural Drawings and Specifications
To help architects and other design professionals manage their workload, we have developed our standard Mataverde decking, lumber and railing profiles in PDF and AutoCAD file formats. Please download files for your project's use, as needed.
We have also developed 3-Part CSI Specification sheets to save you additional time and accurate specification information for your construction documents. We hope you find these drawings and specifications helpful.
Mataverde 3x Beam Drawings

This suite of Architectural Drawings includes Mataverde 3x4, 3x6, 3x8, 3x10 and 3x12 nominal Beam profiles. Please download your profiles by clicking the appropriate links below.

DOWNLOAD PDF FILE OF MATAVERDE 3X BEAM PROFILES