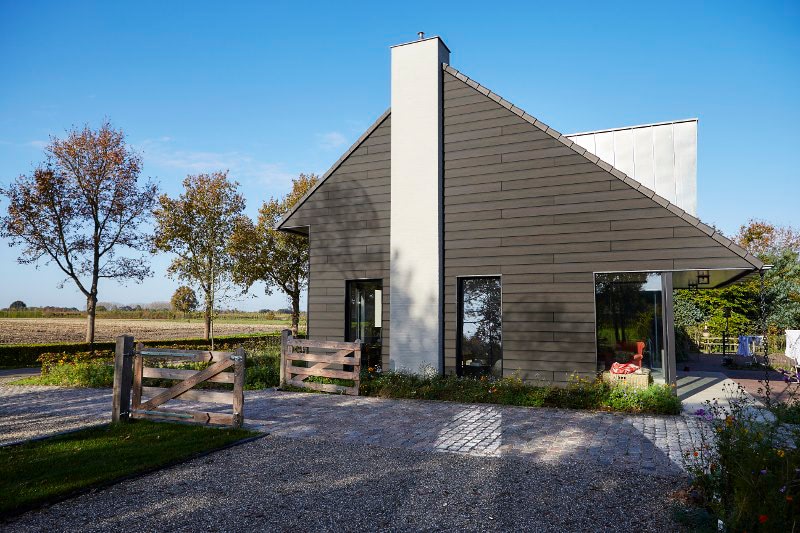 PURA® NFC SIDING by TRESPA USA OFFERINGS

Pura® NFC sidings are designed and created by Trespa, a global specialty siding company headquartered in the Netherlands. Trespa was founded in 1960, and is highly respected by many of the world's leading architects. Pura NFC siding is a premium cladding solution for residential and light commercial project designs.
Why Use Trespa Pura NFC Sidings?
Because Pura® NFC sidings by Trespa are a manufactured product, there are many benefits that lend to their consistency and performance, making Trespa wall panels and plank siding an excellent specification for exterior cladding:
Provides the warm look of wood siding, without the grain and color variations that are inherent to natural wood siding materials
Requires no pre-finishing or re-finishing over the lifetime of the siding
Low maintenance, easy to clean and maintain
Choose from a variety of Pura NFC siding colors, including wood decors and Lumen decors. Additional custom colors available
Design solutions for many projects, homes and building types
Easy to install, two different installation method options to meet your construction needs
10-year guarantee on product performance and color stability provided by General Woodcraft


DOWNLOAD TRESPA PURA NFC SIDING BROCHURE
---
Pura NFC Siding Decors and Colors
Pura NFC siding looks great, with decors and colors to meet your project design needs and color schemes. Choose from Pura wood decors or Pura Lumen decors. Use the various decors individually or combine them artistically for a unique look.

PURA NFC WOOD DECOR COLLECTION
Available in handsome wood decors and color options for the natural look of wood, without the usual maintenance.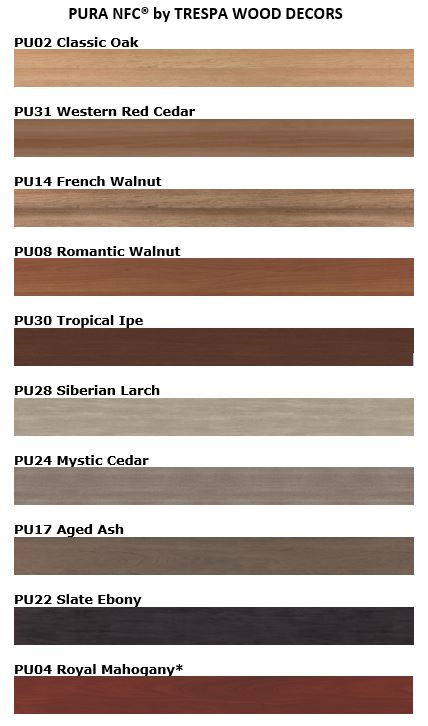 ---
PURA NFC SIDING LUMEN DECORS
Introducing the Lumen Decors Collection. The matte surface of Lumen decors gently diffuse and disperse light, creating a soft illumination in a saturated hue.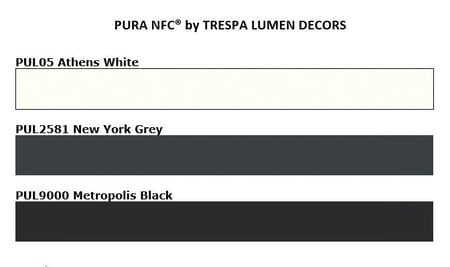 ---
PURA NFC VISUALIZER TOOL
Would like to see how the different Pura NFC siding decors will look on various buildings?
Check out the new Pura NFC Visualizer Tool here. It's fun!
---
Ready to see what Pura looks like? Order Pura NFC siding samples today.
---
PURA NFC SIDING PERFORMS
Pura NFC Flush Sidings are made to last, and last beautifully.
DOWNLOAD TRESPA PURA NFC SIDING BROCHURE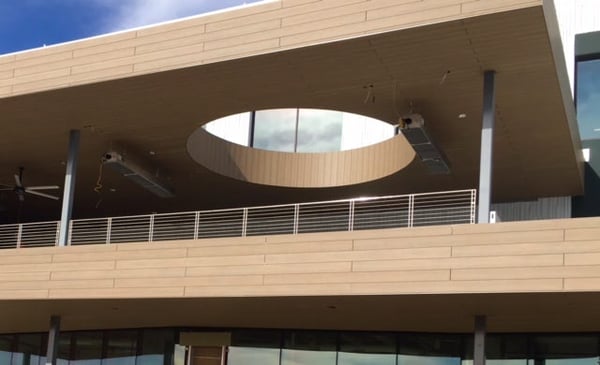 PURA NFC SIDING - DURABILITY MEETS BEAUTY
Pura® NFC Sidings by Trespa are offered in a flush profile whose modern sophistication is complemented by many different decors and color options. The clean look and modern appearance of the flush Pura® cladding profile is sought after by many design professionals when looking to impart a sleek and contemporary feel to their project.
Pura® NFC Sidings by Trespa are offered in a flush profile whose modern sophistication is complemented by many different decors and color options.
Every Trespa Pura siding plank undergoes a myriad of quality tests and inspections. Pura is designed to withstand a wide range of temperature and weather extremes. Next-generation Electron Beam Curing (EBC) technology creates a closed and smooth surface. The high impact and scratch resistance and built-in color stability mean Pura® NFC will look great for years.
CHECK OUT SHORT VIDEOS OF THE QUALITY CONTROL TESTING FOR TRESPA PURA NFC SIDING HERE
DOWNLOAD TRESPA PURA QUALITY TEST PERFORMANCE RESULTS
HASSLE-FREE MAINTENANCE
The closed surface of Pura NFC siding prevents dirt from building up, making cleaning quick and easy. Contaminants like soot, salt, graffiti and permanent markers can't penetrate the surface, so they are easy to clean and remove. Your home or building can maintain its vibrant beauty year after year.
DOWNLOAD TRESPA PURA CARE AND MAINTENANCE GUIDELINES
INSTALL PURA NFC SIDING ONCE, AND BE DONE
The complete Pura NFC solution means installation doesn't have to drag on. Installers can put the siding up quickly and confidently, knowing the appearance will remain beautiful for years. Choose from the traditional furring strip installation method to create a rainscreen. Or, save time and money installing Pura NFC Siding with the patented Climate-Shield rainscreen system, designed specifically for Trespa Pura.
Pura NFC siding must be stored and handled properly prior to installation. Please download Pura NFC proper storage and handling requirements:
DOWNLOAD STORAGE AND HANDLING REQUIREMENTS FOR Pura NFC
Traditional Rainscreen Installation method for Pura NFC Siding
The traditional Pura Siding installation method uses wood furring strips to create the rainscreen gap. Learn more about the Trespa Pura NFC installation method with furring strips here.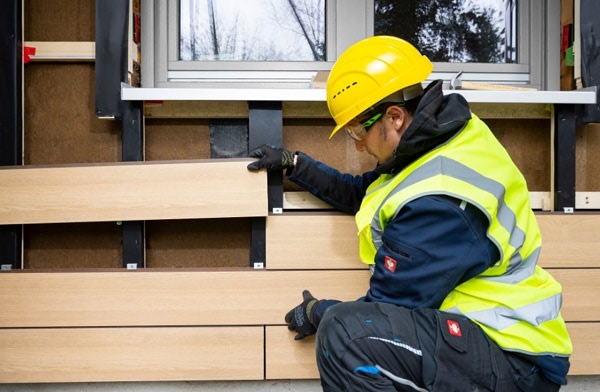 Traditional wood furring strip installation method for Pura NFC siding by Trespa
Climate-Shield Rainscreen Installation method for Pura NFC Siding
The Climate-Shield CST1 rainscreen fastening system was developed exclusively for Trespa Pura NFC siding installations over exterior wood sheathing. If your Pura NFC siding project design is being installed over exterior plywood or OSB, the CST1 Climate-Shield rainscreen fastening system will save you installation time and reduce installation costs considerably. Learn more about fastening Trespa Pura NFC siding with the Climate-Shield rainscreen system components here.
Installing Pura NFC siding using the Climate-Shield CST1 Rainscreen System
If you are installing Pura NFC sidings horizontally, the CST1 fastening system is a huge labor saver. If you are installing Pura NFC siding vertically, you will really appreciate the Climate-Shield fasteners. The CST1 system totally eliminates the need for complex matrixes of furring strips and keep your job on-time and on-budget.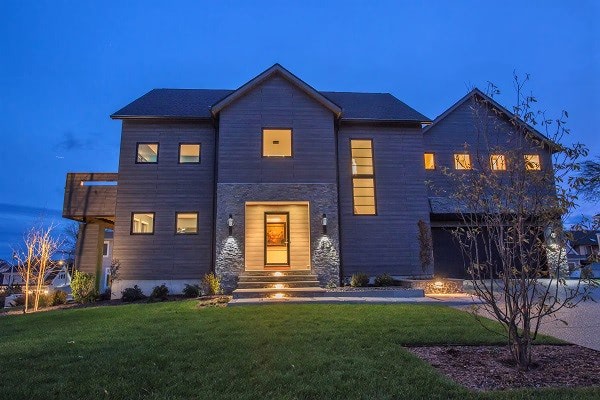 ---
DESIGNING WITH PURA NFC SIDING
With Trespa Pura NFC sidings, you have a great deal of design flexibility. Pura siding works equally well for residential and light commercial project designs. You are free to design and install Trespa Pura horizontally, vertically or diagonally.
Masonry or Exterior Gypsum Wall Assembly Designs (Wood Furring Strips)
If you are designing with Pura NFC siding on a wall assembly over masonry or exterior gypsum, the traditional wood furring strip method will work well there. We have a suite of architectural details to help you:
HORIZONTAL ARCHITECTURAL DESIGN DETAILS AND DRAWINGS WITH WOOD FURRING STRIPS
VERTICAL ARCHITECTURAL DESIGN DETAILS AND DRAWINGS WITH WOOD FURRING STRIPS
DOWNLOAD TRESPA PURA ENVIRONMENTAL PRODUCT DECLARATION
DOWNLOAD TRESPA SUSTAINABILITY POSITION PAPER
Plywood or OSB Sheathing Exterior Wall Assembly Designs (Climate-Shield rainscreen)
If your project design is over a plywood or OSB sheathing wall assembly, you can help the installation team, construction schedule and project budget by designing with the Climate-Shield CST 1 rainscreen system. The Climate-Shield CST1 rainscreen system was developed specifically for Trespa Pura NFC Siding design and installation over exterior wood sheathing.
The CST1 fastening system can be employed for designing high performance rainscreen assembly horizontally or vertically. Click on the link below to see CAD drawings and details for soffits, window transitions, and horizontal and vertical wall assemblies.
VERTICAL AND HORIZONTAL PURA NFC / CST1 ARCHITECTURAL DESIGN DETAILS AND DRAWINGS
---
For a closer look at Trespa Pura NFC sidings, feel free to download the Pura Residential or Commercial Project Portfolios:
---
RELATED: