MATAVERDE HARDWOOD DECKING INSTALLATION
Installation of Ipe, Cumaru, Machiche and Garapa Hardwood Decking

Mataverde® Premium Decking is a family of high-density hardwood species that will look beautiful and perform exceptionally well for many years. Whether you choose Mataverde Ipe, Cumaru, Machiche, Garapa or other hardwood decking options, proper preparation and installation is a critical success factor.
To ensure best long term results for your Mataverde Hardwood Deck, proper handling, installation and specialized fastening will help deliver the very best, long-lasting, low maintenance deck.

Download PDF - Hardwood Decking Installation Guidelines
---
GUIDELINES, TIPS AND RESOURCES FOR PROPER HARDWOOD DECKING INSTALLATION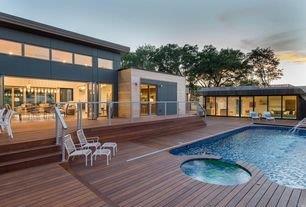 Create a beautiful and long-lasting deck with these helpful resources:
Deck Fasteners, Deck Screws and Hidden Fastener Options
The Mataverde Success Plan - Download PDF
Decking Acclimation Guidelines - Download PDF
Technical Information About Decking
Decking Care and Maintenance Recommendations
Hidden Deck Fasteners - Are They Right for Your Project?
Learn More about Low-Maintenance Decking
---
---
The Mataverde Blog
Related blog articles on decking installation that you may find helpful:
What's the Best Deck Fastener for Wood Decking?
Installing Decking Over Sleepers
Installing Ipe Decking: Fastening with Screws
Do you receive the Mataverde blog? Sign up here to receive a weekly email with inspirational featured decking projects and original articles that regularly discuss best practices for deck installation, hardwood decking care and maintenance, and much more.
---
---
Are you looking for the very best in decking installation guidance? Not only does MataverdeDecking.com offer the best decking material, but we also take pride in providing the very best deck installation resources. Ipe decking is widely known for its durability and longevity, and in order to truly enjoy and benefit from this beautiful hardwood decking option, it's important to follow best practices in deck installation. Following our helpful guidelines and resources can help ensure your hardwood deck installation goes as planned, and also ensures your Ipe decking will last.
Let MataverdeDecking.com help you make the deck of your dreams become a reality. Request a decking quote today! When you're ready install your new premium hardwood deck, don't forget to read out decking installation guidelines as well as our technical decking literal and hardware guides. At MataverdeDecking.com, we take pride in helping people build the very best decks imaginable.