What Is Ipe Wood?
Ipe decking is an extremely hard high-density hardwood species native to much of Central and South America.
Pronounced E'–pay, it has also been referred to as Brazilian Walnut, Pau Lope, EPay, EPI and Ironwood. While there are many subspecies of Ipe wood, the best subspecies grow naturally, primarily in Northern Brazil.
Ipe wood is the benchmark material for all exterior hardwoods. It is so resistant to fungi, decay, and termites that it has become the species that all other decking wood is compared to. It is so durable it has historically been used for decks, docks, piers, boardwalks, premium outdoor living spaces, siding, trim, posts, beams, outdoor furniture, gazebos, benches, planters and other challenging outdoor projects.
---
What's So Special About Mataverde Premium Ipe Decking?
If you want the very best natural wood for your outdoor project, Mataverde Premium hardwoods are the ultimate deck wood solution. It makes a real-wood, all-natural, inherently beautiful deck. Ipe hardwood outperforms every known decking material on earth, and stays beautiful naturally.
The Mataverde® brand name is your assurance of quality. Mataverde Ipe is a sustainably harvested Brazilian hardwood. A backyard deck built with Mataverde deck wood provides years of comfort, satisfaction, relaxation, and peace of mind. It is no surprise that it is considered the "best of the best" decking materials. Nothing beats an Ipe deck.
It is extremely hard, strong, and scratch resistant, which is why it has been used on such high traffic projects as docks, piers, marinas, boardwalks, municipal walkways, foot bridges and public esplanades for decades. In fact, it is so reliable, it is covered by a 25 Year Limited Warranty.
---
Download our free guide, the "Ultimate Guide to Selecting The Right Decking"
to see how hardwood decking compares to other materials.

---
Discover how remarkable premium Ipe wood really is!
Want to see real-world proof of how well Mataverde performs without refinishing or cleaning ? Watch the results of our in-house test showing how well Ipe performed over 15 years side by side with other popular wood species like redwood, western red cedar, mahogany, Douglas fir, and pressure treated southern yellow pine. Check out this real-time test of 15 years of outdoor exposure at our New London, CT Headquarters.
---
Need a price for your project?
Contact us by clicking below and we will put together a customized quote for you.
---
Color and Graining of Mataverde Ipe Hardwood


All real wood materials have naturally distinguishing coloration, unique character marks, and graining variations. Some wood species show more natural character than other woods. Mataverde® Premium Ipe is one such spectacular exotic hardwood decking species.
This hardwood species displays a wide range of colors, graining and natural beauty. Typically there will be a full spectrum of color ranging from tans to olive browns, to reddish to dark browns, with this hardwood species. The spectacular graining variations and exotic "figuring" found in Ipe are similar to the variations of color and graining you would find in a hardwood floor inside your home.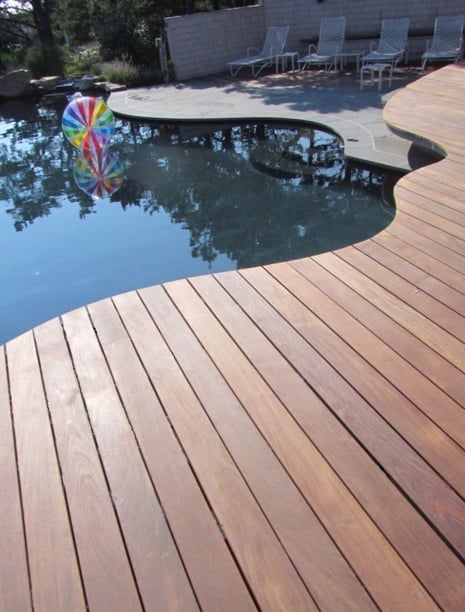 This wood species exhibits a wide range of exotic color and grain variations, tropical character, striping and figuring. The exotic graining, quarter-sawn figuring and striping will differentiate every board. No two pieces of wood are ever exactly alike. The variety of color, graining and figuration will make your deck a one-of-a-kind work of art right in your backyard.
---
WATCH THIS SHORT VIDEO TO SEE JUST SOME OF THE
NATURAL GRAIN, COLOR VARIATIONS AND BEAUTY OF MATAVERDE PREMIUM IPE:
---
Ipe Hardwood Appearance Options
An Ipe deck will last for an exceptionally long time outdoors. But it is still wood, and all natural woods will behave and perform differently, especially when they are used outdoors. As exterior woods age many processes happen during their initial and life-long exposure to the elements. Here's what the typical life cycle aging process looks like for this hardwood species:

---
Would you like to learn more about the low maintenance of exterior woods?
Download the free guide "How Exterior Hardwoods Weather" now.
---
Physical Characteristics and Mechanical Properties
Ipe has many amazing physical properties and characteristics that make it one of the longest lasting natural wood species on earth. This wood species ages both beautifully and gracefully. It lasts so long we are very comfortable offering you a 25 year limited warranty against decay and insects.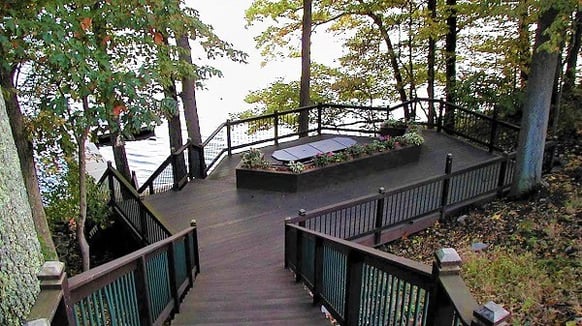 This remarkable wood species has natural resistance to cracking, checking, twisting, cupping and splintering. It is extremely stable, hard, and dense. It withstands all types of punishment and is naturally decay resistant throughout all the fibers of the wood. Ipe is known to have the highest durability rating of any outdoor wood on earth.
DURABILITY

Rated as very resistant to attack by decay, fungi, and termites. When properly cared for it is not uncommon for this material to last 40-50 years or longer.

HARDNESS

Janka hardness of 3,680 lbs. (more than triple the toughness of red oak). That's why it has an unparalleled resistance to scratching and gouging. There simply isn't a stronger wood decking material.

FIBER BENDING STRENGTH

Amazingly high bending strength of 23,360 psi. That means you would have to apply 23,360 pounds of pressure, (or the weight of two average male elephants), per square inch to break a board. Because of its strength, this hardwood can out span virtually every wood species on earth and will exhibit only minimal flex or "bounce" when you walk on it.

DENSITY

Density of 1.04 g/cm3 (it will actually sink in water)

FIRE RESISTANCE

Has been tested and received a Class A fire rating. The ASTM E84 testing conducted on Mataverde Ipe hardwood also meets the same requirements as the IBC (International Building Code) and the ANSI/NFPA (American National Standards Institute/National Fire Protection Association) for a Class A fire rating.

The natural fire resistance makes it a great choice for outdoor projects that are near fire pits, chimneys, outdoor fireplaces, charcoal grills and more. Cigar and cigarette burns are not a problem on this species.
---
Builders, Architects and Homeowners
Users have been relying on the strength, hardness and durability of Ipe lumber for many years. Wherever there is a sincere desire to use the best all natural outdoor wood products available, Ipe high density hardwood is the material of choice the world over. See more at Ipe Project Ideas by clicking here.
---
Installation Tips and Techniques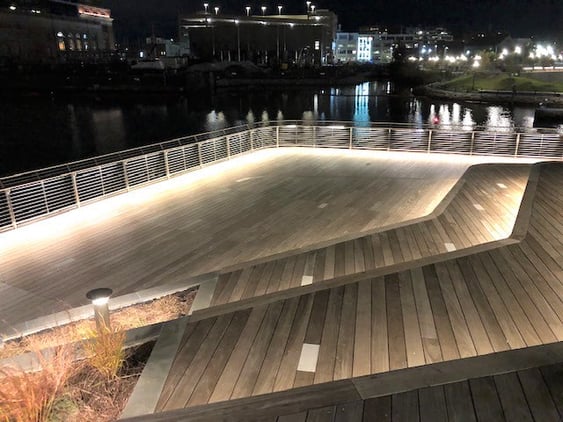 Ipe wood is such a hard material, special techniques and fasteners have been developed to make installing it better and faster than ever. There are several installation methods to choose from. The traditional method of installing it is to pre-drill the deck boards and then fasten them with stainless steel screws to the joists.
Another faster installation method is to use the Ejector screw. The Ejector screw securely fastens your boards to the joists without pre-drilling.
If you do not want to see screw heads exposed on your boards, a hidden fastener can be used. The Mataverde Concealed Deck Fastener is a fantastic deck clip and makes for a quick decking installation and for a beautiful deck that will last for many, many years to come.
Click here for additional information and installation techniques for Mataverde Decking and other high-density exterior hardwood species.
---
Looking for ideas? Need a little design inspiration?
Download the "Deck Design Ideas E-Book"
61 pages featuring over 150 design ideas.
---
Care & Maintenance
Ipe and other hardwood options can be a very low maintenance material. Always remove debris and dirt off your surface with regular cleaning. Keeping your investment clean actually extends the life of the decking and looks beautiful at the same time.
If your goal is to keep the original color and appearance of your outdoor hardwood project, a coat of oil finish such as Penofin Hardwood Formula Oil Finish with a UV protectant, or similar product, is highly recommended. An annual maintenance coat of the oil finish is suggested to maintain the original look of your hardwood.
---
Will You Let Your Wood Weather Naturally?
Do you want to allow your wood to silver? Or preserve the warm tones? it is beautiful either way.
| | |
| --- | --- |
| | |
| Natural weathering of exterior boards develops a silvery patina making it a low maintenance choice for outdoor projects of all types. | A rosewood oil finish on your boards darkens and enhances the rich colors and natural graining of hardwoods. |
How easy is it to maintain an outdoor hardwood?
Click here to learn more about the care and maintenance options for Mataverde® wood
---
RELATED:10 Solid Reasons Builders Choose Ipe
---
How Does Ipe hardwood compare to other material options?
It is an all natural sustainable decking material that totally outshines virtually all other deck material options, including softwood, composites, plastics, and more, in nearly every measurable performance rating.
For a fantastic comparison of all the most popular deck board material options, Download the "Ultimate Guide to Selecting the Right Decking" today.
---
RELATED: