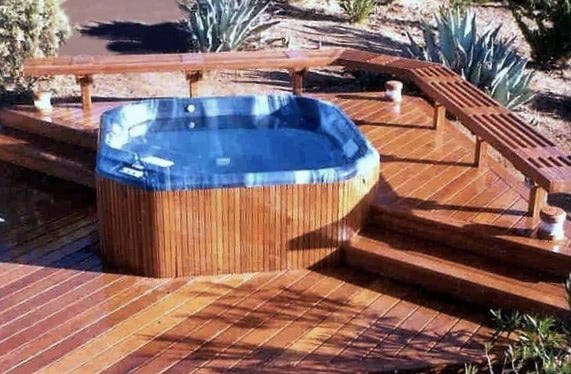 MATAVERDE® IPE DECKING VS. SYNTHETIC DECKING
Compare Ipe Decking to Plastic and Composite Decking
Premium Ipe Hardwood Decking outclasses synthetic plastic decking and composite decking materials, beautifully and naturally on every measurable rating. All natural, sustainably harvested and undeniably beautiful, Premium Ipe decking is a handsome and long-lasting addition to any exterior decking project.
---
COMPARISON CHART
Ipe Decking vs. Synthetic Plastic and Composite Decking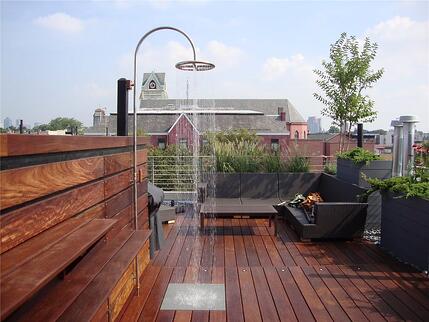 This rooftop Ipe wood decking outlasts synthetic decking every time with its ability to withstand water exposure, weatrher and UV rays without warping or cracking.
---
Download your FREE "Ultimate Guide To Selecting The Right Decking" now and get all the information you need for choosing decking materials right for your projects.
---
As you will see in the chart below, Ipe decking outperforms composite decking materials and plastic decking on strength comparisons, life cycle cost and many more measurable characteristics.
PRODUCT CHARACTERISTICS

IPE

PLASTIC

COMPOSITE

Real Wood Product
Yes
No
No
Synthetic Materials
No
Yes
Yes
Expansion/Contraction
Low
High
High
Heat Retention
Low
High
High
Stability
High
Low
Low
Scratch Resistance
High
Low
Low
Scratches Remove Easily
Yes
No
No
Strength
High
Low
Low
Span Capacity
High
Low
Low
Initial Decking Cost
Moderate-High
High
High
Usable Life Expectancy
30+ years
Est. Lifespan: 10-20 years*

Est. Lifespan: 10-15 years**

Life Cycle Cost
Low
Medium
High


* Because synthetic plastic decking materials have only been on the market for a short period of time, it is not known yet how long this material will last in an actual decking environment.

** Composite decking and wood composite decking materials have been in use for less than twenty years. Most initial brands had significant product failures and poor track records of performance during this time. It is not known yet how newer brands of composite decking materials will perform. Click here for more information about composite decking.

---

Ready for pricing on your Ipe wood deck project? Request a free quote.

---

RELATED: