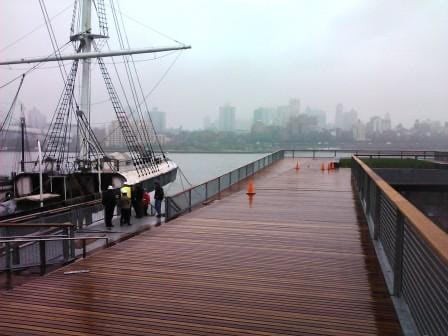 MARINE DECKING AND BOARDWALKS
Hardwood Decking and Lumber for Marine Contractors
Mataverde® Delivers Performance, Strength and Reliability. In the rugged world of marine contractors and marine construction, performance, strength and reliability are three of the most important criteria for selecting materials that can endure some of the harshest conditions and environments on earth. Mataverde high density hardwood lumber species like Cumaru, Garapa and Ipe decking have been used successfully on docks, piers, wharves, decks and boardwalks for generations. Mataverde Premium High Density Hardwood and Lumber is selected to meet the strength and durability requirements for marine construction. Whether your project is on the Atlantic, Pacific, Caribbean oceans, the Great Lakes, the Mississippi River or a pond, lake, river, bay, bayou, marsh, brook or stream, we have the products and inventory to meet your unique marine construction project needs.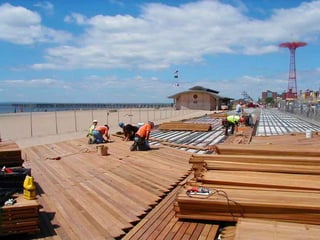 Marine decking must be strong, reliable, and able to withstand the exposure and harsh weather and punishment of coastal conditions. At MataverdeDecking.com, we offer the best premium hardwood decking for marine use. High density hardwood lumber species Like Cumaru, Garapa and Ipe decking have been used on docks, piers, wharves, decks and boardwalks successfully for generations. Coastal marine construction applications are perfect for many of these high density hardwood lumber and decking materials.
Find out more about Featured Boardwalk and Marine Decking Projects or download a free pdf copy to read at your leisure by clicking below.
---
THE EJECTOR™ SCREW
Save Time and Money on Marine Construction Projects
The Ejector™ Screw can help you save time and money when installing decking boards to decks, docks, piers, marinas, floats, gangways, ramps, boardwalks and more. The Ejector Screw installs Ipe decking and other hardwood decking quickly and securely without pre-drilling or countersinking your hardwood deck boards.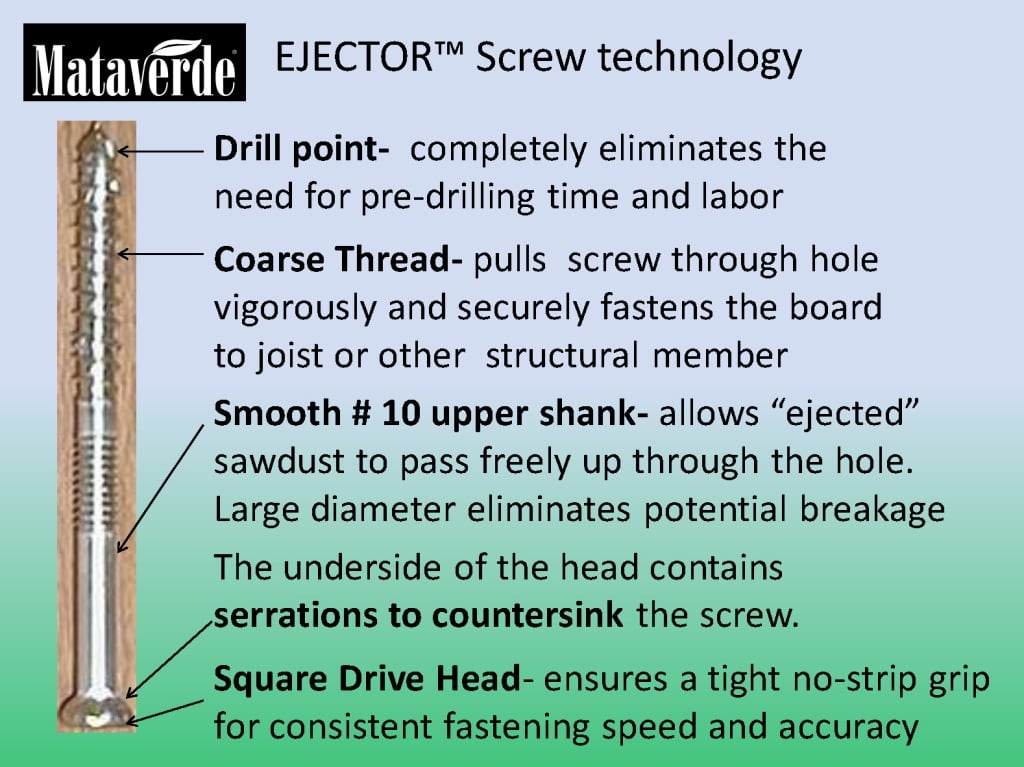 The technology for the Ejector Screw has been one of the biggest installation breakthroughs in deck construction since the invention of the joist hanger. Marine contractors have estimated that using the Ejector Screw has saved them more than 50% of decking installation time and costs on dock and deck projects - enabling them to securely fasten up to 500 screws per hour on properly planned projects.
Learn More About Hardwood Decking Installation
View Mataverde Decking Installation Videos
---
---
Marine Construction Materials
IPE DECKING AND LUMBER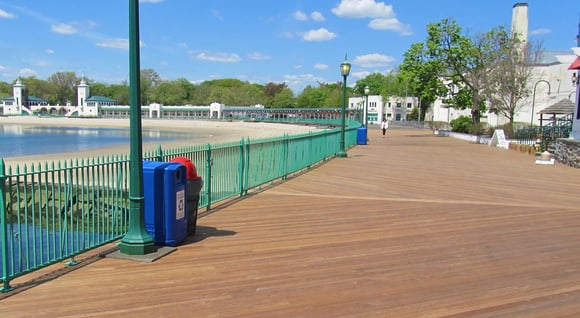 Ipe hardwood decking and lumber is noted for its superior strength, hardness, abrasion resistance and high density. Ipe decking is often considered the best decking material for boardwalks and marine construction projects. Ipe hardwood decking also meets the code requirements for coefficient of friction in wet areas. The natural slip resistance of Ipe hardwood explains why this remarkable species is often selected for decking material on piers, decks, docks, boardwalks and other demanding outdoor structures.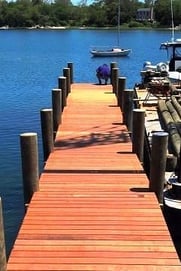 Ipe lumber can be used for dock substructure components such as joists and cross ties where superior strength is required. It is also a good material option to eliminate the potential for chemical leachates often found in chemically treated lumber.
Mataverde Premium Ipe Hardwood Decking is available in 1x4, 1x6, 5/4x4 and 5/4x6 decking sizes. Mataverde Ipe lumber is available in 2x2, 2x4, 2x6, 2x8, 2x10 and 2x12 dimensional lumber sizes. Mataverde Ipe is also available in 3x, 4x and 6x widths for heavy timbers, beams and posts. A number of additional sizes and profiles are also readily available in stock for marine construction projects.
Learn More About Mataverde Ipe Decking
Mataverde Ipe decking outlasts other wood decking species after 15 years - Watch the amazing vide
Marine Construction Materials
CUMARU DECKING AND LUMBER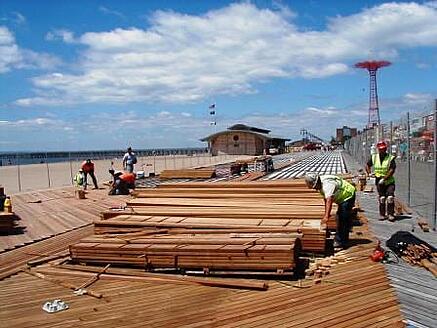 Cumaru Hardwood is another alternative material that can withstand harsh marine conditions and weather.
Cumaru decking is also selected for decks, docks, piers, wharves and boardwalks. With a hardness very close to Ipe, Cumaru marine decking can be used in high traffic areas like boardwalks, without hesitation. Sections of the Coney Island Boardwalk and Pier 15 in New York City have used Mataverde Cumaru decking for its durability, great looks and tremendous strength.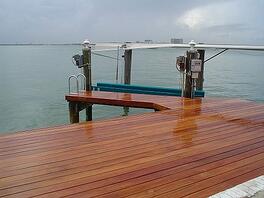 Mataverde Premium Cumaru hardwood decking is readily available in 1x4, 5/4x4 and 5/4x6 decking sizes. Mataverde Cumaru Lumber is available in 2x4, 2x6 and 4x4 dimensional lumber and posts sizes.
Learn More About Cumaru Decking
Download Cumaru Fact Sheet (pdf)
Cumaru Decking Photo Gallery
Marine Construction Materials
GARAPA DECKING AND LUMBER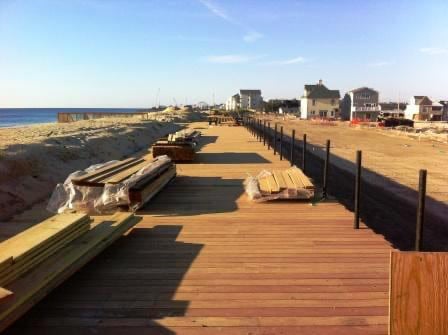 Garapa hardwood is another high density marine decking option that is primarily used where strength requirements are high and construction budgets are tight. This affordable hardwood decking material is often selected for docks and piers. Although Garapa decking does not have the same abrasion resistance as Ipe or Cumaru, Garapa significantly outperforms pine decking and composite decking materials. Lower to medium traffic areas work well for Garapa decking.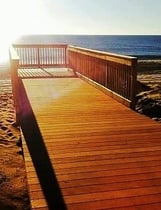 Mataverde Premium Garapa hardwood decking is readily available in 5/4x6 decking size in a variety of lengths for your deck, dock and marine construction project needs.
Learn More About Garapa Decking
Download Garapa Decking Fact Sheet (pdf)

Marine Construction Materials
MACHICHE DECKING AND LUMBER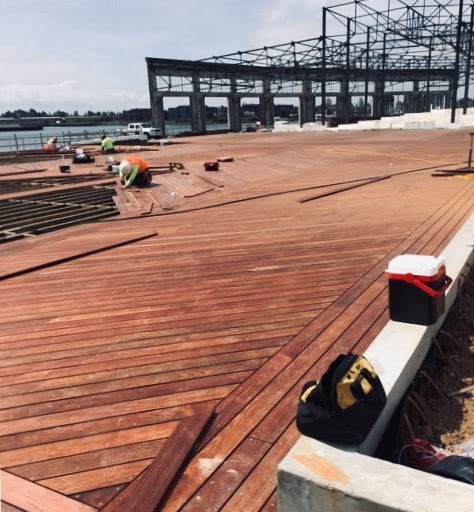 FSC® Certified Machiche hardwood is a fantastic high-density marine hardwood decking option. When high performance, natural beauty and FSC certified hardwood is needed, Machiche wood is a great choice to consider. The hardness, longevity and durability of Machiche, combined with its affordability (less costly than FSC Ipe), works for many project budgets.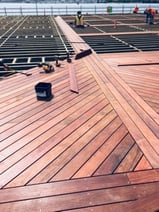 Mataverde Premium Machiche hardwood decking is readily available in 5/4x6 decking size in a variety of lengths for your marine construction project needs. 2x4 and 2x6 Machiche is also available for special project needs. let us know about your project requirements.
Download Machiche Decking Fact Sheet (pdf)
---