IPE HARDWOOD RAIN SCREEN SIDING
Climate-Shield® Rain Screen System™
Ipe siding is by far the most popular, longest lasting and best performing Mataverde hardwood cladding option. Ipe is so hard and so dense, it's a virtually indestructible wood species. And it looks fantastic. Ipe siding may be installed vertically, horizontally or even diagonally. The Climate-Shield® Rain Screen System works great with many wood siding options. Ipe hardwood siding can be finished or left to weather naturally. Learn more here.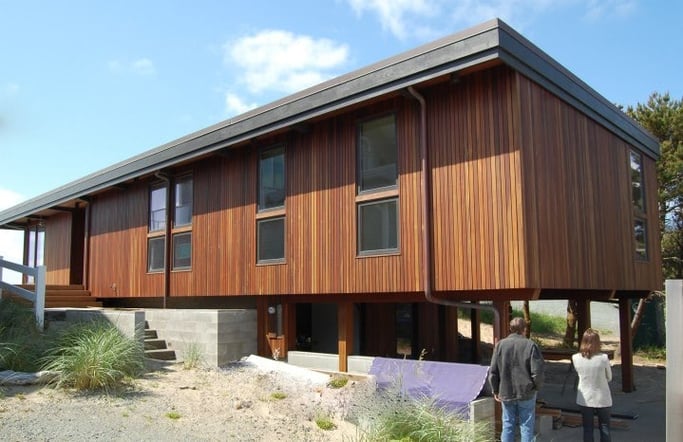 1x6 Ipe siding vertical installation with oil finish
Why Use Ipe Hardwood Rain Screen Cladding and Siding?
Mataverde Ipe Hardwood Siding is the strongest, longest lasting and most durable wood cladding species available for rainscreen siding designs and installations. Pronounced E'-pay, Mataverde Ipe rain screen siding has the same rugged strength and high-density characteristics as Ipe decking and Ipe lumber.
Incredibly strong

Naturally beautiful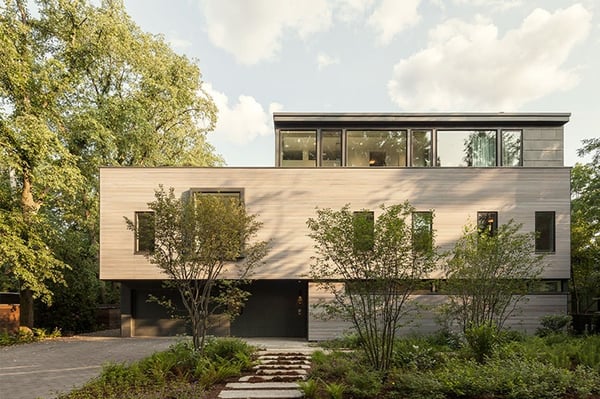 1x4 Ipe rainscreen siding with gray, weathered look
Ipe siding is gorgeous. Ipe makes an impressive and long lasting rainscreen cladding material. The beautiful brown tones of Ipe siding add a warm visual appeal and the durability of Ipe rainscreen cladding material make it a natural for rainscreen system installations. To see lots of Ipe siding project photos, check out the Ipe Rain Screen Gallery.
Ipe hardwood siding finishing options. Ipe siding is real wood, but it performs so well, it can be finished or allowed to weather. Ipe rain screen wood siding has a rich natural beauty that can be enhanced with a natural oil finish or Ipe siding can be allowed to "weather out" to a natural silvery patina. Whether you prefer to maintain the 'like new' Ipe wood look, or the silvery look, the choice is yours. For more information about your finish options, DOWNLOAD "HOW WOODS WEATHER GUIDE".
If you'd like to see if Ipe siding meets your project budget, request a quote today.