MATAVERDE® IPE DECK RAILING SYSTEMS
Ipe

D

eck Railing Systems for your Ma

t

averde® Deck

---
Mataverde® Premium Ipe Deck Railing
After you have your installed your new hardwood deck, it's time to select a railing system that will complement your deck's design and your unique style. To complete your Mataverde® Premium Hardwood deck, many decision makers opt for the Mataverde Ipe Rail System to complement the rich beauty of their premium ipe hardwood decking.
This railing system contains all the essential components to finish your deck project including 4 x 4 Ipe posts, 2 x 2 Ipe Balusters, Ipe Sub Rail and your choice of two Ipe Rail Cap profiles (Flat Rail and Sculpted Rail).
Mataverde Ipe Deck Rail System



Create an elegant Ipe deck rail system and save lots of time and labor costs by using the Mataverde Ipe components below: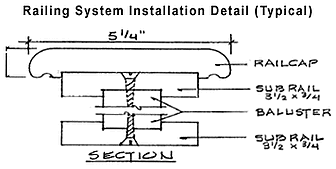 5/4 x 6 Ipe top rail (custom)

Ipe sub rail (or 1x4's)

2x 2 Ipe balusters

4 x 4 Ipe posts
*Always check with local building officials for proper safety and code compliance before building.
---
Custom Mataverde® Ipe Deck Railing Options
For skilled craftsmen and those who prefer to create their own custom railing design for their Ipe deck, the possibilities are endless. Ipe decks deserve to be treated specially... and why not? Ipe decking is the longest lasting natural wood decking species known to man. Here are a few examples of imaginative custom Ipe deck rail system designs:
Custom Design Features:

4 x 4 Mataverde® Ipe post

(beveled, double routed and carved)

1 x 6 Ipe decking used as a top rail

1 x 6 Ipe decking as an apron rail

Metal balusters

*Note the rich color enhancement of the Ipe decking and Ipe railing from the Penofin oil sealer

Custom Design Features:

4 x 4 Mataverde® Ipe post

2 x 6 Ipe lumber used as a top rail

2 x 4 Ipe lumber used as intermediate and bottom rails

2 x 2 Ipe balusters

*Note the Ipe plug detail used to hide the screw heads.