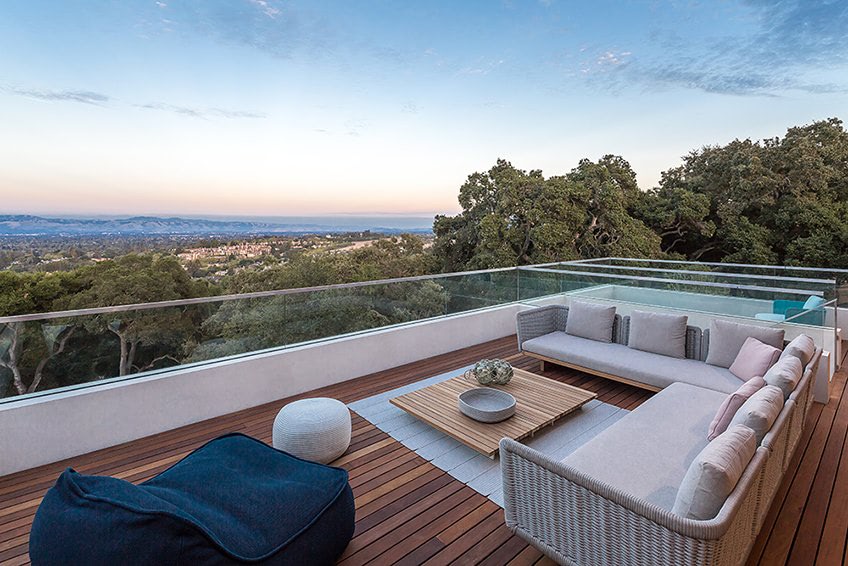 MATAVERDE® EUROTEC® ROOFTOP DECK SYSTEM
A GREAT OPTION FOR ROOFTOP DECKS USING FULL LENGTH DECKING BOARDS
The Mataverde® Eurotec® Rooftop Deck System offers the optimum solution for the design and construction of rooftop or patio top deck structures. With the 'straight and true', load-bearing Eurotec Aluminum System Profile, all your aluminum deck joists are strong and uniform, with no possibility of rotting, splitting, cracking, warping or checking. The Eurotec pedestals, with their ClickFoot™ attachment, allow for simpler designs and ease of installation. Choose from any Mataverde Premium Hardwood Decking species to complete your deck project.
Over the years, many architects, designers, construction professionals and property owners have asked us about rooftop decking systems using full size decking boards. In many cases we were able to offer them design solutions using 'sleepers', which are an effective way to construct a low clearance deck on balconies and a limited number of rooftop structures.
---
The Mataverde® Eurotec® Deck System
OPENS UP A NEW WORLD OF ROOFTOP DECK DESIGN AND CONSTRUCTION POSSIBILITIES
If you are designing and building a new structure, or are considering building a rooftop deck, balcony deck or over an existing patio, the Mataverde® Eurotec® Deck System offers you a variety of new looks and design opportunities. Here are a few key benefits of this innovative deck system:
Ability to use full size decking boards for cleaner lines without the "checkerboard" pattern of 'deck tiles' whenever it is appropriate for your design.

Lightweight, low-clearance and exceptionally sturdy aluminum joists create a secure, straight and true joist system.

Eurotec Adjustable Rooftop Deck Pedestals allow design of decks from 4" height above the roof or patio to over 24" total height to the top of the decking. No drilling or additional fastening is required for a quick and efficient installation.

Eurotec Adjustable pedestals with "ClickFoot" adapter requires no extra fastening; simply 'click' the aluminum system profile into the pedestal.
---
Looking for pro tips on installing rooftop decks? Grab your white paper on
"Building a Rooftop Deck: 6 Steps to Success" right here.
---
Looking for rooftop deck ideas?
Download the "Rooftop Deck Design Ideas Portfolio" now!
---
Unique Components For The Mataverde® Eurotec® Deck System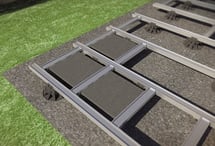 What makes the Mataverde® Eurotec® Deck System so special? Simple - it combines the most reliable natural hardwood decking products from around the world with the finest European deck structure technology into one convenient product package for your project needs. Eurotec has developed a whole family of components to help you design and build the perfect rooftop deck or patio top deck system for your project requirements. Use high quality, all-natural Mataverde Premium Hardwood Decking for high durability and great looks that last...and last beautifully.
---
RELATED: LEARN MORE ABOUT THE EUROTEC DECK SYSTEM COMPONENTS
---
EUROTEC® ADJUSTABLE HEIGHT ROOFTOP DECK PEDESTALS
Eurotec® Pro-Line Rooftop Deck Pedestal
For additional design flexibility, the Eurotec Pro-Line deck pedestal is available for your deck project needs. This rooftop deck pedestal provides a wide adjustment range to accommodate various heights and pitches.
When used with the Aluminum System profile and decking, this assembly can accommodate heights (from top of roof surface to top of decking surface) from 3-1/2" to over 24" from the top of the roof (or patio) to the top of the decking boards.
A ClickFoot Adapter snaps into the top of this deck pedestal for easy 'no tools required' sturdy connection with the Aluminum System Profile.
---
RELATED: LEARN MORE ABOUT EUROTEC PEDESTALS
---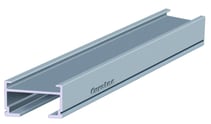 Eurotec Aluminum System Profile™
With the Aluminum System Profile, there is no need for wood deck joists. The Aluminum System Profile provides a super-strong, yet lightweight framing system that can span up to 33" with a minimum of deflection for a sturdy, straight and true deck frame structure. No extra weight, no rot, no twists, no worries.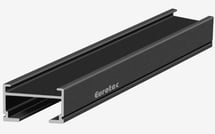 The Eurotec Aluminum System Profile is now available in black. The low luster, black color makes this product nearly invisible when viewed from above.
For longer runs, additional lengths of the Aluminum System Profile can be attached using Aluminum System Profile Connectors.
---
RELATED: SEE MORE ABOUT THE EUROTEC ALUMINUM SYSTEM PROFILE COMPONENTS
---
Eurotec Deck Fastening Options
FACE SCREW ATTACHMENT METHOD
The Profile Screw Fastening Method
Eurotec Profile Deck Screw is made of high quality stainless steel for high strength and maximum durability. The self drilling screw tip will securely fasten your deck boards to the Aluminum System Profile.

---
RELATED: WANT TO KNOW MORE ABOUT EUROTEC PROFILE SCREWS?
---
Concealed Fastener Hidden Decking Attachment Options
The Eurotec Deck Glider™ Hidden Fastening Method
The Deck Glider hidden fastener provides a strong and barely visible fastener that is designed to work effectively with the natural acclimation and movement of exterior wood decking boards. Choose from the Eurotec Mini Glider for 4" Nominal decking or the Eurotec Deck Glider for 6" nominal decking.
Eurotec Mini Deck Glider

(for 4" nominal width decking)

Eurotec Deck Glider

(for 6" nominal width decking)
RELATED: DETAILS ON THE EUROTEC DECK GLIDER CONCEALED FASTENERS
---
The Eurotec Twin System Holder Hidden Fastening Method
The Twin System Holder provides a nearly invisible hidden fastening method. This method works well with pre-grooved decking boards and performs best with 5/4 x 4 nominal decking.
---
RELATED: DETAILS ON THE EUROTEC TWIN SYSTEM HOLDER FASTENERS
---
Ready to plan your rooftop deck project? Need pricing? We can help with both.
---
Mataverde Premium Hardwood Decking Options
When you are building a long lasting deck system with a high quality framing system, you will likely want to choose a high quality decking material as well. Mataverde Premium Hardwood Decking materials are well known for their quality, durability, strength and natural beauty. This way you can build an entire deck system that will stand the test of time. Mataverde Premium Hardwood Decking lasts...and lasts beautifully.
For your rooftop or patio deck, feel free to choose from the entire family of proven Mataverde hardwood decking species such as Ipe, Cumaru, FSC Machiche, Garapa decking , ThermoWood Decking, and more. Go ahead, live a little.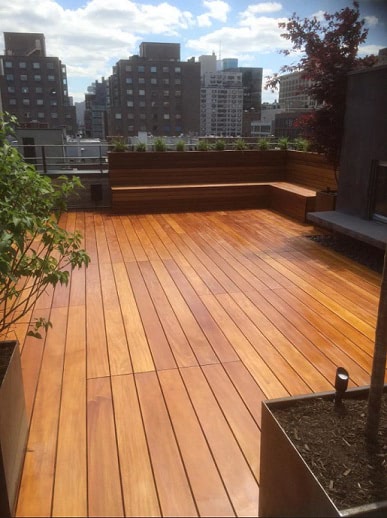 ---
RELATED: HARDWOOD ROOFTOP DECKING MATERIAL OPTIONS
---
Need to know how to start choosing from decking material options? We put together a helpful guide.
---
RELATED: