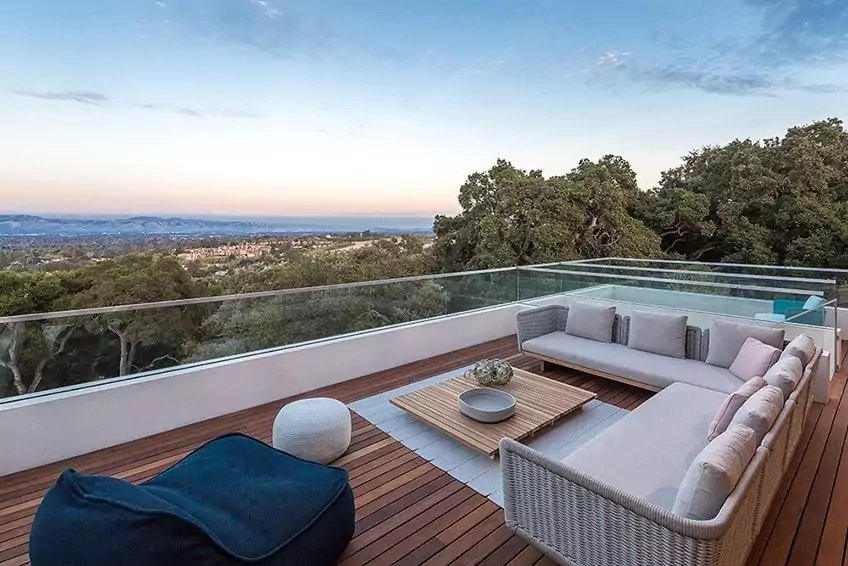 Dream Big With These Rooftop Deck Ideas
Written by
Joni Aveni
on
Do you love the inviting ambiance of your local rooftop restaurant and want to re-create that convivial feeling at home? Have you often envisioned a serene outdoor oasis for your yoga or meditation practice? Why not dream big with these rooftop deck ideas!
As the weather warms up, we all want to spend more time in the great outdoors. But it's not always convenient or desirable to travel to the perfect place. Especially when you already have the perfect place … right in your own home!
As Walt Disney reportedly said when imagining Epcot, "If you can dream it, you can do it" – and even though you may not be planning to invite millions of guests a year, you can create a stunning fresh-air environment of your own, perfect for entertaining friends or relaxing in solitary serenity, with premium hardwood decking materials from Mataverde Decking.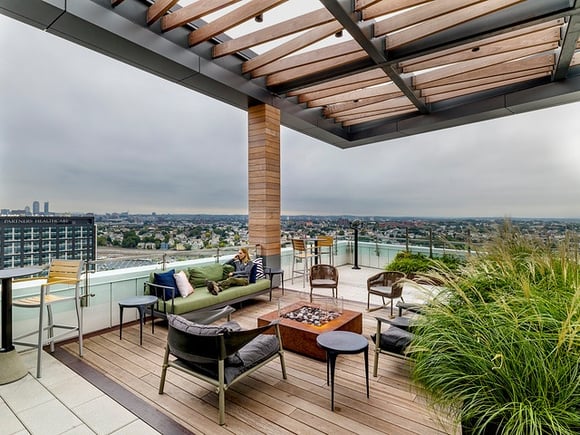 Every premium dream deck should start with a premium deck system. Your architect will want to design your deck with the innovative Mataverde® Eurotec® Deck System. Specifically designed for rooftop decks, it offers you numerous materials and design options plus benefits such as full-size decking boards for cleaner lines; lightweight, sturdy, low-clearance aluminum joists; and adjustable rooftop deck pedestals that require no drilling or additional fastening. The Eurotec Deck System can only improve your project from the bottom up.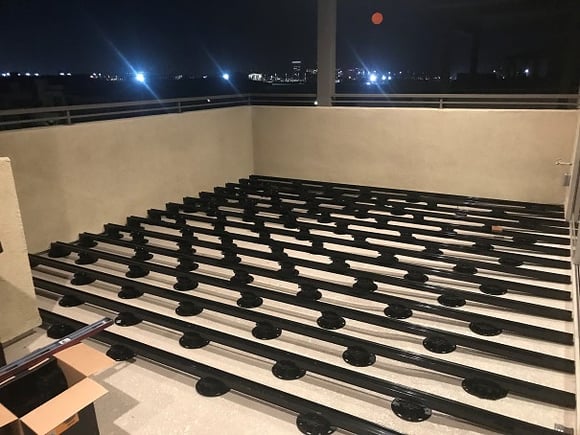 Eurotec rooftop deck pedestals and aluminum joists to support your dream deck
Now that you have a the best foundation for your rooftop deck, you can choose your dream design with decking materials. Rooftops are a tough environment for natural wood decks, but there are hardwood decking options that can withstand the punishment. Natural hardwoods like Ipe, Machiche, Garapa and Thermowood perform great up top. Let your imagination go wild, and begin creating your dream rooftop deck. Explore Mataverde Decking's unparalleled selection of premium hardwood outdoor decking materials for rooftop deck design ideas.
---
There's more ideas to explore! We gathered amazing rooftop deck projects in one place for you.
Grab your FREE download of the "Rooftop Deck Project Portfolio" for more design inspiration.

---
Ipe
Rooftop Wood Decking Material
Whenever I'm making a design decision, I always start with the "best of the best" – and outdoor deck materials are no exception. Premium Ipe Decking is the ultimate decking solution for the discriminating homeowner who wants the very best real-wood, all-natural deck. It outperforms every known decking material on earth – and that's sure saying something! It will provide you with many years of comfort, satisfaction, relaxation and peace of mind. We think it's the perfect choice whether you're hosting an intimate late-night gathering or greeting the day with a morning sun salutation.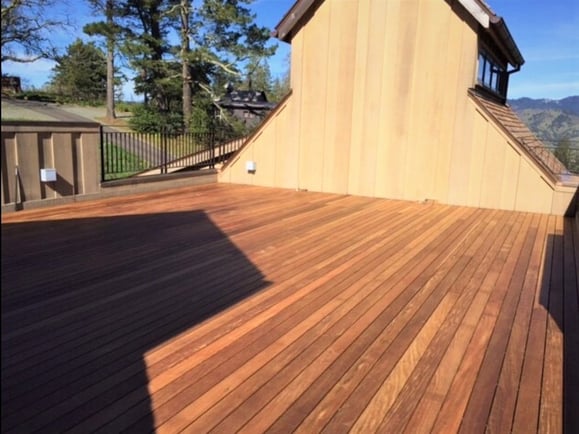 Ipe rooftop deck in California Wine Country overlooks the vineyards
---
Machiche
Rooftop Wood Decking Material
FSC® Machiche Decking is one of the most popular and stylish species of premium hardwood decking. Sustainably harvested, naturally beautiful and ultra long-lasting, this kiln-dried decking material has low shrinkage and minimal checking, so the surface will last beautifully for many years to come. And with a bending strength that's even higher than Ipe decking, you can go ahead and dance the night away – night after night after night – on your rooftop deck!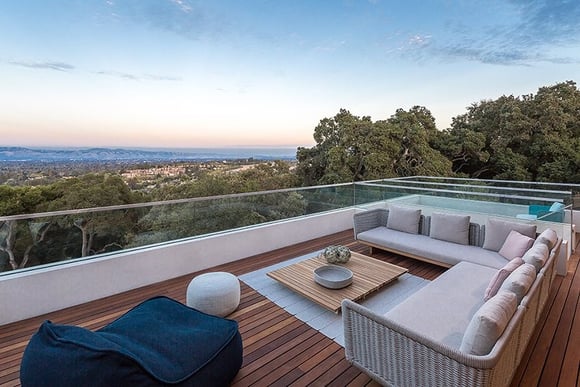 Cozy Machiche hardwood rooftop deck in California Bay Area with panoramic view
---
Cumaru
Rooftop Wood Decking Material
Cumaru Decking offers long-lasting strength, durability and beauty at an affordable price point. Its remarkable toughness and strength make it an ideal choice for your rooftop deck. Responsibly sourced and extremely durable, it's backed by a 25-year limited warranty against decay and insects – and that's a whole lot of parties!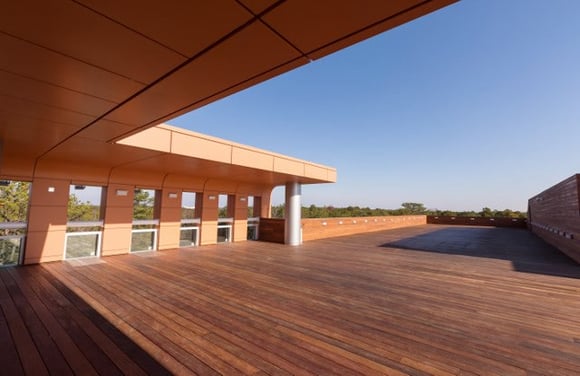 Expansive Cumaru hardwood deck in New Jersey covers entire rooftop
---
RELATED: SEE THE ROOFTOP DECKING PHOTO GALLERY
---
Garapa Rooftop Wood Decking Material
Mataverde® Garapa Decking is beautiful, durable and offers a lighter-colored decking material option with character striping and color variation that will turn a gentle silver shade if left natural. And while it looks soft and satiny, it's still considerably stronger, harder and heavier than oak and extremely resistant to shrinking, splintering, cupping, twisting, checking and warping. Its low cost also makes it a very affordable choice as a decking material. Just add twinkling lights, a fireplace and some soft, comfy chairs and cushions, and be prepared to wow your guests.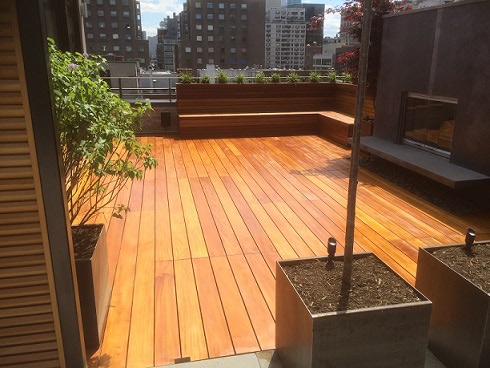 A cozy Garapa rooftop deck above the streets of New York City
---
Thermally Modified Rooftop Wood Decking Material
Thermally modified decking materials start out as a standard wood species, and through various different scientific heating and steaming processes, are transformed into a thermally modified wood. No chemical treatment needed in thermal modification. In general, thermally modified wood becomes a more stable, and better performing version of the original wood species. The processes also 'cook' the sugars out of the wood. This makes thermally modified wood decking very resistant to insects and much more rot resistant.
---
Let your dream rooftop deck journey begin! Download our guide to the first step. the FREE "Ultimate Guide to Slecting The Right Decking" for your project. Grab yours now.
---
Download a FREE copy of the "Rooftop Deck Design Portfolio" for more inspiration and design ideas. Grab yours now and start planning a getaway vacation destination - your dream rooftop deck - right at home!
---
RELATED:
Related Posts