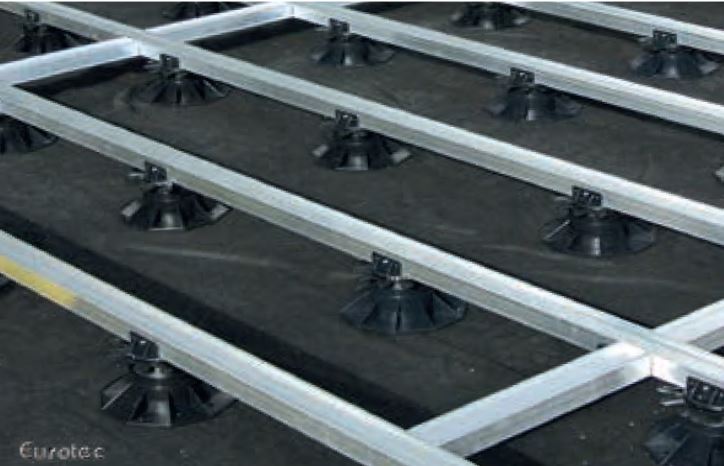 MATAVERDE® EUROTEC® DECK SYSTEM
Eurotec Rooftop Deck Technical Information
Mataverde® EUROTEC® Technical Information and Data
For your convenience, we have included information and links to technical data about the Mataverde Eurotec Rooftop Deck System all in one place on this page. We hope this is helpful for your planning and successful project completion. Please contact us if we can help in any way.
---
Mataverde Eurotec Rooftop Deck Installation Guidelines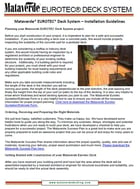 To help make your rooftop deck project design, planning and installation process as smooth and successful as possible, we have included a lot of helpful information in our Mataverde Eurotec Deck System Installation Guidelines. In addition to some great rooftop deck installation information, you will also find lots of helpful tips on how to create and complete a successful project that can be enjoyed for many years to come.
DOWNLOAD MATAVERDE EUROTEC INSTALLATION GUIDELINES
---
Mataverde Eurotec Rooftop Deck Reference Guide (6 page)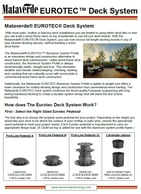 This helpful reference guide is designed to provide you with a good overview of the Mataverde Eurotec Deck System. It contains lots of helpful information to provide you a better understanding of this unique, high quality rooftop deck system. Please feel free to use this Guide as a reference tool when planning your deck project.
DOWNLOAD MATAVERDE EUROTEC REFERENCE GUIDE
---
Mataverde Eurotec Rooftop Deck Components - Minimum and Maximum Clearances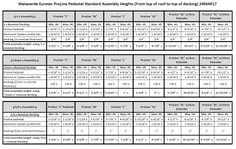 This helpful chart shows you the highest and lowest heights (measured from your roof or patio to the top of the deck boards) that can be designed using standard components of the Mataverde Eurotec Rooftop Deck System. It includes the adjustable height range of the entire Mataverde Eurotec decking assembly including; pedestals, aluminum system profile and decking options.
DOWNLOAD MATAVERDE EUROTEC MIN / MAX HEIGHT CLEARANCE CHART
---
Mataverde Eurotec Rooftop Deck Loading Calculations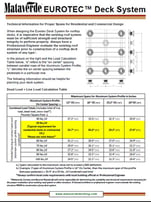 This helpful chart shows the proper pedestal spacing limits at various "on center" joist spacing options at various total load levels. Always check with your local building code officials to verify the rooftop deck loading requirements in your area. This chart will be a helpful tool for them to review, especially if the area the project will be built in has higher snow loads or other requirements.
When building a rooftop deck structure, it is essential that you have a licensed architect or professional engineer inspect and evaluate the existing structure for proper strength and suitability prior to assembly of a rooftop deck. Your deck will be no stronger than the structure it rests upon.
DOWNLOAD MATAVERDE EUROTEC LOADING CALCULATIONS CHART
---
Mataverde Eurotec Rooftop Deck Estimating Form

When you are planning and designing your rooftop deck, or you're ready to get a price estimate for your decking system materials, the Mataverde Eurotec Estimating Form is a great tool to help you along the way. After you fill out the form, please send it back to us for a free price estimate.
DOWNLOAD MATAVERDE EUROTEC ESTIMATING FORM
OR...
REQUEST A EUROTEC ROOFTOP DECK QUOTE HERE
---
Critically Important Information
About Rooftop Decks
Every rooftop deck, balcony, patio or other structure that is being used to support additional weight MUST be structurally sound and designed to carry this additional load. If a structure is not designed to carry an additional load, it should not be built on. Remember, no two buildings are exactly alike. Even so-called "cookie cutter" designs are unique. Every new building and existing building is different in terms of specific construction materials, exactly how it was designed, precisely how it was built and a multitude of other variable factors.
For safety sake, ALWAYS consult the appropriate professionals before designing or building any structure.



Always Consult a Professional Engineer**

We cannot emphasize enough how important it is to have your existing roof structure inspected by a professional engineer. Every built structure is designed and constructed to be stable to specific design limits. A professional engineer can provide valuable insight that will allow you to avoid costly or potentially dangerous mistakes. A Professional Engineer has been trained to evaluate how strong a structure is and how much additional weight it can safely support. It doesn't matter how strong a rooftop deck is if the structure it is being built upon cannot carry the load.


Always Consult your Local Building Inspector or Code Official*. Building Inspectors and Building Code Officials know the proper rules and applicable building codes required within their area of responsibility. Many jurisdictions, municipalities and areas have various loading requirements based on local climatic conditions and other factors. Snow loads, especially, vary from area to area, and local code officials should have a high level of familiarity with them. Please understand that these code requirements were not put into effect arbitrarily, they were enacted to protect everyone's safety.

Always seek out the expertise of local building officials - it is the right thing to do and is in everyone's best interest - including your own. Building officials can also provide helpful information about railing requirements and other design, construction and safety issues that should be carefully considered before and during the construction process.



Licensed Architects and Builders

can also be a great resource to help guide you along, professionally, during the design and construction process of your project. Their training, knowledge and experience can greatly influence the overall results for a long-lasting successful project.


*It is your responsibility to always confirm local code requirements with local building official or Professional Engineer prior to constructing a rooftop deck or other structure.
**Mataverde, Eurotec and General Woodcraft will not be responsible for determining the suitability and structural requirements necessary for the proper evaluation of an existing roof system or other structure. A licensed architect or professional engineer must evaluate the existing structure PRIOR to construction of any deck system.
---
DOWNLOAD EUROTEC ROOFTOP DECK 3 PART CSI SPECIFICATIONS
---
Looking for some inspirational rooftop deck ideas?
Download the "Rooftop Deck Design Ideas Portfolio" now!
---
Need pricing for your rooftop deck materials?
Request a Rooftop Deck Quote today.