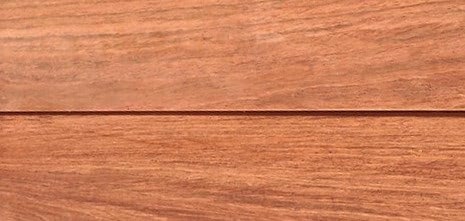 JATOBA HARDWOOD RAINSCREEN SIDING
Climate-Shield Rainscreen System
Jatoba hardwood siding is a high performance, durable wood cladding option. Jatoba, (pronounced ZHA'-toe-Bah) is an exceptionally hard, dense and beautiful wood siding material option.
Jatoba, also known as Brazilian Cherry, is a gorgeous, high-density hardwood siding option. Jatoba siding has rich brown and cherry red tones, and shows lots of dramatic color and grain variations. Jatoba has medium to coarser graining and is budget friendly premium wood siding material. With the Climate-Shield rainscreen system, Jatoba cladding may be installed and designed horizontally, vertically, or diagonally with the Climate-Shield® Rain Screen System to enhance your exterior facade appearance and performance.
Why Use Jatoba Hardwood rainscreen cladding and siding?
Jatoba hardwood siding is very strong, naturally beautiful, exceptionally durable and long lasting. Jatoba siding is a high performance wood siding species for wood rainscreen designs and installations. Mataverde Jatoba rainscreen siding has some exceptionally high mechanical properties and natural characteristics. Jatoba wood siding works exceptionally well in a wood rainscreen design.
Incredibly strong
Naturally beautiful

DOWNLOAD JATOBA HARDWOOD SIDING FACT SHEET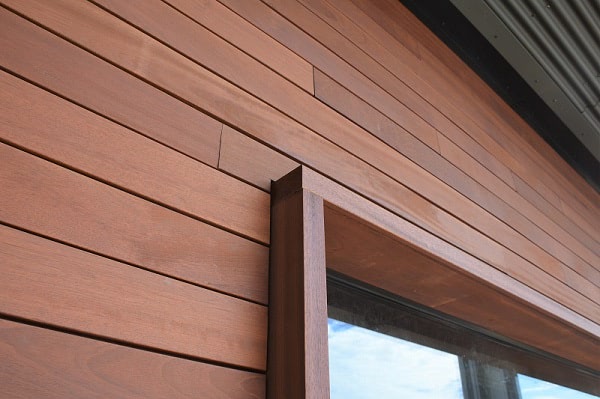 5/4 x 6 Jatoba rainscreen siding with Seal Once Bronze Cedar semi-transparent finish
Jatoba hardwood is a naturally beautiful wood siding material. Jatoba has some exotic grain variations and an alluring tropical appeal. Jatoba is an exceptionally long-lasting real wood cladding option for residential or commercial wood rainscreen designs. The lovely cherry red tones of Jatoba hardwood siding can add a warm, embracing feeling to a rainscreen facade design. The rugged beauty of Jatoba wood siding make it a great fit for rainscreen system designs and installations.
To see more Jatoba wood siding project pictures, please visit the Jatoba Rainscreen Siding Project Gallery.
Jatoba hardwood siding finishing options.
Even if you plan to allow your Jatoba siding to weather to a silvery gray patina, putting a coating of a UV inhibitive finish on exterior wood is an excellent idea. You can still let your siding weather out eventually, but a UV protectant sealer helps your hardwood siding adjust to its new environment. It also helps minimize the potential for surface checking.
For an oil based finish, Penofin Hardwood Formula works very well. Penofin will weather off eventually, depending on your site conditions. But before it does, Penofin helps protect your wood while it is seasoning and adjusting to its new home.
For a water based finish, Seal Once, with a semi-transparent tint, is another beautiful exterior wood finish option. The semi-transparent tints contain UV inhibitors that will help protect your Jatoba siding as it seasons in place.
Want to learn more about your finish and maintenance options?
DOWNLOAD "HOW EXTERIOR WOODS WEATHER GUIDE" today.
---
Find out if Jatoba rainscreen siding meets your project budget. Request a rainscreen siding quote today.
---
Other Wood Siding Species Options and Comparisons
Want to see some incredible projects? Download the Rain Screen Projects Portfolio
Check out other Wood Rainscreen Siding Galleries
For additional information about other wood siding material options and their potential compatibility with the Climate-Shield Rain Screen System, please click on the link below to Download our Wood Siding Species Comparisons Chart.
If the wood siding species you are considering is not listed on the chart, please Contact our Specialists.
---
ADDITIONAL HELPFUL INFORMATION: