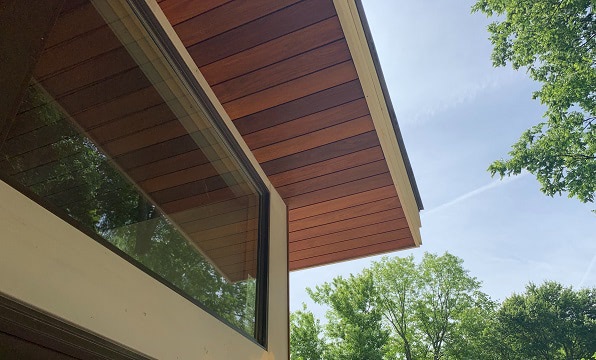 Architectural Details CS10 Rain Screen Assemblies
Architectural Rain Screen Design Details CS10 Specialty Clip Assemblies

Low Clearance CS10 Specialty Clip Rain Screen Design Options
This web page contains typical low clearance wall and soffit assemblies for the Climate-Shield CS10 Specialty Rain Screen Clip and components. The 10-mm rain screen gap (wall cavity) is designed for use over plywood or OSB wall sheathing for horizontal siding and soffit designs in non-hurricane zones, where a 10mm (3/8"+) ventilated wall cavity is adequate.
We hope these architectural rain screen design details save you time to help you create your design. If your project design presents additional or unique design challenges, please contact our Technical Team online, or call us at (860) 444-7524 weekdays from 8:00 am to 5:00 pm EST.
---
---
Climate-Shield CS-10 Rain Screen Assembly Detail Horizontal Siding over Plywood or OSB Exterior Sheathing
Architectural rain screen details and drawings for typical low-clearance horizontal rain screen installation with 1x4 or 1x6 wood cladding using Climate-Shield CS10 Rainscreen Clips and Starter Rail
---
HORIZONTAL SIDING TOP COURSE DETAILS CS-10 SPECIALTY CLIP
Architectural drawing for typical horizontal rain screen installation under the soffit using Climate-Shield CS10 Rainscreen Clips
(May also be used under windows.)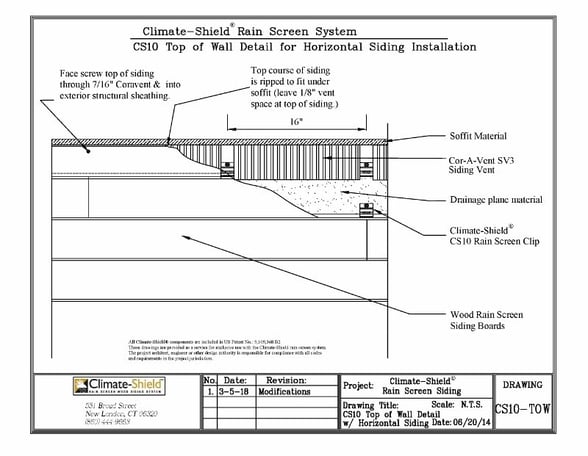 CS10 Specialty Clip Design Limitations:
10mm ventilated wall cavity
maximum 180 MPH wind load at 16" OC
for attachment to plywood or OSB sheathing
For other design requirements: refer to Climate-Shield CS2 assembly details
---
TYPICAL LOW CLEARANCE SOFFIT DETAILS FOR ATTACHMENT TO WOOD FRAMING MEMBER
Architectural detail for typical low clearance soffit - Climate-Shield CS10 specialty fastener to wood framing member
The 1-1/2" wide CS10 specialty clip is ideal for fastening to wood framing members at 16" on center.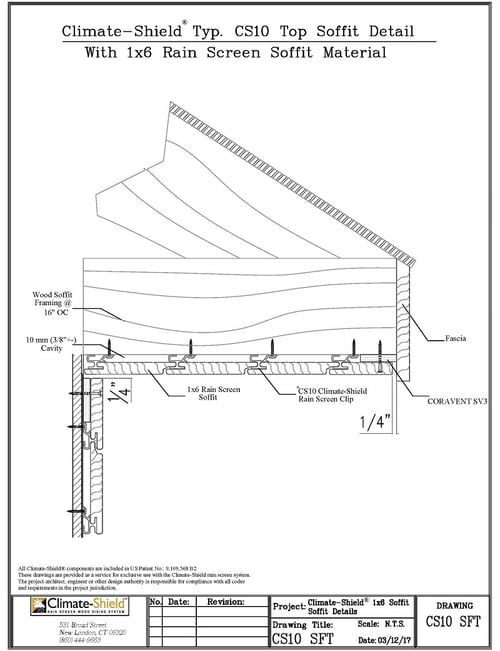 DOWNLOAD PDF FILE FOR SOFFIT DETAIL
DOWNLOAD CAD FILE FOR SOFFIT DETAIL
---
DOWNLOAD 3 PART CSI SPECIFICATIONS FOR CS10 RAIN SCREEN
DOWNLOAD CS10 RAIN SCREEN CLIP PRODUCT SUBMITTAL SHEET
DOWNLOAD CS10 RAIN SCREEN STARTER RAIL PRODUCT SUBMITTAL SHEET