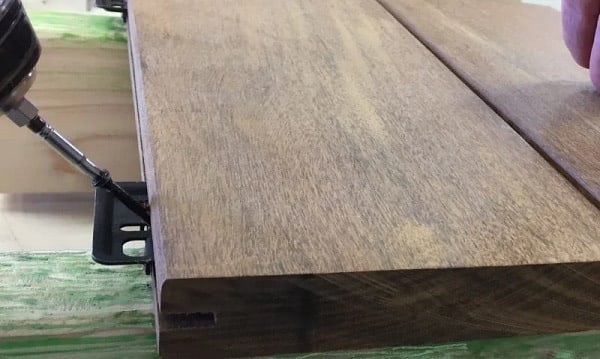 MATAVERDE DECK CLIP STAINLESS STEEL CONCEALED DECK FASTENERS
Concealed Fasteners for Softwood and Hardwood Decking
How to Choose the Best Concealed Fastener for a Deck.
If you are considering hidden fastening for your decking installation, The Mataverde® Eurotec® Deck Clip is a great option to consider. If your job site conditions are appropriate for using a hidden stainless steel decking fastener then the Eurotec Deck Clip will save you time, money, and worry for a long lasting and beautiful deck to enjoy for many years.
How Do I Know if Hidden Deck Fasteners Will Work Well for My Deck?
Fastening your Mataverde Hardwood Decking with stainless steel deck screws directly to the wood joists is the strongest method to secure your deck boards. However, many clients don't like the look of exposed screw heads on their deck boards so hidden decking clips provide a fast and secure method for many job site installations.
It's important to know that when using a hidden decking fastener, you are often trading off strength for looks. There are some applications and job site conditions where hidden fastening will work well and others work best with deck screws. How can you tell?
Best Conditions For Using Concealed Deck Fastening:
If your answers to the questions below are all "YES", then hidden deck fasteners are a good option to consider.
Will there be under-deck ventilation on three sides to allow air flow? (Adequate ventilation is the most critical factor affecting decking performance)

Is your deck a minimum of 30" above the ground? (the higher the better)

Does the ground below your deck pitch away from the house or structure?
Is there adequate drainage for rain water? (various landscape fabrics and gravel work well)
---
Get a fast reference on when to use a concealed deck fastener and how to avoid problems.
Download the white paper "Biggest Problems with Hidden Deck Fasteners" now.
---
Best Decking Sizes to Use with Hidden Deck Fastening:
MATAVERDE CONCEALED FASTENERS WORK GREAT WITH PRE-GROOVED HARDWOOD DECKING
Nominal '21 mm x 4' or '5/4 x 4' pre-grooved decking provides better strength and performance

Pre-grooved decking will save you time, money and labor...and it looks fantastic, too
Pre-grooved deck boards save lots of time, expense and aggravation. Choose from reliable hardwood decking species like Ipe, Machiche, Garapa and Cumaru. All four of these durable hardwood decking species are available pre-grooved and are covered by the Mataverde® 25 Year Limited Warranty. The continuous groove makes installing pre-grooved hidden fasteners faster and easier whether you are installing your deck boards square or diagonally.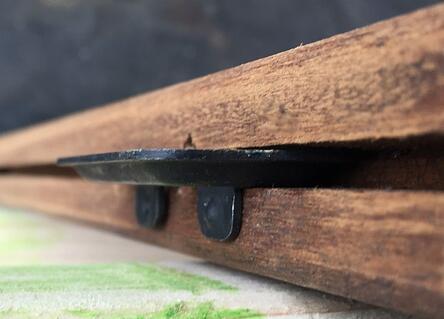 ---
100% Stainless steel, no plastic. Black for low visibility when installed. See it for yourself, request a
FREE sample here.

---
MATAVERDE EUROTEC CONCEALED FASTENER
A 100 % STAINLESS STEEL HIDDEN DECK FASTENER
If your deck is suitable for a hidden deck fastening installation, the Mataverde Concealed Deck Fastener is a great option to choose. To save on labor costs and reduce installation time, use Mataverde Premium Hardwood Decking products that are "pre-grooved" or "slotted" on the sides.
Both the Mataverde 100% stainless steel concealed deck fasteners and 100% stainless steel wood screws offer long life, better strength and superior holding power. Both the screw and the clip are coated black for low visibility and better concealment between the deck boards. The extra long clip (1-7/8"), is perfect to align the decking and hold it place.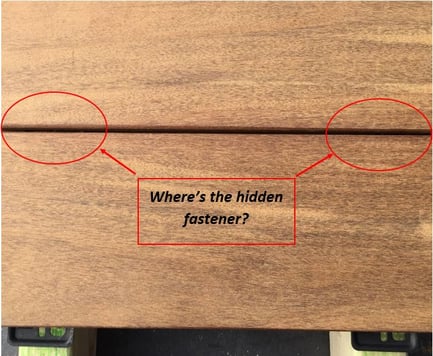 The Mataverde Concealed Deck Clip is barely visible between the deck boards
Why Choose the Mataverde Concealed Fastener Deck Clip?
The unique design of the Mataverde Concealed Deck Clip is a high performance hidden fastening option for either softwood or hardwood decking. After years of experimenting with various other under-deck fasteners, and lots of discussions with decking contractors, this concealed deck fastener was designed for exceptional performance, easy installation and great looks.
| | |
| --- | --- |
| Mataverde Hidden Deck Clip Features | Mataverde Hidden Deck Clip Benefits |
| Black clip and screw | Less visible for a cleaner look |
| Stainless steel deck clip | Strong, long lasting, won't split or degrade |
| Stainless steel screw | Strong, long lasting, better holding power |
| 1-7/8" length covers more of the deck board edge | Better performance, better holding power |
| Designed for pre-grooved decking | Saves time, labor costs, looks great |
| Pilot drill bit provided | Won't split the decking |
| Bit driver provided | Allows screws to install quickly and securely |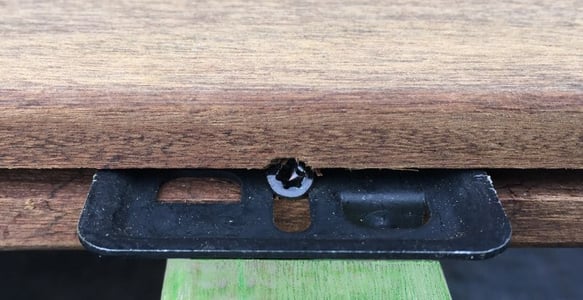 Mataverde concealed deck fastener holds pre-grooved decking securely in place
---
RELATED : DOWNLOAD THE MATAVERDE CONCEALED DECK CLIP INFORMATIONAL BROCHURE
---
MATAVERDE EUROTEC DECK CLIP
DECK INSTALLATION WITH HIDDEN DECK FASTENING
To install decking with the Mataverde Concealed Deck Clip fastener lay out your deck boards normally, one row at a time. Instead of drilling and screwing through the face of the deck boards, pre-drill the bottom edge of one side of the pre-grooved decking only, at a 45° degree angle. (see photo below)

Then screw the deck board into the joist. This seats and fastens the deck board securely.

Repeat the process at each joist location and continue with your next rows of decking.



---
RELATED: DOWNLOAD MATAVERDE DECK FASTENER INSTALLATION GUIDELINES
---
MATAVERDE DECK CLIP KIT ACCESSORIES
The Mataverde Concealed Deck Fastener Kit includes:
175 Stainless Steel Decking clips (black for lower visibility)

190 Stainless steel screws (black for lower visibility)

1 drill bit

1 driver bit

Covers approximately 100 SF of nominal '5/4 x 6' decking area

Covers approximately 66.7 SF of nominal '5/4 x 4' decking area


The Mataverde Concealed Deck Fastener Contractor Bucket includes:
525 Stainless Steel Deck clips (black for lower visibility)

570 Stainless steel screws (black for lower visibility)

2 drill bits

2 driver bits

Covers approximately 300 sf of 5/4x6 decking area

Covers approximately 200 sf of 5/4x4 decking area
---
Request a FREE sample of the Mataverde Concealed Fastener and see how a
100% stainless steel fastener will save you labor on your next project
---
RELATED: