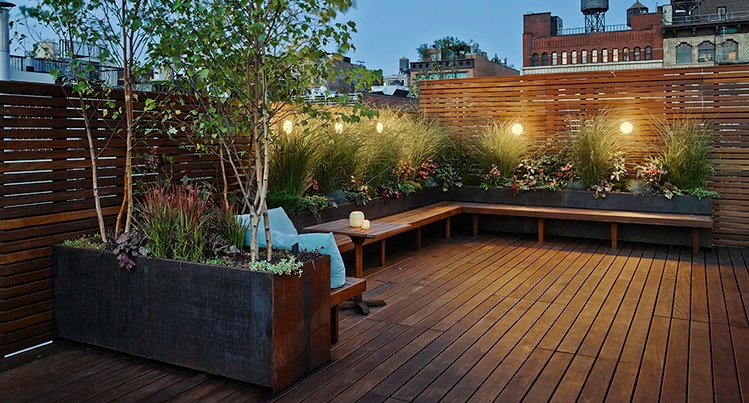 MATAVERDE EUROTEC ROOFTOP DECK SYSTEM FOR ARCHITECTS AND DESIGN PROFESSIONALS
"For architects, landscape architects, green roof specialists and other design professionals planning a rooftop deck project, the Mataverde® Eurotec® Deck System is a great rooftop deck design option to consider."
With the increase of urban infill project designs and the revitalization of many urban areas, rooftop decks have rapidly become the "go-to" spot in cities for both residential homes, apartments, and commercial businesses. High above the street level noise and hustle and bustle, an aerie can be created for peaceful enjoyment and relaxation. The added benefit of picturesque and panoramic views make the planned use of these spaces a treasure trove for design professionals.
The Mataverde Eurotec Rooftop Deck System combines European deck framing technology with the natural look and performance of durable hardwood decking. This unique system allows you to use full length decking boards in your rooftop deck designs. This creates a harmonious balance of form and function, strength and precision, durability and inherent beauty. The system is often used on rooftop decks, balconies and over patios to create stunning designs that incorporate the natural look and feel of real wood decking.
---
Grab your FREE copy of the "Ultimate Guide To Selecting The Right Decking" here for more helpful information on your rooftop deck material options.
---
How the Eurotec Rooftop Deck System Works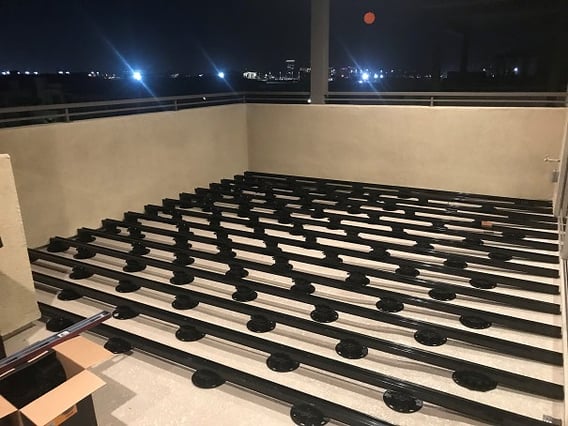 The Eurotec Aluminum System profile acts as a joist and is vastly superior to wood framing in many respects:
Lightweight

Non-combustible

Straight and true

Will not warp, split, check or crack

Now available in a black finish for low visibility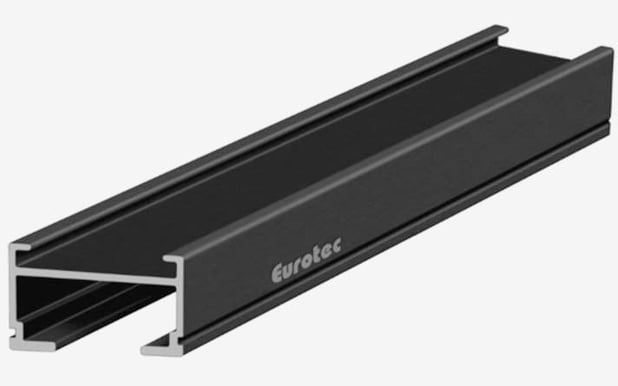 The aluminum profile now comes in black (shown), for low visibility, or aluminum finish.
Design a deck that is perfectly level
Eurotec Adjustable Pro-Line Pedestals allow various height adjustments on any area that may have varying pitches and elevations. This allows you to design a perfectly level deck. Measured from the top of the roof surface to the top of the decking, the typical adjustable range for the system (including pedestals, aluminum system profile and 5/4 nominal thickness decking) is from a low of 3-3/4" to a high of 17". Additional adjustable heights can also be achieved with alternative components. Contact our technical/design team for additional information.
---
RELATED: ROOFTOP DECK CONSTRUCTION AND INSTALLATION
---
Looking for some great rooftop deck ideas?
Download the FREE "Rooftop Deck Design Ideas Portfolio" now!
---
What Type of Decking Material Works Best For Roof Deck Designs?
Because rooftop decks are typically exposed to the harshest environmental factors imaginable, (full UV exposure, winds, rain, snow, heat, low-ventilation and low clearance conditions), a long-lasting, durable, high performance decking is required for best looks and satisfaction. Mataverde offers several premium hardwood decking species and sizes to suit your design and project budget requirements. In general, thicker deck boards (5/4 nominal) should be used in this environment. Narrower boards (4" nominal) are also preferable because they provide more ventilation.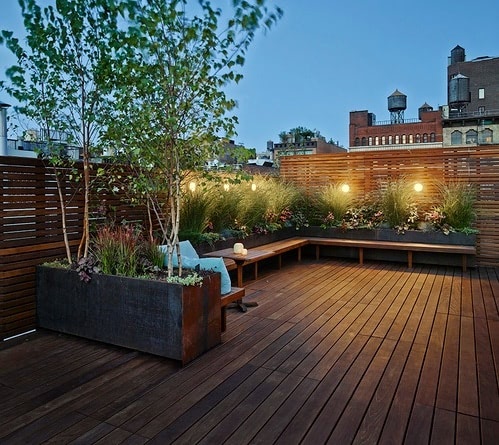 ---
RELATED: ROOFTOP DECKING PHOTO GALLERY
---
Architects Rooftop Deck Design Tools
Simply let us know your rooftop design needs and loading requirements. We'll get the ball rolling for you.
STEP 1:
STEP 2:
STEP 3:
We'll produce a rooftop deck layout drawing and budget quote for your project. Easy peasy. Here's an example of our rooftop deck layout drawing, so you can know what to expect:
TYPICAL ROOFTOP DECK LAYOUT PLAN: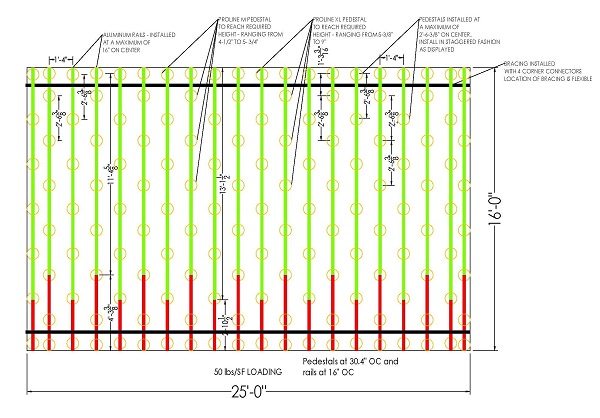 STEP 4:
When the deck area is ready for assembly, a site survey should be conducted to determine the overall system height of the rooftop deck assembly. This site survey is typically performed by the installing contractor. This is will help the installing contractor determine the exact number of the various heights of the adjustable rooftop deck pedestals (and extenders) required.
ROOFTOP DECK SYSTEM HEIGHT: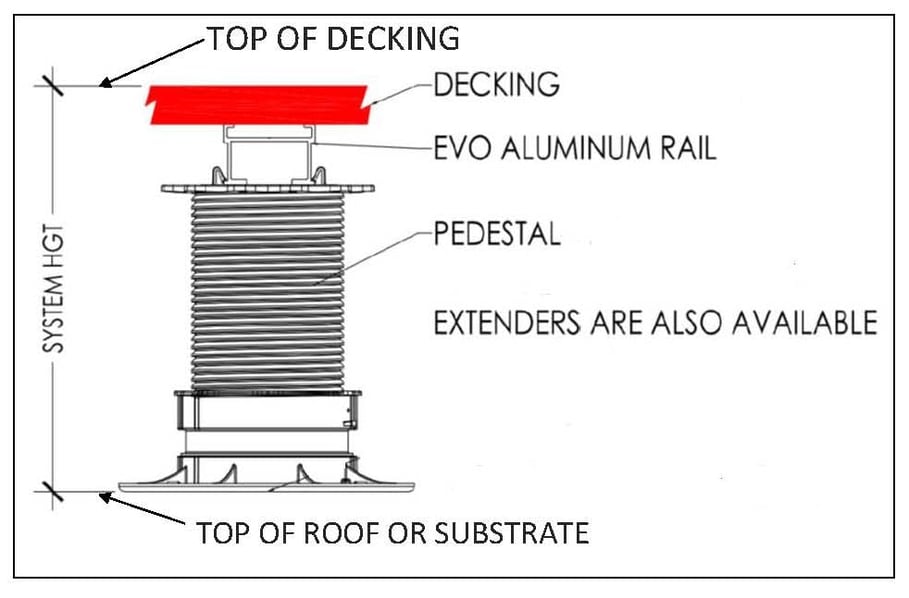 ---
Choose Your Hardwood Decking Material for Rooftop Deck Designs
Tired of designing with square deck tiles? Prefer to use full length deck boards? Like the look and performance of natural hardwood decking? Choose Mataverde Premium Hardwood Decking for your your rooftop deck design.
Ipe Hardwood decking is often considered the best and longest lasting high-density hardwood decking available. Ipe ranges from lighter brown to darker brown and olive-brown tones and has a wide range of spectacular figuring and grain variations.
Please visit our Ipe deck gallery to see a full range of typical grain and color variations.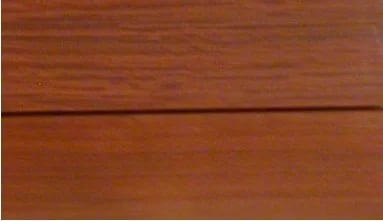 ---
Cumaru hardwood decking is an excellent rooftop deck design option. Cumaru is slightly coarser grained than Ipe and has reddish brown appearance and a variety of color and grain variations.
Please visit our Cumaru deck gallery to see a full range of typical grain and color variations.
---
FSC® Certified Machiche hardwood decking is a fine option for rooftop deck designs. Machiche has medium-coarse graining, a chocolaty brown appearance and, like most tropical hardwoods, a wide range of exciting grain variations.
Please visit our Machiche deck gallery to see a full range of usual color and graining variations.
---
Garapa hardwood decking is another suitable option for deck designs and has a golden yellow to amber brown color range. Garapa has a more limited grain range than most high-density hardwoods and is a budget friendly decking option that will stand the test of time.
Please visit our Garapa deck gallery to see a full range of usual color and grain variations.

---
Thermally modified hardwood decking is a great sustainable option for rooftop decks. Mataverde ThermoWood and Thermawood decking have a gorgeous apearance, too. Because of the thermal modification process uses only heat and steam (no added chemicals), the wood is exceptionally stable and safe for use.
Please visit our ThermoWood deck gallery to see some fantasticproject designs and a full range of typical color and grain variations.
| | |
| --- | --- |
| Thermawood Thermally Modified Hem-Fir | ThermoWood Thermally Modified Ash |
---
Are you wondering what your rooftop wood decking will look like as they naturally age? Looking for a rooftop deck with even lower maintenance needs?
Download the FREE "Guide to How Woods Weather" now for all the details.
---
RELATED: