FEATURED CLIMATE-SHIELD® RAIN SCREEN PROJECTS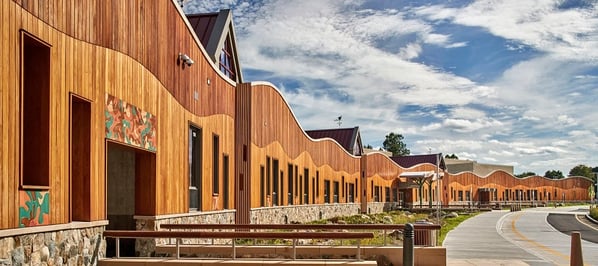 We are proud to share some of our clients' most stunning Climate-Shield rain screen projects, featuring both the patented rainscreen system and various species of architectural hardwood cladding. Many of these projects have won multiple awards and beautifully pair Mataverde's sustainable architectural hardwood siding with Climate-Shield's rainscreen system, creating a sustainable design which is exceptionally durable, handsome and long-lasting.
Check out the brief case studies for these remarkable projects below, or download the entire collection.
Download the entire collection of Rain Screen featured project case studies
FEATURED PROJECT: Ruane Friars Development Center, Providence, RI

OWNER: Providence College

ARCHITECT: Perkins Eastman

GENERAL CONTRACTOR: Dimeo Construction

Installer: Massey's Plate Glass and Aluminum, Inc.

RAIN SCREEN: Climate-Shield® Rain Screen System™

CLADDING: Mataverde® Ipe siding

FINISH: Seal Once, Cape Cod Gray semi-transparent tint


FEATURED PROJECT: Canal Dock Boathouse, New Haven, CT

OWNER: Canal Dock Boathouse

ARCHITECT: Gregg Weis & Gardner Architects

GENERAL CONTRACTOR: Nosal Builders, Inc.

Installer: Ultimate Construction LLC

RAIN SCREEN: Climate-Shield® Rain Screen System™

CLADDING: Mataverde® Ipe siding

FINISH: Penofin Oil Finish


FEATURED PROJECT: Private Residence, Cambridge, MA

OWNER: Private Residence

ARCHITECT: Campbell Ellsworth

GENERAL CONTRACTOR: MacArthur Construction

RAIN SCREEN: Climate-Shield® Rain Screen System™

CLADDING: Mataverde® Ipe siding

FINISH: Seal Once, Cape Cod Gray semi-transparent tint


FEATURED PROJECT: Private Residence, Bridgehampton, NY

OWNER: Private Residence

ARCHITECT: Roger Ferris + Partners, Westport, CT

GENERAL CONTRACTOR: Fred G. Lappe General Contracting, Inc., Riverhead, NY

RAIN SCREEN: Climate-Shield® Rain Screen System™

CLADDING: Mataverde® Garapa siding and Roofing

FINISH: Natural
FEATURED PROJECT: Private Residence, Cambridge, MA

OWNER: Private Residence

ARCHITECT: Anmahian Winton, Cambridge, MA

EXTERIOR CONTRACTOR: Shoreline Deck Company

RAIN SCREEN: Climate-Shield® Rain Screen System™

CLADDING: Mataverde® Ipe siding (1x4 nominal)

FINISH: Seal Once, Cape Cod Gray semi-transparent tint


FEATURED PROJECT: Weeksville Heritage Center - Brooklyn, NY

ARCHITECT: Caples Jefferson Architects, Long Island City, N.Y.—Sara Caples, AIA, Everardo Jefferson, AIA (principals); Michael Behrman, RA (associate principal)

CONSTRUCTION MANAGER: Hill International

GENERAL CONTRACTOR: Brickens Construction

RAIN SCREEN: Climate-Shield® Rain Screen System™

CLADDING: Mataverde® Ipe siding
FEATURED PROJECT: Parkland College Student Union - Champaign, IL

OWNER: Illinois Community College System

ARCHITECT: Perkins + Will Chicago

ASSOC ARCHITECT: IGW Architecture

GENERAL CONTRACTOR: Poettker Construction Co.

RAIN SCREEN: Climate-Shield® Rain Screen System™

CLADDING: FSC® Certified Red Cedar Siding
Download the entire collection of Rain Screen featured project case studies
---
Please see a partial list of other Commercial