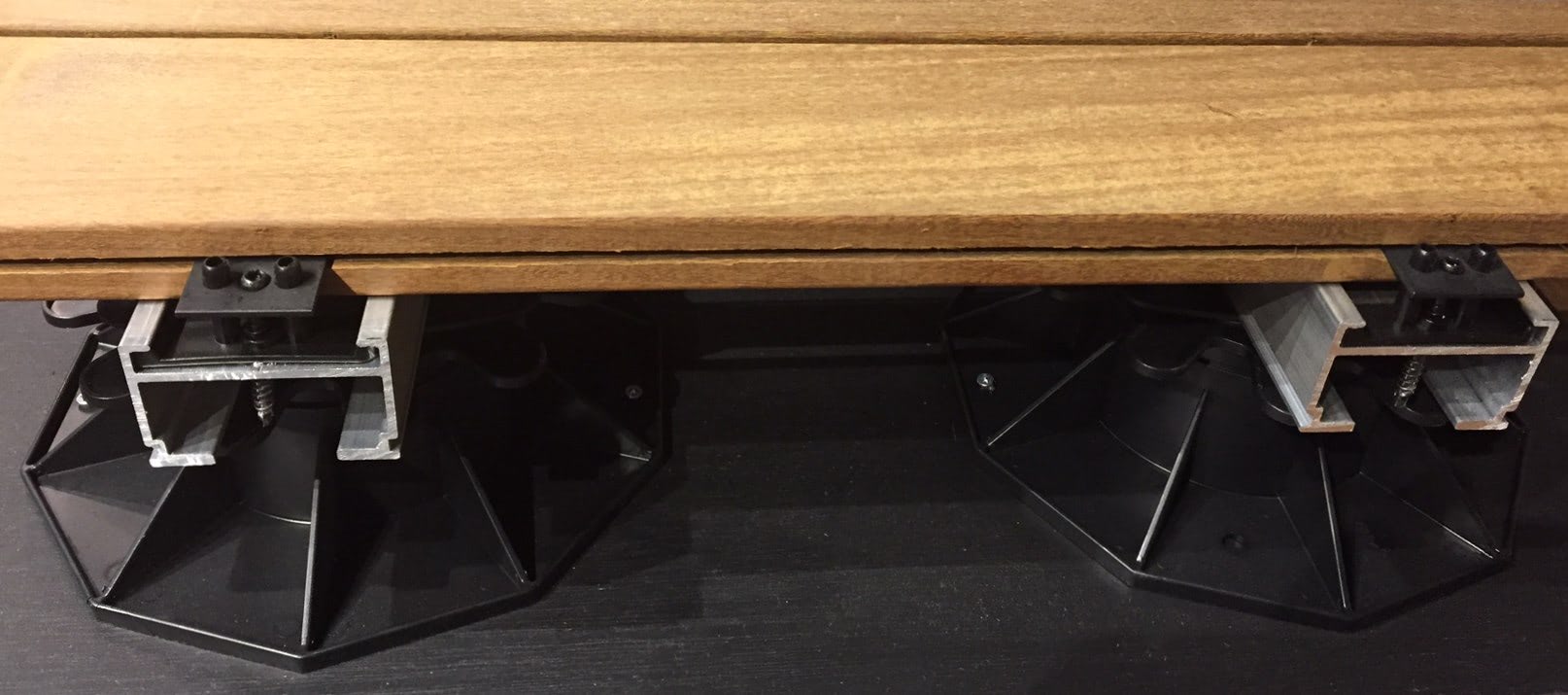 MATAVERDE® EUROTEC® Fastening Options for Rooftop Decks
Rooftop Deck Fasteners
Mataverde Eurotec Rooftop Deck Fasteners
There are two primary methods to fasten your rooftop deck boards to the Mataverde Eurotec Deck System framework. Fastening options for rooftop decks include:
FACE SCREW FASTENING METHOD Face screw your deck boards using stainless steel Eurotec Profile Screws. A face screw installation provides the strongest holding power and best lateral bracing of all deck fastening options

---
Although we have many clients who prefer the extra strength provided by face screwing deck boards, we have an equal number of clients who prefer the pristine look of a hidden fastener. The choice is yours and either choice is a good one.
CONCEALED FASTENING METHOD #1 - Use the Eurotec Deck Glider for a deck fastener. that is hidden from view. The Eurotec Deck Glider concealed fastening option can be used with standard decking boards.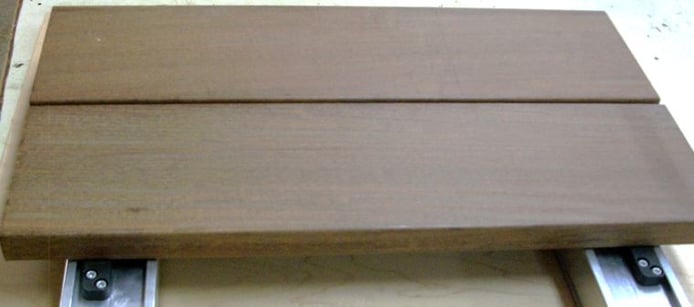 ---
HIDDEN FASTENING METHOD #2 - Use the Eurotec Twin System Holder for a hidden deck fastener. The Eurotec Twin System Holder hidden fastening option can be used with pre-grooved decking boards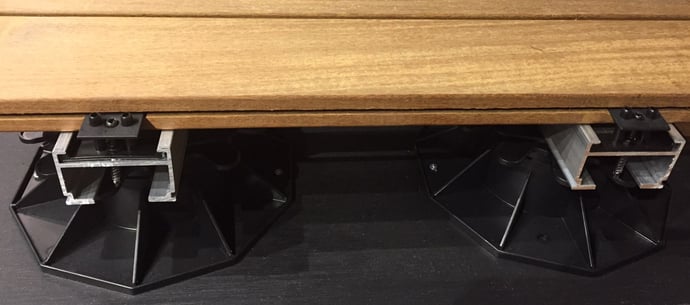 ---
The Eurotec Profile Screw Rooftop Deck Fastening Method

The Mataverde Eurotec Profile Screw is made from #316 stainless steel for longer life span and durability and also performs well in marine environments. When you are using high density hardwood decking materials such as Mataverde Premium Ipe, Cumaru, Garapa or FSC Machiche, it is important to use a high quality fastener that will last as long as your decking.

Due to the exceptional holding power of a screw fastening a deck board to a joist, most builders and construction professionals prefer this installation method. It is reliable, strong and the fasteners are less costly. Face-screwing a deck board also provides a significant amount of lateral bracing to help "firm up" the entire deck structure.
The two most widely accepted face screwing methods for fastening hardwood decking to the framework are as follows. Because the labor time and cost varies depending on the method you choose, check with your contractor for installation cost options.
The hardwood decking boards will need to be pre-drilled and then the "drill point" on the self tapping Eurotec Profile Screw will attach to the Aluminum System Profile securely for a strong and reliable installation.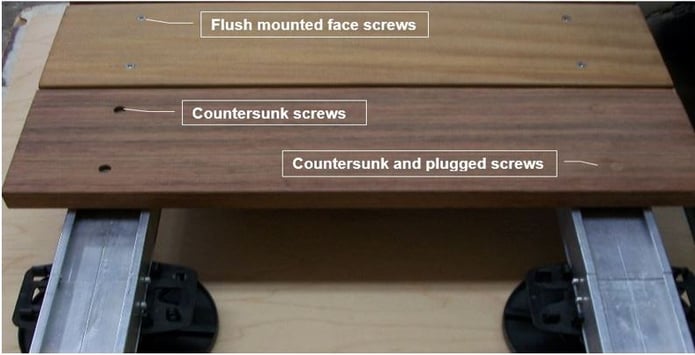 ---
Installation Options for Eurotec Profile Screws
Eurotec Profile Screw Installation Option 1:
Standard pre-drilling of deck boards (the screw heads would be visible, either flush mounted or slightly recessed.). This deck screwing and fastening method is faster and less costly to install. Because of the strength and lower labor costs this option is widely used for high traffic areas and public decks, walkways and boardwalks.
Eurotec Profile Screw Installation Option 2:
Pre-drilling the deck boards with a countersink drill bit and then plugging the screw heads (for non-visible screw heads). This method, although labor intensive, is often the preferred method of deck fastening for artisans and master craftsmen.
---
RELATED: MATAVERDE EUROTEC DECK SYSTEM INSTALLATION GUIDELINES
---
Rooftop Deck Hidden Fastener Option #1
Mataverde Eurotec Deck Glider Hidden Fasteners
For a sleek and unencumbered deck surface, many design professionals and purists prefer the clean lines provided by a hidden deck fastener. The Mataverde Eurotec Deck Glider is a great way to achieve this pristine look. Because of its unique design, the Deck Glider allows for any seasonal dimensional changes (expansion and contraction) of the deck boards.
| | |
| --- | --- |
| | |
| Eurotec Mini Glider (for 4" nominal boards) | Eurotec Deck Glider (for 6" nominal boards) |
Eurotec Deck Gliders are installed to the underside of the decking boards with the provided screws. The Deck Glider is used for 6" nominal deck boards and the Mini Glider is designed for 4" nominal deck boards.
The Eurotec Deck Glider hidden fastener is installed on the underside of the deck boards and then securely fastened to the Aluminum System Profile for clean lines and a pristine appearance. Although this fastening method takes little longer to master, the result is better long term fastening and holding power for your deck boards.
Does this rooftop deck fastener take a little longer to install? Yes, it does. But it gets faster quickly, after you get a rhythm going. And, it's the most reliable hidden fastener we've ever seen for rooftop deck installations.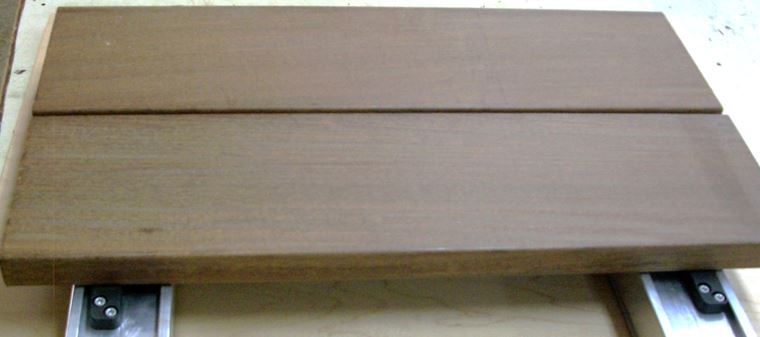 ---
Rooftop Deck Hidden Fastener Option #2
Mataverde Eurotec Twin System Hidden Fastener
An alternative method to provide hidden deck fastening is using the Eurotec Twin System Holder. This labor saving hidden fastener is used for attaching decking boards into the Aluminum System Profile. This hidden fastener holds the deck boards down with a stainless steel plate, and the screw is fastened directly into the Aluminum System profile (not through the decking). Because the screw heads are accessible, an added advantage to this fastening method is it allows boards to be removed easily if needed for below-deck access.

Cut-away view of Eurotec Twin System Holder
From a labor and installation standpoint, this hidden fastening saves lots of time. Because wood moves seasonally, and no screws are actually touching the deck boards directly, this method works best with narrower deck boards. We suggest using 5/4 x 4 pre-grooved decking boards when fastening with this method.
After acclimation and seasonal wood movement occurs, if wider deck boards are selected, they may have to be adjusted occasionally to maintain a more even gap between the decking boards.
---
Need some inspiration for your rooftop deck design?
Looking for rooftop deck ideas?
Download the "Rooftop Deck Design Ideas Portfolio" now!
---
Request a Rooftop deck materials quote:
---
RELATED: