TRADITIONAL WOOD SIDING OPTIONS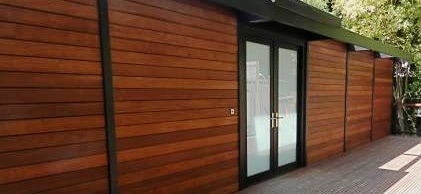 When a high performance wood rainscreen system doesn't meet your project budget, there are other wood siding options to consider. Rainscreen systems have been in use for centuries. Why? because they are so effective at preventing rain, sleet, snow and moisture from getting into a home or building. And they also work great for getting the moisture out.
When your siding budget can't afford a higher performing rainscreen, don't fret. There are other installation options that can provide some of the key rainscreen benefits. A rainscreen system using furring strips (wood or other), may help you control your costs.
Tongue and Groove Sidings (T&G) do not leave a gap between the siding boards. When you install them over a gap on your exterior wall, this is called a 'closed joint' rainscreen. You can still make it ventilate properly by leaving ventilation at the top and bottom of your wall. Siding vents, such as the Cor-A-Vent SV5, are available to allow ventilation at the top and bottom of the wall. They also work great to keep insects and pests out of your wall cavity.
Tongue and Groove and Ship Lap Siding Profiles
Here are some common shiplap and tongue and groove wood siding profiles. These siding profiles can be custom milled for your order in random length tallies. Best hardwood siding species available include Ipe siding, Garapa siding, FSC® Certified Machiche hardwood, and Thermally modified wood siding. Other wood siding species are also available.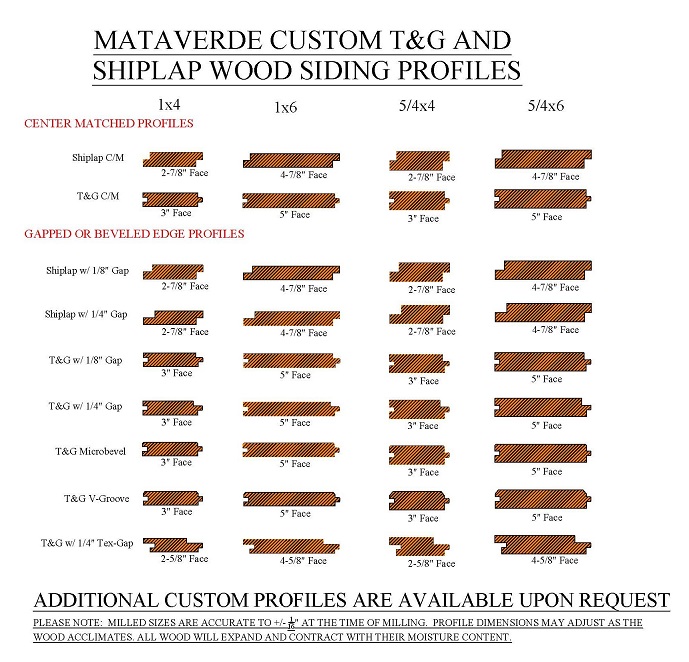 DOWNLOAD MATAVERDE CUSTOM T&G SIDING PROFILE SHEET
Other Custom Wood Siding patterns and profiles are available.
Please Contact Us and let us know what you need.
---
Pros' and Con's of T&G (Tongue and Groove) Wood Siding using Furring Strips:
| | |
| --- | --- |
| PRO's | CON's |
| | Because it's a closed joint rainscreen, it will take longer to 'dry out' |
| | |
| | |
Here's an example of how a back-ventilated, closed joint rainscreen system works: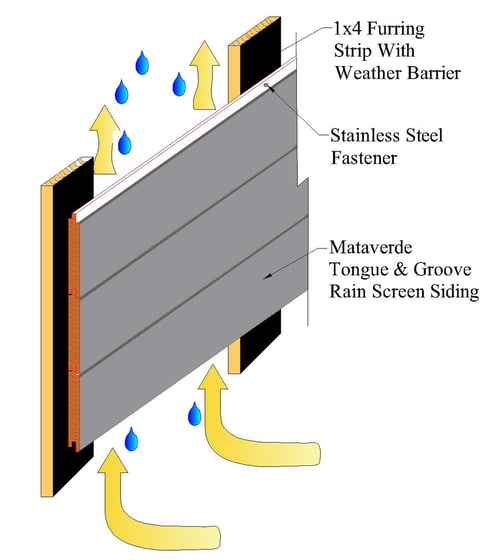 ---
Looking for installation tips on the best way to create a wood rainscreen using shiplap or tongue and groove siding?
---
Mataverde Wood Siding Species Options Available in Tongue and Groove and Shiplap Siding Profiles
Mataverde Custom Tongue and Grove siding (T&G) is available in all the wood siding species we carry. Learn more about wood siding species available here:
All Mataverde wood siding species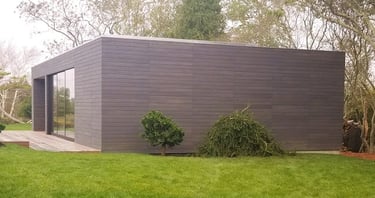 Don't see the wood species you like? Contact us and let us know how we can help.
---
Looking for siding ideas and some design inspiration?
Download the Featured Rainscreen Project Portfolio today: