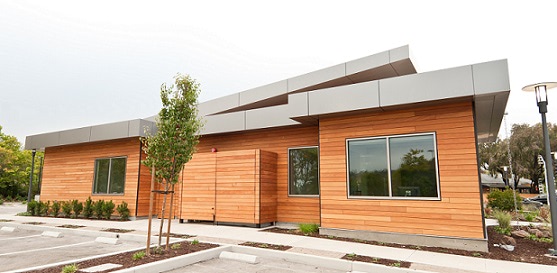 MATAVERDE® GARAPA RAIN SCREEN SIDING GALLERY
Mataverde® Garapa Rain Screen Siding is a beautiful and sustainable architectural cladding option that is extremely resistant to shrinking, splintering, cupping, twisting, checking and warping. Garapa's light honey blonde tones and soft looking satiny grain will turn a lovely silver color if left to age naturally.
Garapa wood siding is a very affordable high density hardwood cladding option. Garapa ages well and has a 25 year plus life expectancy with little to no maintenance. You can extend the usable lifetime of Garapa hardwood cladding even further by designing it and installing it in a wood rainscreen system. The Climate-Shield wood rainscreen system is considered the best rainscreen system by architects and design professionals on the market today.
Please select individual Garapa Rainscreen Gallery photos below to enlarge.
Looking for additional information about Garapa wood rainscreen?