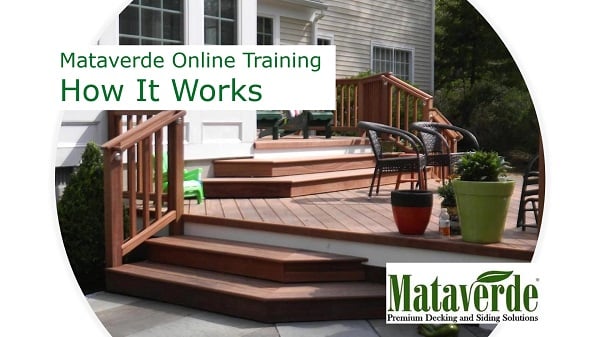 MATAVERDE DECKING, EXTERIOR WOODS, AND WOOD RAINSCREEN ONLINE TRAINING MODULES
Whether you are an architect, designer, builder, construction professional, material supplier, property owner or student, learning about new products, installation techniques and best demonstrated practices is important information to know.
That's why we made this on-line educational resource for you. We think you will find it a valuable resource.
Here's how it works:
Watch the training module
Take the test
Here's what you get:
Earn a certificate for completing the course with a passing grade

Differentiate yourself from your competition

Become a better, more informed resource for your clients
Ready to begin?
---
Click here for Online Learning Modules about Decking Design and Installation:

---
Click here for Online Learning Modules about Exterior Wood Decking and Siding Materials:
---
Click here for Online Learning Modules about Rainscreen Siding Design and Installation: