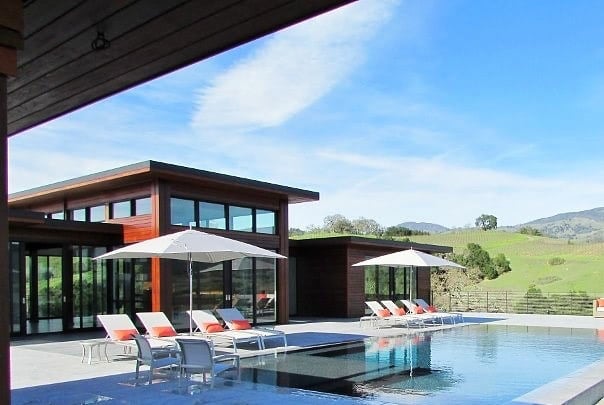 CHOOSING THE RIGHT SIDING MATERIAL
Compare Siding Prices per Square Foot
IMPORTANT CONSIDERATIONS WHEN CHOOSING SIDING MATERIAL
When you are choosing a siding material for your residential or commercial structure, there are many important considerations before you make your decision:
• Material costs
• Curb appeal
• Resale value of property
• How long will my material last?
• Will it look good on my project?
• Can I combine different siding materials?
• Labor costs
• Maintenance costs
• Other benefits or liabilities
• Life cycle costs
The cost of the siding material is certainly a key factor in your decision making process. Choosing the right siding material for you is an important decision and includes many factors in addition to material prices and initial material costs.
---
A free guide to design and siding material selection, download now.
---
COMPARE SIDING MATERIAL PRICES
Selecting a siding material is one of those options that has an extremely wide range of pricing. There are literally tens of thousands of different siding material options to choose from.
Siding materials vary in price from $6 - $7 per square foot to $100 per square foot and higher for the material costs alone. However, siding cost isn't the only consideration to make.
From an aesthetics and first impression standpoint, the siding material that you choose for your home, building or other structure is usually the first thing that a visitor or passerby will see. "Curb appeal" is based on the location, grounds and outside of your property.
What does your siding material choice say about you and your property? Let us help making choosing siding stress free.
---
Get a wood rainscreen siding price quote and get started on your project. We can help.
---
Most Common Exterior Siding Material Options
"Synthetic stucco" (EIFS) - is an exterior insulation and finishing system and is a low cost exterior siding option. When installed properly, mold issues are minimized

Vinyl siding - is the most popular material for new siding and is priced from low to high, depending mostly on the thickness and quality of the vinyl. Available in many colors and textures. Higher priced vinyl siding has less tendency to crack and buckle.

Fiber cement siding - is a low cost paint-able siding option. When installed properly, many mold issues are minimized.

Cedar Shakes, shingles and clapboard - are a medium cost, natural softwood siding option. Appearance, durability and performance varies depending on the quality of the materials and installation. A rain screen type of installation will help minimize mold and some of the rot and decay issues. Softwoods are typically not as durable as hardwood siding options and should be re-finished as needed to maintain appearance.

Synthetic Stone veneer - is a medium priced cladding option and is often used as an accent to other siding materials to improve curb appeal.

Hardwood Rain Screen Siding - is a rapidly growing, medium to premium priced cladding option. Hardwood siding has excellent durability, natural beauty and curb appeal. The rain screen installation helps extend the life cycle of the structure, and improves the overall health, efficiency and sustainability of the home or structure. Learn more about Rain Screen siding.

Trespa Pura NFC® Sidings - is an HPL (High Pressure Laminate) is a medium to premium priced alternative to wood siding with the look of natural wood in a low maintenance cladding solution. Engineered for durability and performance. Learn more here.

Metal Siding - is a higher priced siding option. Durability and finish quality vary by brand. Denting and scratching may be problematic.



Natural Stone and Brick - are among the highest price cladding options and are typically used as an accent on one or more sides of the home or structure.
---
2023 Price Comparisons for Common Siding Materials
(siding cost per square foot)
This pricing comparison chart should help you establish some "ball park estimates" for siding materials to help you develop your building materials budget for your project. All siding costs will vary regionally. For more accurate pricing, always request a quote from your supplier or contractor.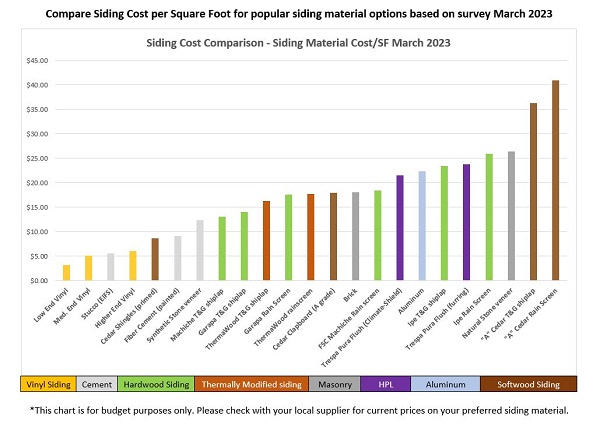 ---
MORE ABOUT RAIN SCREEN WOOD SIDING
Learn more about Rain Screen Siding Options
Rain Screen Siding Options - View Stock List
---
See samples of premium wood siding material from Mataverde.
---
RELATED: