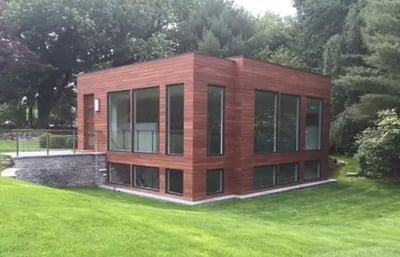 Different Wood Rainscreens and How Much They Cost
Written by
Chris Nolan
on
There are lots of wood rainscreen options. Why does one rainscreen cost more than another? Is there a big difference between rainscreen systems? How well do they work? How long will they last? Other than the cost of materials, are there other differences? What about labor costs? Learn more about rainscreens, why you should use them and how much they cost here.
Different Types of Wood Rainscreens
For starters, all rainscreen systems are not created equally. Essentially, a wood rainscreen prevents outdoor weather from harming the inside of the structure. Then the wall cavity (rain screen gap or rainscreen gap) behind the siding allows air flow to eliminate moisture and bulk water. There are many different types of wood rainscreens and they all perform differently.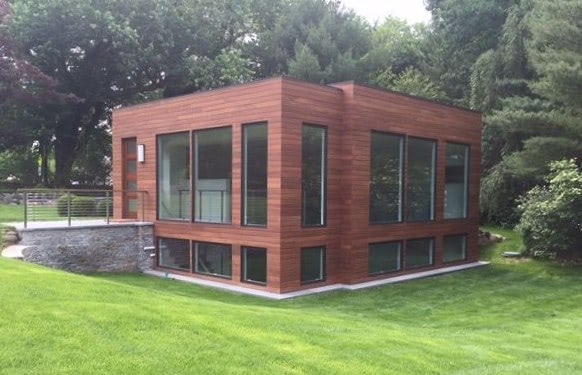 Different types of wood rain screens (also referred to as rain screens) all look pretty much the same from the outside. It's what's going on behind the siding that determines how the system will perform, how well it protects your home and how long it will last. Choose wisely. Know what you are paying for.
GOOD RAINSCREEN: Closed joint, back ventilated (with wood furring strips)
Tongue and groove sidings fit into this category, because they are closed joint. However, they typically need wood furring strips to create the wall cavity and use standard air/water barrier (house wrap). Because there is a ¾" rainscreen gap, bulk water can drain out the bottom of the wall cavity easily.
The downside of using wood furring strips is they limit the moisture release from inside the building. It also takes longer for the wall cavity to dry, which may lead to moisture and mold problems. Don't skimp on the furring strips, they are the weak link in this installation method. Use a high quality, preferably hardwood, furring strip. Make sure there is adequate ventilation at the top and bottom. And always keep it clear. This is the only way this system ventilates.
Ship lap sidings range in price (labor and materials) from a low of about $13/sf for knotty cedar to $17 -$20 per square foot for high density hardwoods like Garapa, Machiche and Ipe. (labor prices vary considerably in different parts of the country.) Bear in mind that using wood furring strips adds about $2.00 per square foot cost, or more, (labor and materials).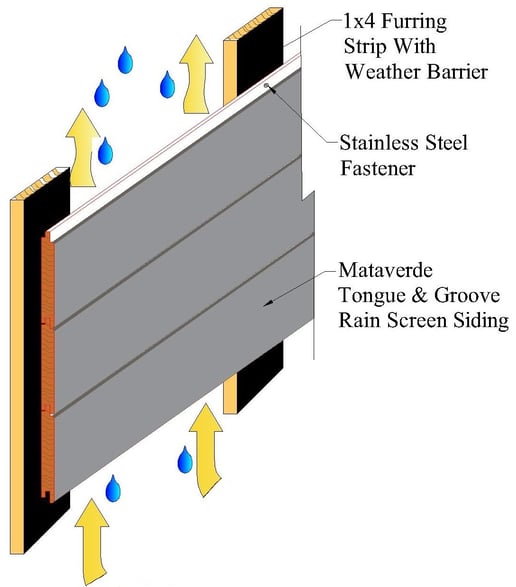 A closed joint rain screen only ventilates at the top and bottom of each cavity, between the furring strips.

---
BETTER RAINSCREEN: Open joint, back ventilated (with wood furring strips)
This method typically uses wood furring strips with a ¾" wall cavity and shallow clips for attachment. Open joint rainscreens allow wind driven rain to get behind the siding. Bulk water drains out the bottom of the wall cavity – so keep it clear. Although this rainscreen method uses wood furring strips, with its limitations, it ventilates better than a closed joint rainscreen because the open joints allow better air circulation behind the siding.
You can install hardwood siding using this method. But the best siding we have seen for this application is Trespa Pura cladding. Trespa Pura has the look of real wood without the usual maintenance requirements of real wood. It doesn't need to be pre-finished or refinished. This keeps life cycle costs very low (more about that later).
Typical cost (labor and materials) of this method is in the $20 per square foot range for Trespa Pura and roughly $22 - $26 per square foot for pre-finished hardwoods. Check with your local supplier or contractor for pricing in your area.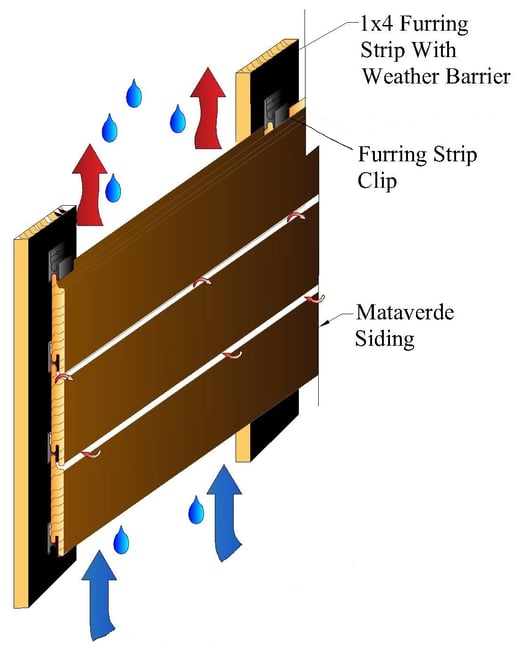 An open-joint rain screen ventilates at the top and bottom, and between the boards. Using furring strips limits the amount of ventilation inside and outside.
---
BEST RAINSCREEN SYSTEM OPTION: Open joint, back ventilated, pressure equalized wood rain screen
This wood rainscreen system performs ideally. It requires no wood furring strips and allows the wall cavity to ventilate quickly and efficiently. No moisture is trapped in the wall cavity. The Climate-Shield rain screen system is the leading example of this method. Proper moisture management adds lifetime to structures and helps reduce life-cycle costs.
Because there are no wood furring strips, the wall cavity dries out very quickly. Mold and potential decay are kept at bay throughout its lifetime. Labor costs are lower, and the system performs far better than other rain screen options.
Initial costs (includes basic components, labor and pre-finished hardwood siding) range from $20 / square foot for Garapa siding, $23 for Machiche siding and about $25 per square foot for pre-finished Ipe rain screen system. Check local contractors for labor prices in your area. For a better idea of your exact material costs Request a Rain Screen Quote to see if this option fits in your budget.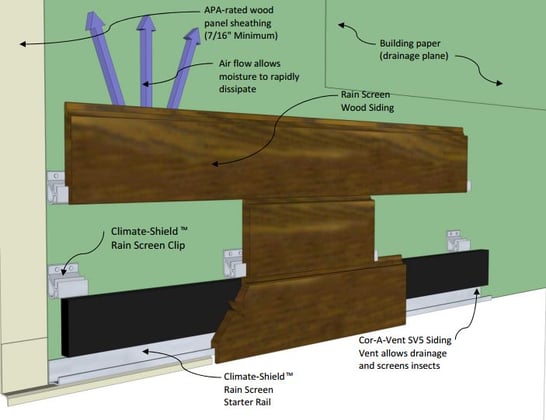 An open joint, pressure equalized rain screen allows ventilation at the top and bottom of the wall and between each board. This method uses no furring strips , offering superior ventilation (inside and out).
What Is Life-Cycle Cost?
Up front material and labor costs are just the beginning of a project. A more comprehensive view is to look at all the costs over the lifetime of a building or structure. Architects use this analysis all the time to help owners plan for total costs over the long haul. Life Cycle costs are the total cost of planning, designing, building, maintenance costs, then taking down and disposing of the materials after the usable life cycle is over.
Maintenance costs for siding would include any re-finishing that must be done over the life-cycle of your siding project. Here are a few examples:
Softwood sidings like cedar require a re-coat to perform, as needed, over their lifetime. Otherwise it is very likely to rot.
Hardwood sidings require an initial coat to protect it initially as it seasons. Re-finishing hardwood siding is an option. If the owner likes the weathered silvery gray patina look, the initial coat doesn't need to be redone.
If the owner prefers to keep the 'like new' wood look, a maintenance coat would be necessary as needed. DOWNLOAD "HOW WOODS WEATHER" Guide for more info.
Trespa Pura requires no finishing or refinishing through its life cycle.
We hope you enjoyed this article. Please visit MataverdeDecking.com for additional information about rain screen design, rain screen pricing, check out rain screen galleries and lots more.

---
RELATED:
Comments
Related Posts