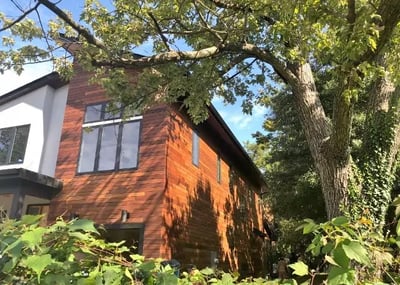 How Much Does a Wood Rain Screen Really Cost?
Written by
Chris Nolan
on
Rain screens are not new. They've have been around for hundreds of years and are highly effective. It's only recently that they've caught on in North America. Today, we build our houses to be so tight and energy efficient, a rain screen is a necessity. It's often the only way to make sure that moisture and mold don't affect your home or building. Protect your investment. Look at the total cost of wood siding and your exterior siding options before making your decision.
Don't get fooled by the price tag. Many of us are fascinated by low prices. Some of us don't look any further. We may think, "that's the lowest price, so that's the one I want". Later we're disappointed that we spent far more than we anticipated. This happens so often, they have a name for it – 'buyer's remorse'. There's more to price than meets the eye, especially with a construction project. Make sure you look at all your siding, accessories, material costs and labor costs before deciding.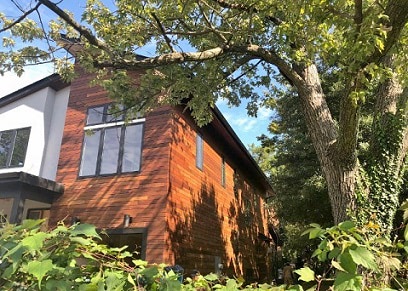 The price of hiring an experienced contractor greatly outweighs the expense of replacing shoddy workmanship.
Using an experienced, reliable contractor is the best way to start any construction project. Professional contractors can often save you a bundle on 'hidden costs', because they've been there before. We've all heard the saying, 'you've got to pay for an education'. Experienced building professionals have already paid for that education, so you don't have to. Choose a professional contractor wisely.
What is rain screen wood siding?
The wood siding that is used in any type of rainscreen installation. Rain screen or 'rainscreen' is a general term. There are many types of wood rain screen systems. They all perform differently. Some rain screens ventilate far better than others. Some last a lot longer than others. It pays to learn more about each different option. Here are a few of the most commonly used rain screen methods.
---
Closed Joint, Back Ventilated rainscreen is the most basic installation
A typical example of this rain screen technique would be tongue and groove (T&G) wood siding installed over wood furring strips. Most contractors are familiar with this type of installation. Sometimes they don't look any further. They should.
Upside: Because there are no open joints between the rows of siding, only minimal water may enter from the outside. Contractors are familiar with this installation method.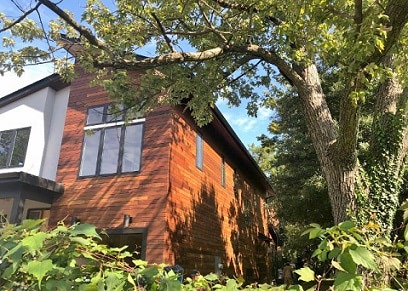 Downside: Minimal ventilation. Potential for trapped moisture. It is imperative that this installation method is properly ventilated at the top and bottom and above and below window openings. Always. It is the only place this type of closed joint rainscreen can ventilate. If the back of this system cannot ventilate, it will trap moisture which leads to rot. Also, no matter how tight a 'closed joint' is, water always finds a way in.
Price range: (includes all basic materials, pre-finishing and labor)
Red cedar usually ranges between $13 - $19 per square foot, depending on quality and availability.
Pre-finished hardwood sidings like Garapa, Machiche and Ipe range in the $17 to $20/per square foot range installed over furring strips.
Labor rates vary in different areas. Always get a quote from reliable local contractors.
Anticipated usable lifetime:
Expect at least 10- 15 years from softwood sidings like cedar. You should also budget for refinishing your siding, whenever needed, to minimize the potential of rotting.
Hardwood sidings will last a lot longer. Expect at least 15+ years of usable life time. (The furring strips are the most vulnerable component in this method). Hardwood sidings do not require re-finishing, it is totally optional. However, if you prefer the 'like-new' wood look, be sure to budget for re-finishing, whenever desired.
---
Open Joint, Back Ventilated Rainscreen Over Wood Furring Strips
This rain screen installation technique normally uses a rain screen clip to attach the cladding to the furring strips. Because it is an open joint system, it will ventilate more effectively than a closed joint system. Pura NFC sidings by Trespa are an excellent example of this installation method.
Upside: Trespa Pura NFC cladding uses a proprietary process to prevent the material from fading. It looks like real wood cladding but requires no pre-finishing. Better yet, it requires no re-finishing throughout its lifetime.
Downside: Any rainscreen installation that uses wood furring strips is vulnerable to potential rotting of the strips. This may lead to damage and require repairs and re-installation. However, Trespa requires that wood furring strips be protected by a rubber membrane, which greatly reduces this risk.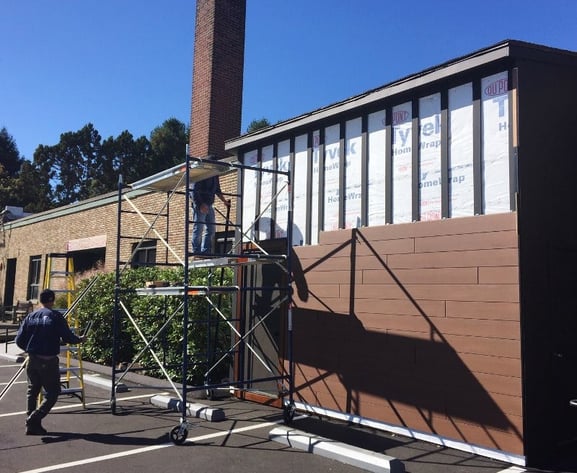 Rubber membrane and hardwood furring strips reduce risk of rot Trespa Pura NFC Siding installation
Price range: Trespa Pura siding installs on the wall for about $20 - $25 per square foot (includes labor, trim pieces, siding, furring strips, rain screen clips, screws and rubber membrane).
Anticipated usable lifetime:
Trespa Pura sidings are warranted for a full ten-year period. Siding materials will be replaced at no charge. It is not uncommon for Trespa sidings to look great for 15 years and longer.
---

Open Joint, Back Ventilated Rainscreen, NO Wood Furring Strips
This method is considered the healthiest, highest performance and longest lasting and rain screen installation method. The Climate-Shield rainscreen system currently manufactures the only patented components for this type of wood rain screen method.
Upside: This system requires no wood furring strips, eliminating the potential for furring to rot. Saves time, labor and material costs during installation. The wall cavity dries faster than any other rain screen installation method. Can be used for residential or commercial cladding projects with a variety of wood siding species.
Downside: For hardwood sidings, re-finishing is not required. However, if a 'like new' wood appearance is preferred, hardwood siding can be re-finished as desired. If that is your preference, you should budget for re-finishing.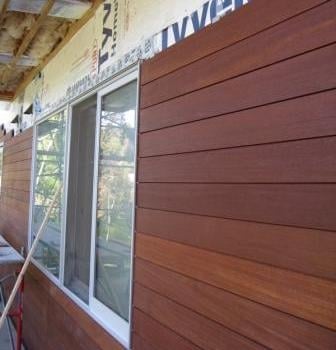 Price Range: (includes starter rails, siding vent, rain screen clips, screws, end sealer, pre-finished hardwood siding and labor)
Residential installations typically range from $19 to $25 per square foot installed, including materials, labor and accessories, depending on your hardwood siding species and size.
Commercial installations typically range $22 to $28 / SF installed (labor, material and accessories).
Anticipated usable lifetime:
Many of the hardwood species options carry a 25-year limited warranty against decay and insects. Ipe hardwood is known to last for over 40 years.
Marine grade aluminum has a usable life expectancy of greater than 50 years. The Climate-Shield components carry a 25-year limited warranty when installed properly.
When installed properly, the potential for rot is nearly eliminated. The usable life expectancy of the system will likely be significantly longer than 25 years.
We hope you enjoyed this article. Please visit MataverdeDecking.com for additional information about rain screen installation methods, wood siding options, browse rain screen photo galleries and more.
---
RELATED:
Comments
Related Posts