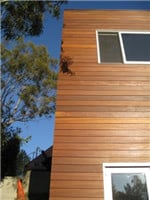 General Woodcraft is a Complete Wood Rain Screen Distributor
Written by
Chris Nolan
on
Over the past several years, General Woodcraft has quietly become the premier wood rainscreen distributor in North America. In 2011, General Woodcraft became the manufacturer and distributor for the Climate-Shield® Rainscreen System. At that time, it seemed like a natural fit to use their Mataverde® Premium Hardwood line of decking as a premium cladding option. Since that time, major developments and breakthroughs occurred which have propelled General Woodcraft to a leadership position amongst wood rain screen suppliers. Here's why:

Climate-Shield Wood Rainscreen System Offers Incredible Design and Installation Flexibility
Climate-Shield is the ultimate wood rainscreen system. The unique design of the patented Climate-Shield rain screen clip eliminates the need for wood furring strips in designs and installations over exterior wood sheathing. This creates a pressure equalized rainscreen that dries quickly and protects the structure. The system itself has all the components necessary to design and build an unparalleled rainscreen system.
As an added assurance of quality, the entire Climate-Shield system is patented; the rain screen clips, the vertical and horizontal starter rails, the wood siding profile and more. Whether your rainscreen design is for a residential or commercial project, Climate-Shield has what it takes to help you design and build the job properly.
RELATED: DOWNLOAD the "Ultimate Guide to Wood Rainscreen Siding" today
Climate-Shield CS2 Rainscreen System
For the best possible performance, the Climate-Shield CS2 System is the most robust rainscreen system. The CS2 rainscreen components are manufactured to withstand over 200 MPH hurricane force winds and the seismic equivalent.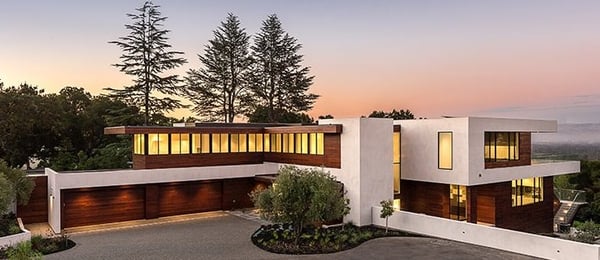 The Climate-Shield CS2 rainscreen system features:
2" wide rainscreen clips that fasten with 2 screws and creates a 3/4" rainscreen gap
Vertical and Horizontal Starter Rails and accessories for quick installation and superior ventilation
Z-Girts and Attachment Channel for commercial project designs over exterior gypsum, masonry and other wall assemblies
Complete Installation Guidelines for horizontal, vertical and commercial design assemblies
Complete package of architectural design details, specifications and submittal sheets
Climate-Shield CS10 Rainscreen System
For faster installation of wood rainscreen siding, the Climate-Shield CS10 system was developed. The CS10 system is ideal for soffits, and residential remodeling and re-cladding projects and other project designs that require a lower profile off the wall.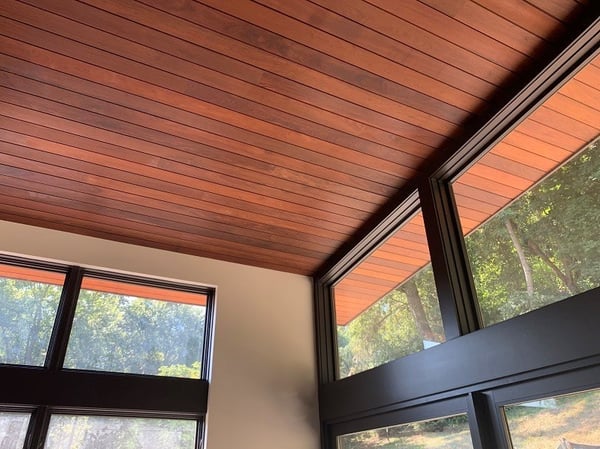 The Climate-Shield CS10 rainscreen system features:
1-1/2" wide CS10 rainscreen clips that fasten with 1 screw and creates a 10 mm (3/8") rainscreen gap
Faster installation
Lower clearance (approximately 1-1/8") from exterior wall to face of siding. Eliminates the need for additional window trim with most window types.
Horizontal Starter Rail for residential designs and installation over exterior wood sheathing
Appropriate architectural design details, specifications and submittal sheets
Climate-Shield CST1 Rainscreen System for Pura NFC Sidings
The Climate-Shield CST1 rainscreen system is designed specifically for use with Pura NFC Siding by Trespa. The CST1 rainscreen system can be used for horizontal or vertical design and installation of Trespa Pura NFC siding.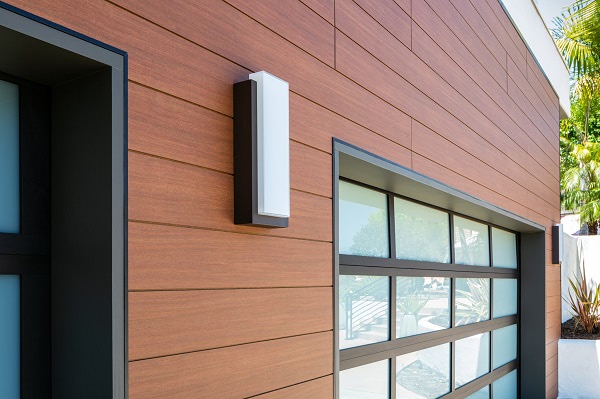 The Climate-Shield CST1 rainscreen system features:
1-1/8" wide CST1 rainscreen clips that fasten with 1 screw and creates a 3/4" rainscreen gap.
Eliminates the need for wood furring strips for the Pura field siding.
Horizontal and vertical starter rails and vertical plank supports
Appropriate architectural design details, specifications and submittal sheets
---
Architectural drawings and competent technical support. Not only is Climate-Shield a comprehensive rainscreen system, we have also invested heavily to develop unique details and drawings. We have listened intently to architects and design professionals from around the world and have created helpful tools, drawings, details, submittal sheets, specifications, various wall assemblies, and appropriate methodology to help them achieve their sustainable design vision. Because of what we have learned, we are able to share the best design and construction practices with others. We are here to help you - and have a competent team on staff to do so.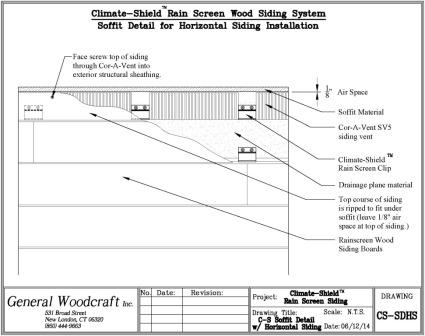 ---
Rainscreen Siding and Cladding Options
The Climate-Shield rainscreen is highly effective with many different types of wood siding, claddings, and more. Softwood sidings such as Western Red Cedar and Thermally Modified Hemlock are approved for this rainscreen system. Mataverde® Premium Hardwood Sidings offer you a full range of long-lasting natural wood species to choose from that perform exceptionally well with the Climate-Shield rain screen system. Pura NFC Siding by Trespa is another cladding solution for the Climate-Shield system.
Whatever your exterior color scheme and design goal may be, there are Mataverde cladding options that can be used for your total façade or accent portions of your wall. Some of the most popular Mataverde siding species include Ipe, Garapa, Jatoba (Brazilian Cherry), Cumaru and Machiche hardwood cladding.
RELATED: Visit Wood Rainscreen Siding Pictures and Project Galleries
Softwood Rainscreen Siding Options
Softwood cladding options include wood species such as cedar and cypress. Because of their cellular structure, both cedar and cypress are known to hold a paint or stain particularly well and for longer periods of time than exterior hardwood sidings. This allows designers to choose from a wide range of color options and also helps property owners minimize their maintenance costs when recoating the cladding less often periodically.
Thermally modified Hemlock siding is another excellent softwood rainscreen cladding option. The heat and steam thermal modification process turns standard Hemlock into a highly durable, insect resistant siding material. The color tones of thermally modified Hemlock (Hem Fir) are what you would typically find in the higher grades of Western Red Cedar.
Mataverde ThermaWood FR is the same thermally modified Hem Fir siding, with an eco-friendly fire resistant treatment for the highest fire ratings available.
Hardwood Rainscreen Siding Options
Mataverde Premium Hardwood Siding is available in many beautiful, long lasting, and highly durable wood species. Some of the best hardwood siding species for rainscreen designs include Ipe, FSC Certified Machiche, Jatoba (Brazilian Cherry), Garapa, Cumaru and more.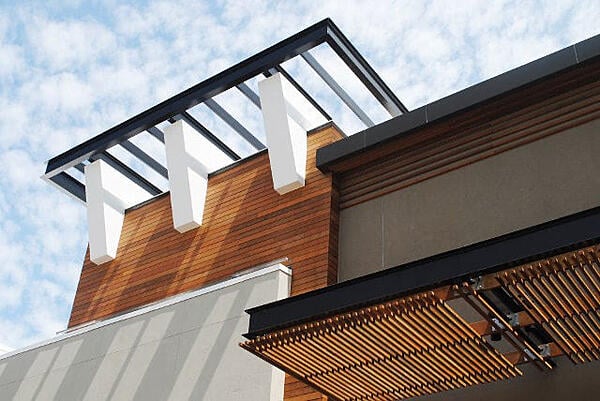 RELATED: More information about individual hardwood siding species
---
Need some wood rainscreen design inspiration? Download any of the wood rainscreen project portfolios featuring many award winning designs for residential, commercial and educational projects.
---
Pura NFC Siding Options
Trespa Pura NFC® Sidings are low maintenance that offer the look of real wood. Pura NFC siding is a high pressure laminate (HPL) cladding solution with great looks and exceptional performance. Pura sidings work equally well on residential and light commercial project designs.

Many people who love the look of real wood, but have no interest in the maintenance aspect, choose this innovative rain screen cladding option. If a low maintenance, low life-cycle cost rain screen is your design goal, Trespa Pura NFC siding is available in many wood decors, that offer the look of real wood siding, wiothout all the usual maintenance.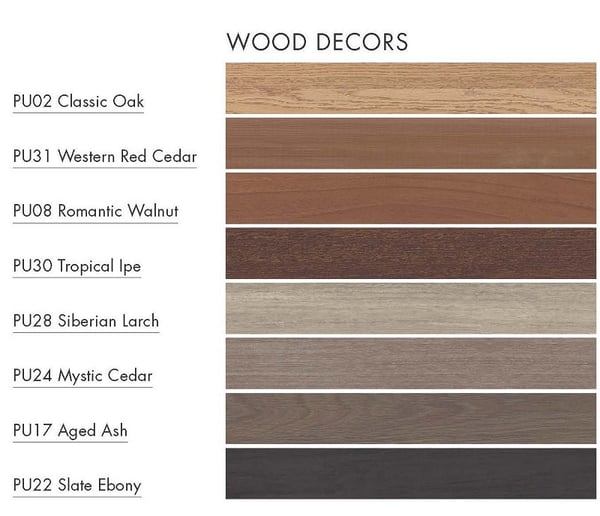 RELATED: Pura NFC Siding info
RELATED: Pura NFC Siding colors and decors
RELATED: Pura NFC Siding RESIDENTIAL pictures and photo gallery
RELATED: Pura NFC Siding COMMERCIAL pictures and photo gallery
---
Looking for some design inspiration for residential or commercial projects with Pura NFC Siding by Trespa?
DOWNLOAD either of the Trespa Pura Project Portfolios today.
General Woodcraft distributes its rainscreen and decking products throughout North America. Whatever your rain screen design, you have many options to choose from to help you reach design goals and project budget, beautifully. Let us help you bring your vision to reality.
Please visit MataverdeDecking.com for more information about rain screens, Trespa, Climate-Shield, wood siding options, rain screen photo galleries and more.
Related Posts