Mataverde Eurotec Rooftop Deck Materials and System Components
Rooftop Deck Materials
Rooftop Deck Materials for the Mataverde Eurotec Deck System
Here are the key rooftop deck materials and components for you to create a deck using Mataverde Eurotec adjustable deck pedestals and Aluminum System Profile. This unique rooftop deck system allows you the flexibility to use full length decking boards to create your deck, with the maximum ease of installation. Creating a patio, balcony or rooftop deck starts with having a structurally sound substructure. Once you have had your substructure inspected by a professional, you are ready to begin.
---
Eurotec Adjustable Rooftop Deck Pedestals
The Eurotec adjustable rooftop deck pedestal can be used for a large range of height adjustments for ease of installation. Eurotec adjustable deck pedestals are designed to help you create a deck anywhere in overall height from 3-3/4" (from the top of the roof or patio to the top of the decking boards) all the way to 24" overall height, quickly and easily. The wide range of height options makes it easy to construct decks even over sloped or slightly pitched surfaces.
---
RELATED: MATAVERDE ROOFTOP DECK INSTALLATION GUIDELINES
---
Ready to get pricing on your project? Let us know how we can help.


---
Eurotec Pro-Line Rooftop Deck Pedestals
The Eurotec Pro-Line Deck Pedestal can be used with the Eurotec Aluminum System Profile and wood decking for patio top, balcony and rooftop decks. Because of their strength and adjustability, Pro-Line deck pedestals, the Aluminum System Profile and decking work very well together, as an assembly, for decks that range in height from 3-1/2" to 24" above the roof, balcony or patio surface.
We can help you select the proper height Eurotec Pro-Line pedestal for your project needs.
Pro-Line S pedestal

Pro-Line M pedestal

Pro-Line L pedestal

Pro-Line XL pedestal

Pro-Line Extenders

All of the above components are engineered to exceed 1,798 lb. design loads
| | |
| --- | --- |
| The Eurotec ClickFoot Adapter snaps in place on top of the Pro-Line pedestals for use with the Aluminum System Profile framing. | |
Eurotec Compensation Disk (Shim)
Time Saver: For irregular balcony, roof or patio surfaces, place the Eurotec Shim underneath the Pro-Line pedestals. The shims work great to 'smooth out' low spots and minor surface variations in your roof or substrate.

*Installation tip: They can also be cut in half - or folded in half for minor pitch variations in your roof surface.

Nivello (Slope Corrector)
For pitched roof, patio or balcony surfaces, that slope from .5% to a maximum of 10% overall, the Nivello can be effectively used beneath the pedestals. The Nivello works by stepping down in increments of .5%.
| | |
| --- | --- |
| | |
| Nivello (slope corrector) adjusts easily | Nivello is installed under the pedestal |
---
RELATED: Download Eurotec Pro-Line Pedestal - Deck Assembly height range chart
Eurotec Rooftop Deck System for Architects
Deck Installation Tips: Installing the Eurotec Deck System vs. Sleepers
---
Mataverde Eurotec Aluminum System Profile
The Eurotec Aluminum System Profile provides a strong, yet lightweight framing system that can span up to 33" with minimal deflection for a sturdy, 'straight and true' deck structure assembly.
For long runs and larger deck areas, additional lengths of the Aluminum System Profile can be joined together using Aluminum System Profile Connectors.
The ultra-light weight aluminum frame allows you to build a rooftop or patio top deck using full size decking boards, without all the hassles commonly associated with conventional wood deck framing.
For exceptionally low visibility, the Eurotec Aluminum System Profile is now available in black.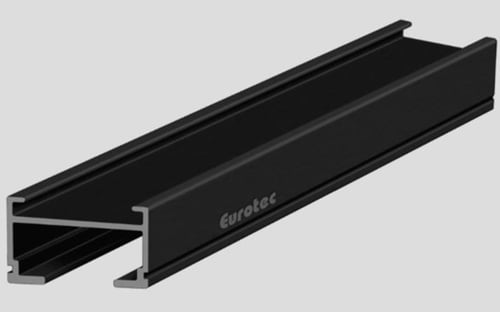 Eurotec EVO aluminum profile component - Black
---
BENEFITS OF EUROTEC ALUMINUM SYSTEM PROFILE vs. CONVENTIONAL WOOD DECK FRAMING
Using strong but lightweight aluminum framing helps reduce the total weight load you are placing on a roof, balcony, porch, patio or other structure. This is especially helpful on rooftop decks and other areas where extra weight may be a concern.

Aluminum System Profile will not twist, warp, rot, crack, split or check like conventional wood framing.

Non-combustible rooftop deck framing

Aluminum is a straight and true, exceptionally dependable framework that will "stay put".

The 1-9/16" overall height of the Aluminum System Profile allows for a much lower height clearance than wood deck framing members.

Aluminum is a much stronger structural building component than wood of the same size. This allows for a greater distance to span between pedestals.

Aluminum provides for a more level and consistently flat surface plane to fasten your deck boards.

The holding power and pull-out strength of screws when fastening into the Aluminum System Profile is far greater than that of wood deck joists.
Using the best rooftop deck materials ensures a stronger, better built rooftop deck for you to enjoy for years to come.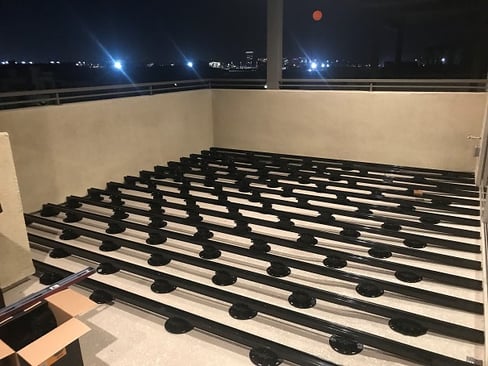 Use the Eurotec Aluminum System Profile together with the Eurotec rooftop deck pedestals to create the ultimate framework for rooftop and patio decks.
---
What's the next step?
Once you have assembled your Mataverde Eurotec Rooftop Deck System, you are ready to install your decking. Click on the links below for more helpful information:
RELATED: MATAVERDE PREMIUM DECKING MATERIAL OPTIONS
MATAVERDE EUROTEC ROOFTOP DECK SYSTEM INSTALLATION GUIDELINES
---
Looking for guidance on selecting the best decking material? We put together a helpful download, FREE
The "Ultimate Guide to Selecting The Right Decking"
---
Get inspired with great rooftop deck design ideas today!
---
RELATED: