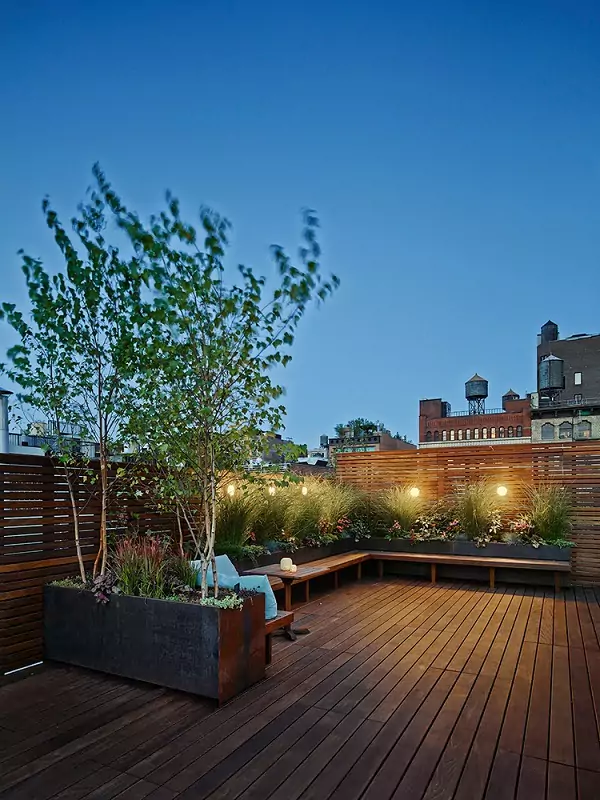 Deck Installation Tips: Installing Balcony and Rooftop Decks
Written by
Chris Nolan
on
Architects, designers and construction professionals often ask us our thoughts on installing hardwood decking on rooftop decks and other areas with minimal ventilation. There are lots of factor that will affect the life-span and performance of a deck installation including; proper fasteners, adequate ventilation, proper material specifications and others.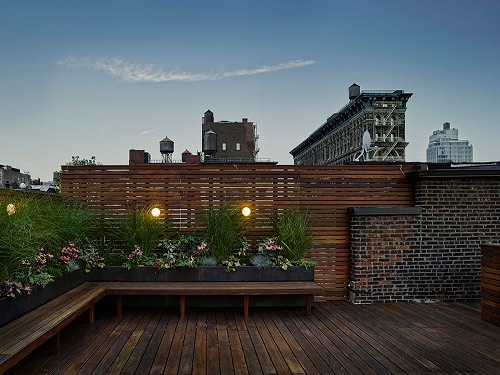 One method is to create a well-designed deck system using "sleepers". Sleepers are often used for projects with exceptionally low clearance and/or areas that will receive a lot of heavy traffic and some vehicle traffic (such as the Coney Island Boardwalk and similar installations).
The Mataverde Eurotec Deck System is an alternative to using sleepers for your deck design and installation. This system uses high performance adjustable pedestals and high-strength (yet lightweight) aluminum rails for joists. If your balcony or roof deck or patio top deck has as little as four inches of clearance from the top of the roof to the top of the decking, and will not receive vehicle traffic, the Eurotec system is an exceptional deck design option to consider. The beauty of this well-engineered deck support solution is that you can use full length deck boards in your design.
Whether you are designing your deck with the Eurotec system or sleepers, there are similar design concerns but different solutions. Here are a few:
| | | |
| --- | --- | --- |
| Design Concerns | Eurotec Deck System | Sleepers |
| Adequate Drainage | Pedastals can be placed wherever needed. | Sleepers must run parallel to the direction of water flow |
| Proper Ventilation | The space between deck boards provides nearly all the ventilation. Narrow width deck boards provide more and better ventilation. | The space between deck boards provides nearly all the ventilation. Narrow width deck boards provide more and better ventilation. |
| Face Screw | Provides the strongest deck fastening option. | Provides the strongest deck fastening option. |
| Concealed Deck Fasteners | Two deck fastener options that are hidden from view available. | Not recommended. |
---
Get inspired with rooftop deck ideas.
Download the "Rooftop Deck Design Ideas Portfolio" today.
---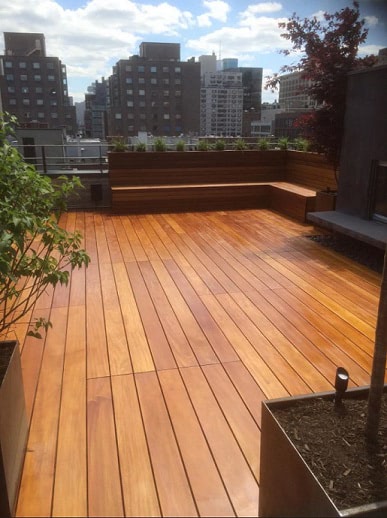 Garapa rooftop deck in New York City by Organic Gardener
Deck Design Challenges and Solutions
We have found the Eurotec Rooftop Deck System to be an excellent solution for rooftop deck installations with the following design challenges when you:
Need a sturdy but lightweight frame for the deck

Want to build a rooftop deck, a balcony deck or a wood deck over a concrete patio

Want to use full-length decking boards

Have a minimum of 4" clearance from top of roof to top of deck boards

Will not have vehicular traffic on your deck

Would like to use hidden fasteners
Critical Success Factors for a Well-Designed Eurotec Rooftop Deck
Adequate drainage - The Eurotec pedestals do not impede the flow of water underneath the deck boards. It is vitally important that the roof surface below the deck drains properly. If standing water remains on the roof deck, it will affect the long term performance and appearance of the deck boards. Improper drainage is likely to create conditions for mold to develop which can lead to potential rot and decay of the deck boards.
Adequate ventilation - we can't emphasize the importance of adequate ventilation, especially in a low clearance deck design, enough. Proper ventilation is a critical factor in the long term success of a deck. Proper ventilation will help the wood decking to properly acclimate to site conditions initially and also allow the deck boards to move with changes in the EMC (Equilibrium Moisture Content) seasonally. Failure to account for proper ventilation in a deck design can potentially wreak long-term havoc on the deck boards. The hot and dry top of the deck board and the cool and moist bottom will make the deck boards want to "cup" upwards.
The best ways to maximize rooftop deck ventilation are to:
Use narrow deck boards (the narrower the deck boards, the more ventilation)
Leave an open space at the edges of the deck if possible.
Leave as much clearance as possible between the top of the roof and the bottom of the deck boards.
If you need to open a door out onto the rooftop, you may want to create a small area at a lower height and a small step-up to the rest of the deck area.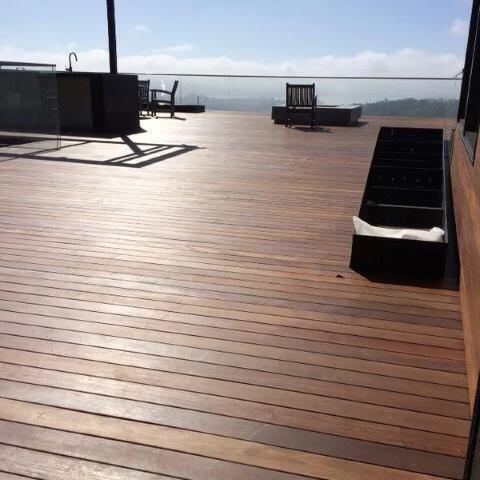 Ipe rooftop deck in Mill Valley is a showcase of beautifully natural wood with just an oil finish.
---
Proper selection and specification of deck boards
Care should be taken in selecting deck boards that will perform the best in this harsh environment. High density hardwood decking species such as Ipe, Machiche, Garapa and Cumaru are often specified for rooftop projects due to their natural rot resistance, strength, durability and beauty.
The narrower the board, the better. When you compare 5/4 x 4 decking to 5/4 x 6 deck boards, for example, the narrower boards offer approximately 50% more fastening strength and 50% more ventilation area. That is a double benefit and will increase both the performance and the behavior of the deck and decking over long periods of time.
The thicker the board, the better. Using deck boards that are thick enough to help minimize potential cupping is a smart decision. Many architects and design professionals specify 5/4 nominal or 21 mm nominal deck thicknesses to help thwart the punishment that a high exposure, low clearance must endure. Thicker boards perform better over time.
The stronger the deck board, the better. The unusually high fiber bending strength of high-density hardwoods species help the deck boards fight the brutal conditions of a high exposure deck. Ipe, Machiche, Garapa and Cumaru hardwood decking are often specified by architects for this reason.
---
"The Ultimate Guide to Selecting The Right Decking" is a free PDF Download to help you get started with the best options for your roof deck or balcony project/ Grab yours now.
---
Best deck fastening options
Even with the best construction and design practices, excess moisture will occur at various points in the life cycle of any rooftop decking.
Screw Down Method 1: Using face screws to fasten decking to the frame is absolutely the best and strongest method of deck fastening. Skilled craftsmen will typically install the deck screws about ¾" from the edge of the deck boards.


Screw Down Method 2: If you do not want to see visible screw heads on your deck, pre-drilling and countersinking the screws, then plugging them with a matching wood species, is a very good, although more labor intensive, installation option.

Concealed Fastener Method: Eurotec also offers three fastener options hidden from view when installed that provide a sleek, unencumbered deck surface. Again, the narrower and thicker the deck board, the better a deck fastener will perform long term.




Concealed Deck Fastener

100% Stainless Steel

Twin System Holder

(shown on pedestals)

Deck Glider System

(shown on the aluminum profile)

---
Request a 100% Stainless Steel Concleaed Deck Fastener and see what it can do for your labor savings.
---
In summary; proper drainage, adequate ventilation, proper size and species of deck boards, proper fastening is the best way to design and build a low clearance deck that will last…and last beautifully.
---
RELATED:
Related Posts