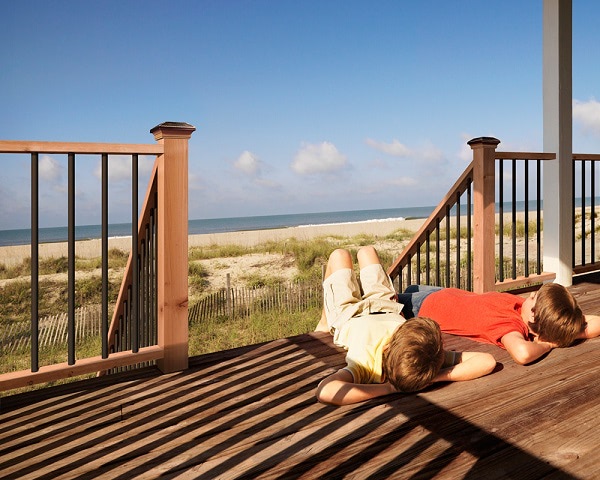 Technical Information About Hardwood Decking and Other Decking Material Options
MataverdeDecking.com takes pride in helping you make informed decisions when it comes to wood decking and wood siding. By offering a wealth of valuable information regarding Cumaru wood, Ipe hardwood, Garapa decking, Machiche decking, Jatoba decking, Thermally Modified Decking, Fire treated decking and more, we make it easier for you to ensure you're getting exactly what you need and making a decision you will be satisfied with. On this page, you'll find resources to help you compare decking species, technical information about wood decking materials, and so much more.
You may have heard about the beauty and durability of premium Ipe hardwood, but perhaps Garapa decking or other hardwood decking options may be more what you're looking for. By using our decking material comparison, you will be provided with the knowledge of these beautiful decking materials so you can go into the buying process easily and make the right decision.
We are here to help make your wood decking and siding decisions stress free and rewarding. Browse our resources today and learn technical information about hardwood decking and other decking materials options today. When it comes to premium decking, choose MataverdeDecking.com.
LEARN MORE
Learn more about all of the commonly used decking material options. Compare decking prices, compare decking species, technical information about decking materials. Click on the links below for helpful information about decking materials:
Technical Information about Decking Materials (wood and synthetic decking)
Deck Pricing and Decking Price Comparisons
Proper Acclimation of Wood Decking and Siding
Class A Fire Rating Information for Decking and Siding Information
---
---
Wood Decking or Composite Decking?
Wood decking has been a popular decking material since the days of covered front porches and evening strolls in the late 1800's. From the old style 1x4 tongue and groove fir porch flooring of this golden era, to the more durable decking material options of modern times, there is no shortage of wood decking options. Even the composite decking and plastic decking options try to emulate the look of real wood decking.
Making the right selection for your decking material is a decision you will live with for years to come. Learn more about decking material options and make the decision that is just right for you. There are so many different types of wood decking and other decking material options, it can be be confusing.
Whether your project is a backyard deck, walkway, bridge, pergola, gazebo, dock, rooftop recreation area, or a world famous boardwalk, see how Mataverde® Premium Hardwood Decking compares to other decking material options.
Mataverde high density hardwood decking is the reliable and sustainable decking material option that will last, beautifully, for many years to come. All of Mataverde Premium Hardwood Decking products are all natural, responsibly harvested and naturally resistant to insect damage and decay.
Take a closer look at some of the stunning variations and natural attributes of the woods themselves and you'll understand why with Mataverde Premium Hardwood Decking, you are one step closer to the deck of your dreams.
---
Want a free resource for comparing all your wood decking options?
Download the "Ultimate Guide to Selecting The Right Decking" now.
The Ultimate Guide to Selecting The Right Decking
DOWNLOAD FREE NOW
---
HARDWOOD DECKING MATERIAL OPTIONS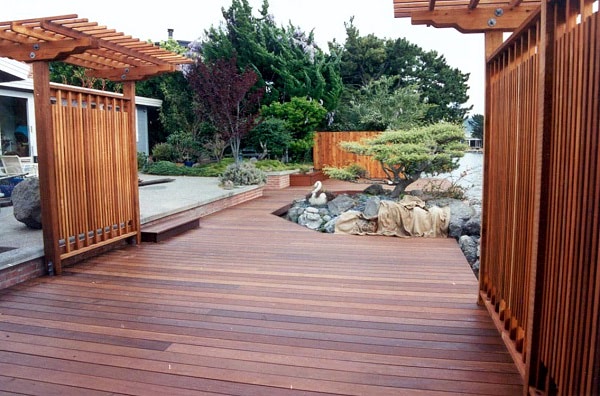 High density hardwood decking materials offer architects, designers, builders and owners an all-natural, sustainably-harvested, long-lasting decking option for outdoor projects of all types. The durability and natural beauty of Ipe, Cumaru, Garapa, Jatoba (Brazilian Cherry), Machiche and other hardwood decking materials can be selected to bring your project dream to reality. Using a tropical hardwood for decking is a great way to add natural beauty and durability to your deck.
---
HARDWOOD DECKING MATERIALS:
Mataverde Ipe Decking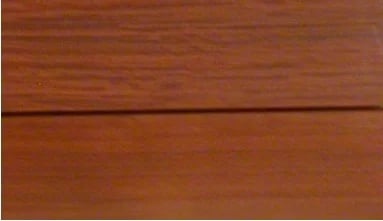 Mataverde® Premium Ipe Hardwood Decking is the ultimate decking solution for the discriminating user who wants a beautiful all-natural wood deck that will last for decades. When people ask, "what is the best for a deck?", Ipe is often the best answer. Mataverde Ipe wood is available in many decking board sizes, from 1x4 to 5/4x12 and everything in between.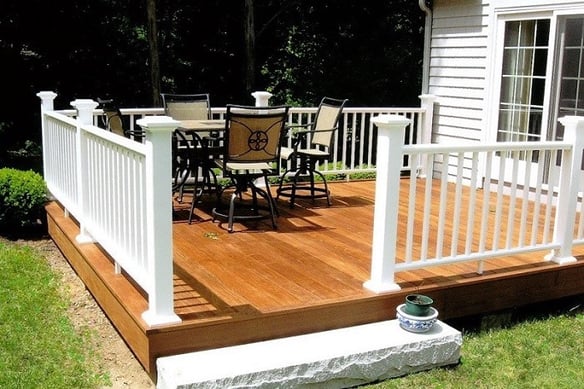 With Ipe decking there will be a full spectrum of color ranges from tan to olive brown to reddish to dark browns. The exotic graining and "striping" will differentiate every piece of Ipe decking. Like a hardwood floor, no two pieces of Ipe hardwood are exactly alike.
The character marks and naturally distinguishing coloration and graining variegation are inherent in all wood species. Some species exhibit more character than others. Mataverde® Premium Ipe Decking is one such spectacular species.
---
Allow your deck to silver? Or preserve the warm tones? Ipe is beautiful either way.
| | |
| --- | --- |
| | |
| Natural weathering of Ipe hardwood decking develops a silvery patina making it a low maintenance choice for decking. | A rosewood oil finish on your Ipe deck darkens and enhances the rich colors and natural graining of Ipe hardwood. |
There is more great information for you in the links below:
Learn More About Ipe Decking here
View the Mataverde Ipe Photo Gallery for more inspiration
---
How Does Ipe hardwood decking compare to other decking options?
Ipe hardwood decking is an all natural sustainable decking material that totally outshines virtually all other decking material options, wood decking, composite decking, plastic decking, and more in nearly every measurable performance rating. Ipe is often called the best decking wood available.
See how Ipe hardwood decking compares to Red Cedar and other wood decking options here.

See how Ipe hardwood decking compares to Composite decking and other Synthetic decking material options here.

How Does Ipe hardwood decking compare to Redwood decking?

How Does Ipe Decking compare to Garapa Decking?

How Does Ipe decking compare to Cumaru Decking?
Compare Ipe decking pricing to Other decking material pricing
---
---
WHICH DECKING MATERIAL IS BEST?
Technical Differences Between Decking Materials
To help you make an informed buying decision we have created the following chart which showing the mechanical properties of various decking material options from research by the USDA Forest Products Laboratory. Check out the differences between premium hardwood decking materials, softwood decking, thermally modified decking, and synthetic decking species like composite decking and plastic decking.
High Density Hardwood Decking
High-density hardwood decking includes high performing wood species like Ipe, Machiche, Jatoba, Cumaru and Garapa wood. As a rule, high-density hardwood decking materials outperform other decking material options in nearly every measurable characteristic, including strength, hardness, durability, fire resistance and more.
Softwood Decking Materials
Softwood decking options include Western Red Cedar, Pressure Treated Pine and thermally modified Western hemlock. All three of these softwood decking materials have some benefits. Western Red Cedar is beautiful, but very expensive. Pressure treated pine decking is low cost. Thermally modified Hemlock decking is beautiful, affordable and very durable.
THERMALLY MODIFIED HEMLOCK DECKING
Synthetic Decking Materials
Synthetic decking materials include many brands, in three basic formats; composite decking, capped composite decking, and plastic decking. Each different synthetic decking material options has some strengths and weaknesses.
Mechanical Properties of Real Wood Decking Species and Synthetic Decking Materials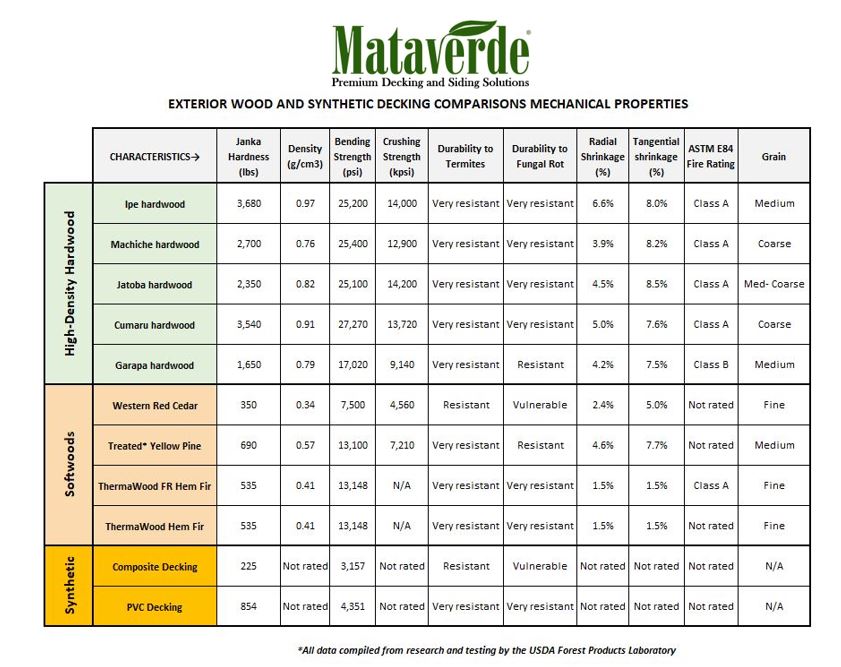 DOWNLOAD EXTERIOR WOOD AND SYNTHETIC DECKING MECHANICAL PROPERTIES CHART
---
The mechanical properties of decking materials are a great way to learn about how various decking materials are likely to perform - before you invest your money in a major decking project. There are other factors to consider, too.
For a more comprehensive overview of decking materials options, please feel free to DOWNLOAD the "Ultimate Guide to Selecting the Right Decking" today.

---
---
Low Maintenance Decking Options
If you are looking for a low maintenance decking material, all-natural hardwood decking is an excellent option. Find out how these beautiful Brazilian hardwood decking materials age and just how easy they are to care for.
Naturally weathered hardwood decking develops a beautiful silvery patina that adds a welcoming warmth to your home's exterior.
If you would like your new high density hardwood decking to weather naturally to a delicate silvery-gray patina, there is very little that needs to be done after installation; a single light coating of Penofin oil sealer (or similar UV inhibiting finish) is highly recommended to allow your new deck boards to properly acclimate to its new environment. After this initial coating, simply allow the weather and environmental conditions to naturally season your high density hardwood deck boards.
Download "How Exterior Hardwoods Weather", for great information on your low maintenance decking options.





Hardwood decks will age gracefully at their own rate. The rate at which your hardwood deck naturally ages to a silvery hue depends greatly on the amount of sunlight, humidity, temperature, indirect light and other environmental factors to which it is exposed.
And regardless if you have selected Ipe, Cumaru, Machiche, Garapa or other hardwood decking, bear in mind that each decking board has unique characteristics and each deck board (and portions of each board) will weather at a different rate. These natural variations in finish further enhance a deck's lovely weathered patina. Like a wooden boardwalk, a backyard deck can have that driftwood appearance for a low maintenance, graceful look.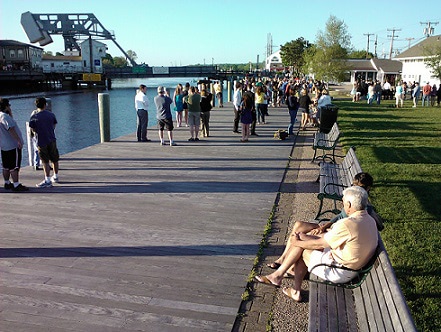 Add beauty, value and comfort to your home or decking project without investing a lot of time or effort.
A naturally aged hardwood deck can add beauty and value to your home without you having to invest a lot of time and effort to speed up this process. In fact, once you have selected the best decking material for your home and budget, you can simply seal your new deck with a UV inhibiting oil sealer, such as Penofin oil, to keep the wood intact and help it age naturally and damage-free. You won't regret investing in this long-lasting, low maintenance wood decking option.
Regardless of your preference for your hardwood decking or siding, download the FREE GUIDE, "How Hardwoods Weather" to learn more about your options.

---
---
Frequently Asked Questions
When you're looking for premium hardwood decking, chances are that you're going to have a lot of questions. At MataverdeDecking.com, we're here to help you make an informed decision by providing you with the information to select the best decking material for your specific needs.
From how the wood is harvested to the types of finishes, you'll find commonly asked questions below that are related to premium hardwood decking. Please contact us for further explanation or more information to help you find the best decking material.
---
Q: What type of finishes are required for Mataverde® Premium Hardwood Decking?

A: Mataverde® Premium Hardwood Decking and Rain Screen Wood Siding provides a virtually maintenance-free option when allowed to weather to a silvery gray patina. For this option, apply a single coat of Penofin or similar UV inhibitive sealer as soon as possible, no additional application is needed. If the natural wood tone appearance of your decking boards or rain screen siding is desired, use additional maintenance coats as needed. There are many products to choose from. Please refer to the manufacturers' guidelines before application.
Q: What about cutting the trees... isn't that harmful and destructive to the rain forest?
A: Mataverde® Premium Hardwood Decking and Siding is harvested according to all the guidelines of sustained yield forestry. Mataverde® Premium Decking and Siding is harvested from approved projects that insure that only two to three trees per hectare are removed every 20 years. Opening the canopy in the rain forest in this small way has proven to provide more sunlight and rain to smaller trees, thereby yielding a 15% increase in growth. This "sustained-yield forestry" system ensures there are as many mature trees in the rain forest in 20 years as there are today without harming the environment.
Q: Is Mataverde® Premium Hardwood Decking and Rain Screen Siding priced competitively with other outdoor woods?
A:
Mataverde® Premium Hardwood Decking and Rain Screen Siding is not only competitively priced with wood and composite decking materials it is actually a superior economic and environmentally responsible alternative to other products when the entire life-cycle cost is considered.
Pressure treated decking splits, cracks, twists and splinters, requiring costly maintenance programs and finally replacement several times during the lifetime of a home or commercial installation.
These materials and their bothersome maintenance often reflect negatively on the installer or designer.
Redwood, Cypress, and Cedar are rarely available in the clear heartwood necessary to eliminate long-term concerns regarding rot and weathering or at a price competitive with Mataverde® Hardwood Decking and Rain Screen Siding. Contact us for a specific quote for your decking material or wood siding needs.