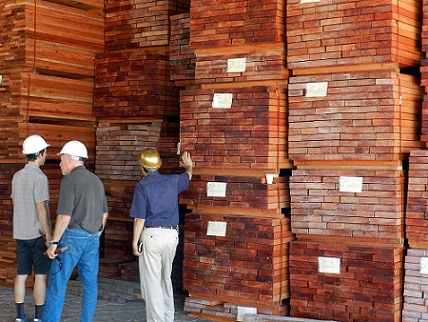 The Mataverde Quality Difference
We are proud to have provided premium quality building materials and top notch service over the last 60+ years. Our stringent Quality Control measures are integral to our success.


1. The Mataverde Premium Difference Begins by Selecting the Right Hardwood Decking Species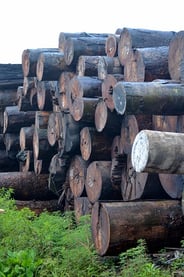 We specialize in providing the highest rated species of Brazilian hardwood decking and lumber available, including Ipe, Cumaru, Machiche, Garapa. Hand-selected for their beauty, hardness, durability, decay resistance, insect resistance and stability, these high-density hardwood decking species are truly remarkable. North American wood species don't even come close to matching their durability and density.
Since the early 1900's the US Forest Products Laboratory has been extensively testing many South American hardwoods. Mataverde's Brazilian hardwood lumber species are all "tried and true" performers with a solid track record.


2. Next We Select the Right SUBSPECIES of Hardwood Lumber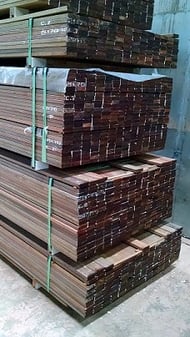 There are many subspecies of Ipe, Cumaru and Garapa which are widely used for decking materials - over 40 have been identified for Ipe alone. While many of these subspecies possess characteristics which are fairly similar, on closer examination, some subspecies are clearly better than others.
The characteristics of decking boards will vary within logs of the same tree, so it stands to reason that the difference between decking boards of various subspecies is far greater. Our quality commitment continues as we invest the necessary resources to identify those subspecies which will outlast and outperform the rest.
3. Where Hardwood Decking and Lumber are Grown Makes a Huge Difference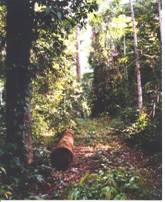 The Mataverde Brazilian Hardwood decking species are harvested from the most ideal growing regions on earth. There are a multitude of factors that affect plant growth and quality including; sunlight, soil, nutrients, temperature, humidity, rainfall and many other variables. Each growing region has its own unique micro-climate and conditions. Equatorial Northern Brazil is the best growing climate for these high density hardwood decking species worldwide. This nearly perfect environment allows Ipe, Cumaru and other high density tropical hardwood trees to grow to maturity in approximately 30 to 35 years.


4. Mataverde High Density Hardwood Decking and Lumber Species are Eco-Friendly


Did you know that all Mataverde high density hardwood species are harvested and imported using sustainable yield forestry best practices? Our hardwood decking is available with FSC® (Forest Stewardship Council®) Chain of Custody Certification or IBAMA/SEMA certification and many sizes and species of Mataverde decking and high density lumber are available with both certifications.


5. Selecting the Best Logs for Hardwood Decking and Lumber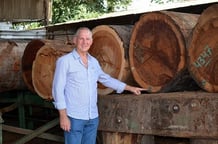 Mataverde decking logs are hand selected for quality. Picking the right logs to be milled into decking boards and hardwood lumber is the next step in the Mataverde® Quality Control process. The highest quality logs produce the highest quality deck boards and lumber.


6. Selecting the Best Hardwood Decking Boards and Lumber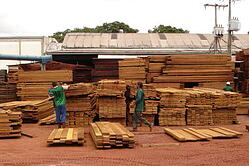 After the logs are sawn, individual graining and unique characteristics can be observed on the sawn lumber. This is where the Mataverde® First Export Quality grading standards come into play. Each deck board is inspected for any defects including: end splits, knots, insect holes, grain tear-out, width and thickness tolerances, planing, twisting and more. Only the highest quality boards that meet our rigorous grading criteria are selected to bear the Mataverde® Premium Hardwood Decking brand name.
7. Mataverde Quality Inspections Continue at Home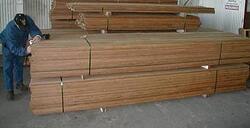 Upon arrival in the US, Mataverde decking gets another series of Quality Control inspections. Once delivered to either of the Mataverde® Distribution Centers, the high density hardwood decking boards and hardwood lumber are immediately spot inspected again for milling tolerances and material quality. Any discrepancies or concerns are addressed immediately.
8. Mataverde Decking Final Inspection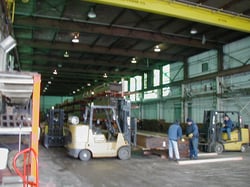 Mataverde high density hardwood decking and lumber get an additional inspection before they leave the Mataverde Distribution Center. Each time an individual hardwood decking order is prepared for our clients, a visual inspection of the hardwood decking material continues to further ensure delivery of decking material that meets all grading criteria. Any hardwood deck boards with visible imperfections are sorted out and set aside.


9. The Mataverde Success Plan for Long Term Satisfaction
For over seventy years, our goal has been to provide high quality products and an extraordinary level of service to our clients. We believe that short term and long term satisfaction is a key to our client's success as well as our own. Our past clients are our best source of unbiased referrals and we do our very best to provide the best information to them so they can make their own informed decision for their projects.
As a Mataverde client, you should know what to expect once you decide to buy Mataverde Decking, Siding or Lumber products for your exterior project or structure. To achieve the best results for your project, please download the Mataverde Success Plan below.