Rooftop decks are a wonderful way to create a relaxing oasis atop your home or building... with a spectacular view. Rooftop decks, however, can be problematic for a number of reasons. Care should be taken to eliminate mistakes or potential problems while you are still in the planning phase of your deck project.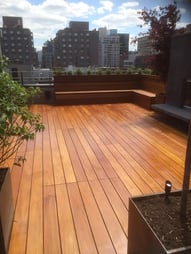 Rooftop Deck Problems to Avoid:
All flat roof systems require a method for water to drain off the roof. Whether your rooftop has a pitch to allow water to drain off directly into a gutter or has a drain system built into the roof itself, never impede the flow of water. Always work with the natural water flow, don't fight it.

Structurally, you do not want to place a lot of extra weight on top of an existing roof unless it is designed to handle the additional load.

If your roof was designed to meet the bare minimum code requirements (or obsolete code requirements), it may be necessary to add joists, beams or other structural supports before a deck can be built.

Always have your existing roof structure inspected by a qualified and licensed Professional Engineer prior to building a rooftop deck or structure of any type. They can provide invaluable insight that will protect both you and your project, safely.

Building Inspectors and other Building Code Officials will also have knowledge of the local requirements for snow loads and other important information.

Always consult with these experts prior to construction.

After your deck is installed, it is likely to receive full day UV exposure with little or no shade. A UV inhibiting finish is a great way to protect your wood decking from sun damage and other weather factors.

Be smart and build safely. You'll be rewarded with many years of beauty and service from your new rooftop deck. Enjoy!
If you wish to create a rooftop sanctuary for relaxation, you may wish to consider the Mataverde Eurotec Rooftop Deck System. This rooftop deck system is designed to provide a lightweight, yet high performance deck frame using long lasting aluminum framework. The Eurotec adjustable rooftop deck pedestals provide an easy way for water to egress beneath your deck without impeding the natural flow of water. Mataverde premium hardwood decking has earned a solid reputation of long lasting beauty for decades. Choose from many Mataverde hardwood decking species for natural beauty and exceptional performance.
Please visit our website to learn more about the Eurotec Deck System, Mataverde decking options and more.
Learn More Here
Photo Gallery: Rooftop Deck Ideas
Eurotec Rooftop Deck System Home
Eurotec Fastening Options for Rooftop Decks
Deck Installation Tips: Eurotec Deck System vs. Sleepers
Mataverde Eurotec Rooftop Deck System Home
Tutorial - Installing Balcony and Rooftop Decks
Eurotec Aluminum System Profile for Rooftop Decks
Eurotec Deck System for Architects