MATAVERDE THERMOWOOD DECKING
What is Thermowood Decking?
C

reating thermally modified wood is a natural process, revolutionized in Finland decades ago. Mataverde Thermowood
is beautiful wood - recommended by many of the world's leading architects. Thermally modified wood technology is an environmentally friendly process, requiring no chemicals or toxins. The Thermowood thermal modification process uses only heat and water, the wood cell walls are permanently modified for the better. This is the most effective thermal modification process for hardwood lumber.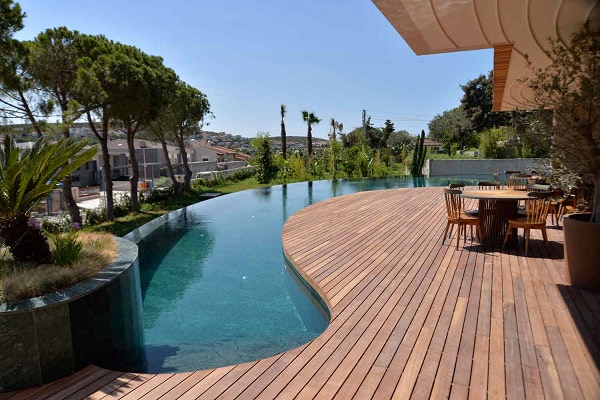 ---
What's so Special about Mataverde ThermoWood Decking?
The ThermoWood thermal modification process alters the properties of the wood permanently. The process starts with sustainably harvested domestic hardwoods.
The results are stunning, from both an aesthetic and performance standpoint. The thermally modified wood is darker and richer appearing, similar in appearance to Ipe or other tropical hardwoods. The mechanical properties of the wood are changed too; most of the sugars are 'cooked' out of the wood, improving its rot-resistance to protect against decay and fungus. The wood is far more stable, too. Normal expansion and contraction happens seasonally with all outdoor woods. With Mataverde novathermowood decking, the expansion and contraction is minimized.
The result is a better looking, higher performing, durable exterior thermally modified wood decking material, unlike any other. Why use Mataverde ThermoWood Decking?
More durable decking - The sugars are transformed during the thermal modification process. Thermally modified wood is more resistant to mold, fungus and spores, and far less likely to rot and decay than the original wood.
More dimensionally stable decking - by drying the wood out fully, then adding moisture back in, thermally modified decking wood is far less prone to seasonal expansion and contraction than traditional hardwood decking.
---
Color and Graining of Mataverde ThermoWood Hardwood Decking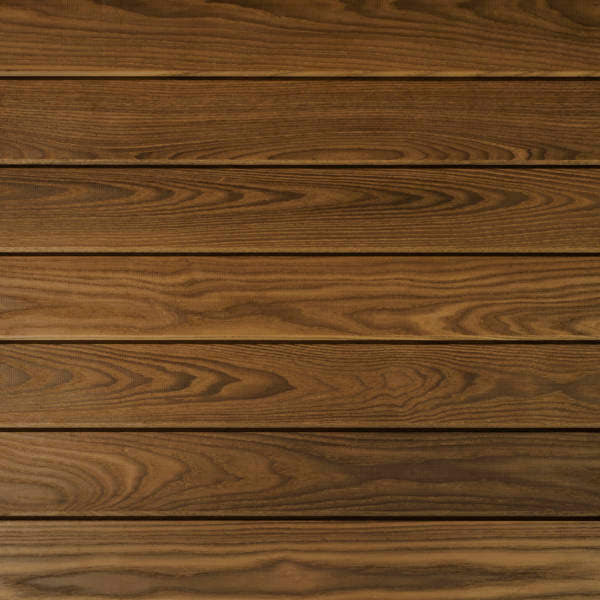 Mataverde novathermowood hardwood decking
The Thermowood thermal modification process gives the wood a rich, dark brown color. If the "new wood look" is your goal, Mataverde Thermowood decking may be finished with various sealers and maintained periodically as needed. Oil based sealers, such as Penofin or others, work best to protect your investment.
Or, if you prefer a more natural 'weathered wood' appearance, Mataverde Thermowood decking can be left untouched and will gradually age to a lustrous silvery gray patina over time, for a low maintenance, real wood deck.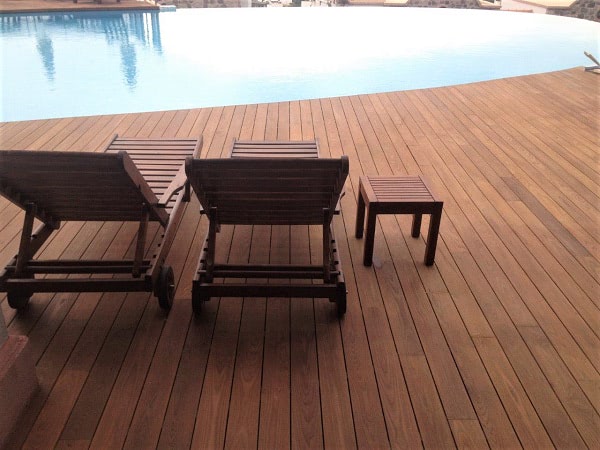 CHECK OUT MATAVERDE NOVATHERMOWOOD THERMALLY MODIFIED WOOD DECKING GALLERY
---
Mataverde® ThermoWood Appearance Options
What will ThermoWood look like as it ages? Thermowood is well known for its beauty, dimensional stability and durability. But ultimately, Thermowood is still a natural wood product, and all exterior woods will age differently once they are exposed to outdoor weather conditions.
There are appearance and maintenance options to choose from. Learn more about the appearance options and life-cycle performance of Mataverde ThermoWood. Here is the typical weathering process:
Initial appearance of Thermowood hardwood is a chocolaty brown color

A coat of oil finish with UV inhibitors will darken the color tone to a rich dark brown color, and protect your wood as it seasons.

As the oils weather off and the wood ages, the color will start to lighten to softer brown tones.

At this point, you may either refinish to a darker brown appearance, or

Allow the wood to weather out to a silvery gray patina for a low maintenance decking option
Want to learn more about the exterior wood decking process?
Download the "How Wood Weather Guide", today:
---
Mataverde® ThermoWood Physical Characteristics
and Mechanical Properties
What is thermal modification? How does the thermally modified wood process work? The ThermoWood process produces the highest quality thermally modified wood. Check out the video below to find out more.
---
Mataverde® ThermoWood Decking has exceptional dimensional stability. ThermoWood exhibits only minor movement after it is milled and installed. An initial oil finish, before installation, helps minimize any shrinkage and checking during its initial acclimation and on-site seasoning. Thermowood is an excellent decking material option to consider if you'd like a sustainable and all natural real wood deck surface for your project.
| | |
| --- | --- |
| STABILITY | ThermoWood decking is exceptionally dimensionally stable, and exhibits very limited expansion and contraction, especially compared to other woods. An oil based finish improves the stability further and helps minimize surface checking and splitting. |
| DURABILITY | Because the ThermoWood process 'caramelizes' the sugars in the wood, ThermoWood is exceptionally resistant to fungi, decay and rot. With normal care and maintenance, ThermoWood has a service life of 25 years or longer, depending on conditions. |
| HARDNESS | Thermowood Ash has a Brinell hardness of 30.5 N/mm2 |
| FIBER BENDING STRENGTH | Thermowood Ash has bending strength of approximately 12,000 psi, (roughly 20% less than non-modified Ash.) |
| DENSITY | ThermoWood Ash has a density of approximately .62 g/cm3. It is much lighter in weight than high-density tropical hardwoods, like Ipe. Yet it is still very resistant to decay. Win/win. |
Additional ThermoWood Technical Information
For more information about the Thermowood process and scientific testing:
---
Mataverde Thermowood
Deck Installation Tips and Techniques
Mataverde thermowood decking can be installed by a number of standard deck construction methods including, face screw, specified hidden fasteners and Eurotec rooftop deck system components. Because of its strength and hardness, Mataverde Thermowood decking can be installed with very similar methods to those used for other hardwood decking species.
FACE SCREW DECKING INSTALLATION METHOD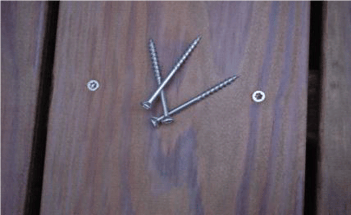 The most secure and best way to install Mataverde thermowood wood decking is with face screws.
PRO INSTALLLATION TIPS:
Stainless screws last longer and work best.

Pre-Drill your screw holes for best results

T

ake care to maintain a minimum of 3/4" to 1" distance of screws from the edges and ends of boards

for best results.
Thermowood decking is harder than the original wood. The only real downside of installing thermally modified wood decking is that it is slightly more brittle than the original wood. So, this fastening method will minimize the potential for splits and will hold up very well throughout the lifetime of your Mataverde Thermowood deck.
Download Decking Installation Guideline
---
Mataverde Thermowood Decking Care & Maintenance
Mataverde novathermowood decking is a low maintenance real wood decking material. As a result of thermowood technology, Mataverde Thermowood looks and acts much like other hardwood decking materials. Mataverde Thermowood is non-toxic and safe to the environment as well as humans.
Mataverde thermowood requires no maintenance beyond normal cleaning. Thermowood decking is easy to care for and there are appearance options, including oil finishes and a low maintenance option, where you can allow your deck to weather to a gray driftwood look.
---
---
Looking for the best decking options for your project?
Download "The Ultimate Guide to Selecting the Right Decking"
---
Need some deck design inspiration? Looking for deck ideas?
DOWNLOAD the "Deck Design Ideas Book" today
61 pages featuring over 150 deck design ideas!