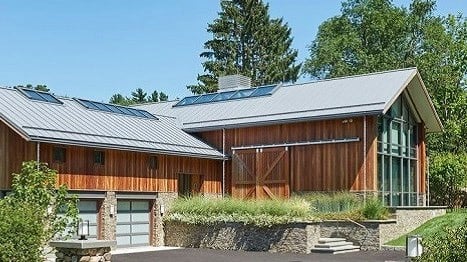 8 of the Best Siding Options for a House Exterior
Written by
Liza Sivek
on
Are you searching for the best siding for a house? Do you want curb appeal and the best-looking home on the street? There are many siding options on the market but only a few rise to the top in quality and beauty. With the added benefits of low maintenance! Intrigued? Check out these amazing house exterior ideas to get you started.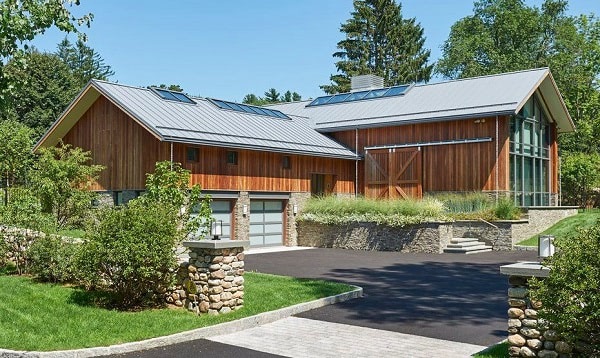 Ipe wood siding colors elevates this barn home to new and gorgeous heights, but with low maintenance.
---
There are more siding details in this FREE download, the "Ultimate Guide to Wood Rainscreen".
Get your copy right now.
---
Real Wood Houses
The best quality siding wood is sustainably harvested tropical hardwood siding, hands down. If you want stunning looks you can't go wrong with the natural exotic graining and color variations that will make your house exterior a work of art. You can design vertically or horizontally with a rainscreen installation or go the traditional wood siding route. Both are beautiful, the choice is yours.
---
Get all the details on choosing wood rainscreen siding in this FREE download,
the "Ultimate Guide to Wood Rainscreen".
---
With natural resistance to warping, mold, rot, and insect damage there is very little to worry about when it comes to maintenance. A simple initial coat of UV protectant oil sealant as needed will create a beautiful appearance. Afterwards, you can recoat your hardwood siding occasionally, as desired, to maintain the like-new wood look.
It may surprise you that there is also a low maintenance option for hardwood siding. If you don't wish to recoat your siding, simply let the hardwood weather naturally. A natural silver-gray patina will develop for a graceful and coveted aged-in-place look.
All the natural wood cladding options listed here can be milled to a tongue and groove profile. Or, if you prefer, milled to a rainscreen profile. Rainscreen siding is a fantastic way to add health benefits and natural energy savings to your home. Learn more about the Climate-Shield Rainscreen System here.
---
Want to know more about how hardwood looks when it ages? Grab the FREE download now,
the "Guide to How Woods Weather"
---
Ipe Hardwood House Siding
Ipe hardwood is the standard all other hardwoods are compared to. With the highest density and strength of the tropical hardwoods, Ipe is the longest lasting and lowest maintenance wood siding you can choose. Ipe colors are a range of warm, rich browns with interesting grain patterns and figuring.
Check out this home exterior design that wraps the home in real Ipe hardwood using the Climate-Shield rainscreen system, including the outside corners and soffits, for a stunning facade.
---
RELATED: IPE RAINSCREEN PHOTO GALLERY
---
FSC® Certified Machiche House Siding
Like Ipe, FSC Certified Machiche hardwood also has a high density and high resistance to water and insect damage. The colors are a range of rich, chocolatey brown tones and exotic grain variations.
Machiche wood siding wraps this house exterior to "Wow!" the neighbors. Imagine driving up to this exterior with the warm tones of real wood rainscreen contrasting with the cool white stucco elements. Even the garage doors are designed to blend into the look of the home. An elegant and impressive first impression!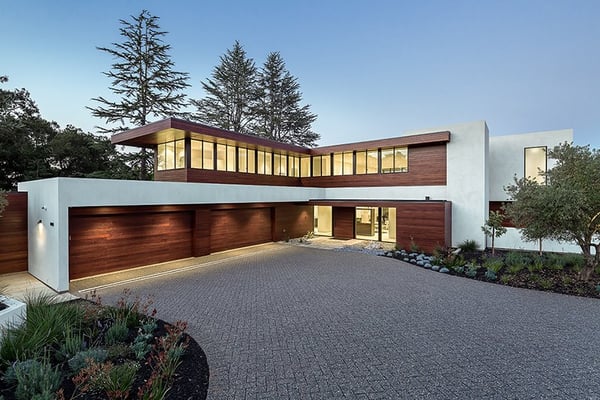 ---
RELATED: MACHICHE RAINSCREEN SIDING PHOTO GALLERY
---
Looking for more information? Download the FREE "Ultimate Guide to Wood Rainscreen" for everything you need to know.
---
Cumaru Hardwood House Siding
Cumaru is a hardwood with lots of color variation and grain patterns. Similar in benefits and looks to Machiche, Cumaru is a lower cost siding option with an attractive natural range of reddish-brown coloration and exotic graining to add to your home exterior design.
The angled rooftop on this house exterior allows those Cumaru wood siding colors to shine. Rainscreen installation will not cover up the architectural details. Instead it accommodates and highlights windows and doorways of all shapes and sizes, like these narrow windows both horizontal and vertical.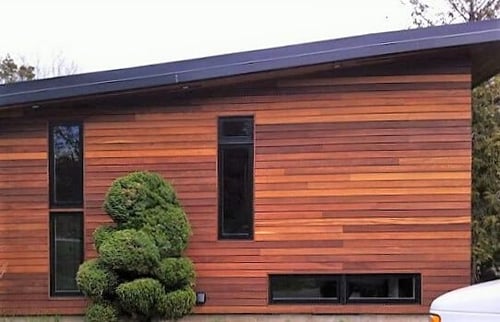 ---
RELATED: CUMARU RAINSCREEN WOOD SIDING PHOTO GALLERY
---
Garapa Hardwood House Siding
Garapa wood siding is a high performance siding material choice and the most affordable hardwood siding option. Garapa may be slightly lower fiber density than other tropical hardwood but don't be fooled – Garapa's strength is still much higher than oak hardwood and significantly higher than all softwood siding species. The golden color of Garapa gives a lighter color option than the other hardwood siding choices, with stunning light brown tones with fantastic exotic grain and figuring.
LaSalle University chose to use Garapa wood siding on their clergy residences for budgetary and durability reasons, and the obvious good looks. These homes are truly beautiful and show how Garapa can be designed with vertical rainscreen installation for your house exterior project.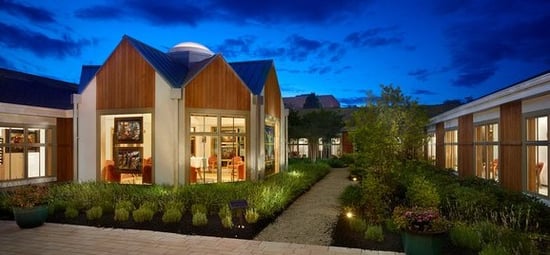 ---
RELATED: GARAPA RAINSCREEN WOOD SIDING PHOTO GALLERY
---
Thermally Modified Wood Siding for Houses
If you are looking for a more affordable real wood siding, but want some of the benefits of hardwood, look no further. Mataverde® offers not one but two softwood siding options that have been heat treated to mimic many of the hardwood benefits. By thermally treating the softwood, the sugars are cooked out, removing the temptation to insects, and the wood is hardened, improving the strength. It is exceptionally stable with minimum expansion and contraction, sustainably harvested, and naturally beautiful.
---
RELATED: WHAT IS THERMALLY MODIFIED WOOD SIDING?
---
SEE REAL WORD EXAMPLES: VIEW THE FEATURED RAINSCREEN PROJECT GALLERY
---
Thermowood Hardwood House Siding
The beautiful chocolatey brown tones of thermally modified ash hardwood siding add a natural allure to your home's exterior. The thermal modification process creates a higher performing cladding, using heat and steam and no chemicals, naturally. The exceptional stability of Mataverde® thermally modified wood cladding makes it a great fit for siding.
Take a look at this Thermowood rainscreen siding with both vertical and horizontal installation on this home with multiple balconies. The deep brown tones of Thermowood and the Climate-Shield rainscreen system are a give you a wide range of design options, while keep the siding material costs down.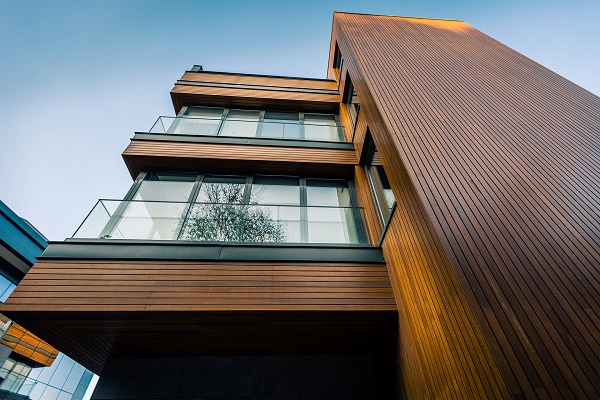 ---
Want to see thermally modified wood up close? Request a free sample now.
---
RELATED: THERMOWOOD RAINSCREEN SIDING GALLERY
---
Thermawood Hem-Fir Softwood House Siding
The look of thermally modified Hem-Fir siding affords the natural beauty of Western Red Cedar siding, at a lower cost. The thermal modification process to create thermally modified hemlock uses a vacuum kiln. The process cooks the sugars out of the wood, making it more stable (less movement) and is highly resistant to mold, decay and insect damage.
Like the others, this siding has design versatility when used with a Climate-Shield rainscreen system installation. This contemporary home has a wrap of Thermawood Hem-Fir rainscreen siding designed with vertical and horizontal installation to highlight the architecture.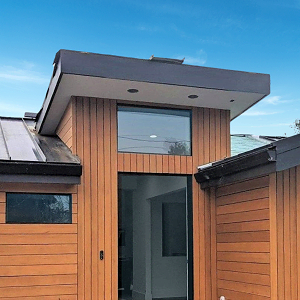 ---
RELATED: 4 THINGS YOU SHOULD KNOW ABOUT THERMALLY MODIFIED WOOD SIDING
---
Pura NFC® by Trespa HPL House Siding
Pura® siding is a High Pressure Laminate cladding (HPL) with solidly proven quality. Pura® siding is tested for a wide range of environmental threats from impact to acid rain. The maintenance requirements are low and the siding cleans with just soap and water. Plus you get a pallette of colors to design with.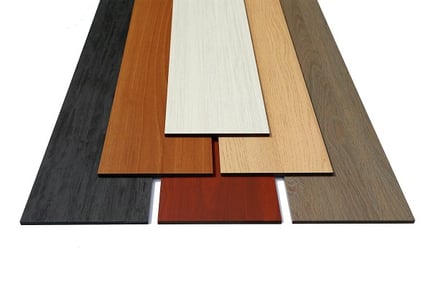 ---
RELATED: SEE THE 10 QUALITY TESTS PERFORMED ON TRESPA PURA SIDING
---
Pura NFC® by Trespa Wood Decors
Looking for the natural beauty of real wood siding, without all the maintenance? Pura® NFC siding offers a spectacular Wood Decor collection. Trespa Wood Decors offer the beautiful look of real wood with a more consistent blend of color and grain. Pura® NFC siding wood decors have the beauty of real wood siding, but they never need painting or refinishing.
This lakefront house exterior was designed using Romantic Walnut Wood Decor, with the realistic wood look and color, long lasting durability, and incredible low lifetime maintenance it is known for.

---
Impressive Trespa quality has to be seen to be believed! Request your FREE sample here.
---
RELATED: PURA NFC BY TRESPA SIDING PHOTO GALLERY
---
Pura NFC® by Trespa Lumen Decors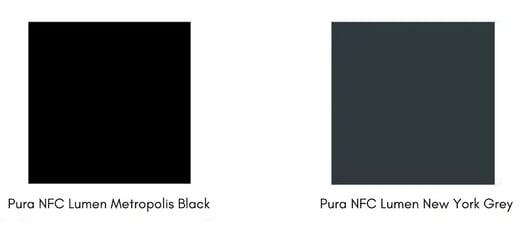 Pura NFC® is also available in their Lumen decors. These solid color panels offer a light-diffusing quality that gives a modern finish to all kinds of house exterior projects. Choose Pura® NFC Lumen decors as an accent or for your entire facade.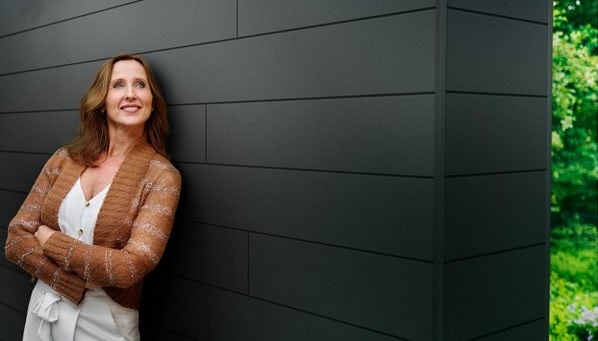 ---
RELATED: SEE ALL THE PURA NFC SIDING COLORS
---
These exterior siding ideas are just some of the ways you can get the highest quality siding and lowest maintenance and find one that suits your budget and design requirements. Questions? Let us know: Contact our Specialists now. We are ready to help.
---
Before you go, there are more Rainscreen Siding photos and information for to check out here:
VIEW THE RAINSCREEN PHOTO GALLERY
VIEW THE FEATURED RAINSCREEN PROJECT GALLERY
VIEW RAINSCREEN ARCHITECTURAL DESIGN OPTIONS
---
Is one of these siding materials perfect for your next project? Request a FREE rainscreen siding sample now.
---
Ready for pricing? Can we help with a free quote?
---
Remember to grab your FREE download, the "Ultimate Guide to Wood Rainscreen" here.
---
RELATED:
Related Posts