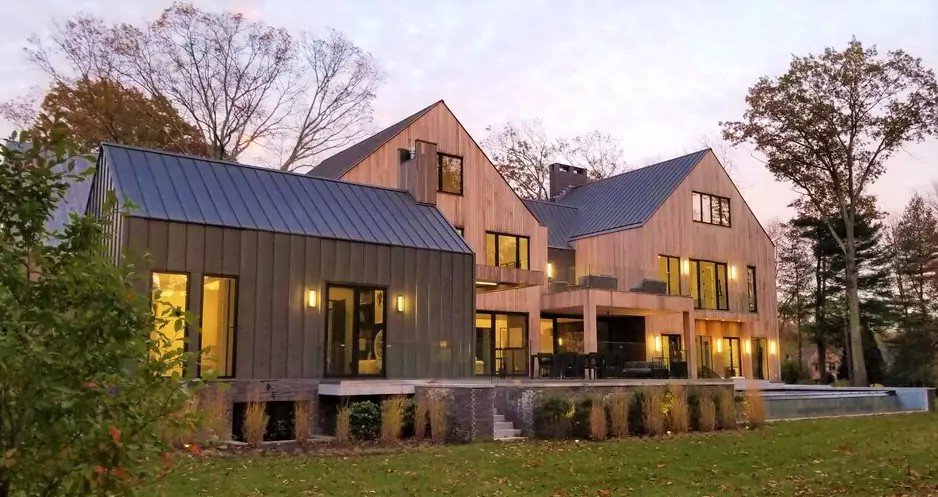 Best Wood Siding Options for Homes and Buildings
Written by
Chris Nolan
on
Wood siding is a beautiful and all-natural cladding option for homes and buildings. Wood is one of the original construction materials and has been in use for over 10,000 years. Wood is a natural and renewable building material, has structural and insulation properties and is easy to work with. A recently discovered Neolithic long house in Europe dated circa 6,000 BC, featured wood siding in its construction. Since that time all types of wood sidings have graced structures throughout the world.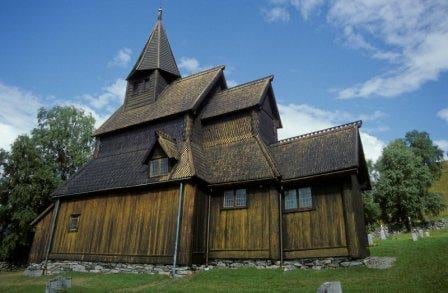 Wood siding on stave church in Norway built circa 1180 AD
Early Chinese and Japanese temples from approximately 700 BC were built with logs, which served as both structural members and siding. Later, timber framed Norwegian stave churches with wood siding, circa 1180 AD, are still standing. Log cabins have been in use for centuries. Nowadays, the natural beauty of real wood siding is still in fashion for residential homes and commercial buildings.
Softwood Siding Options
Softwoods have been the traditional choice for wood siding for centuries. Wood species such as cedar, redwood, pine, spruce and cypress are the most popular softwood siding choices.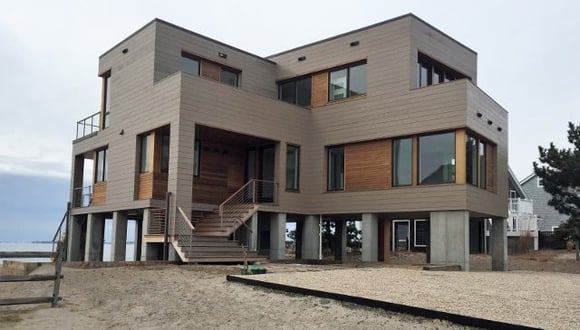 Western Red Cedar siding installed in a rainscreen assembly
Red Cedar Siding
Softwood sidings, such as Western Red Cedar, are a beautiful and all-natural cladding option. Cedar shingles, lap siding and solid wood siding are still a fashionable way to clad a building. Cedar siding may be painted or stained, with solid colors or semi-transparent tints. From a design standpoint, red cedar meets a lot of aesthetic needs.
To maintain a consistent supply of cedar, cedar is often replanted in managed forests. Most cedar nowadays is younger than the old growth cedar of yesteryear. Old growth cedar has tighter grains and less color variations then regrown cedar. Younger cedar has more sapwood and more color variations from very light to medium brown. Depending on the grade, Red Cedar is a moderately priced wood siding option. The higher the grade the higher the price.
Redwood Siding
Redwood is a naturally decay-resistant softwood siding. Like cedar, redwood siding may be painted or stained to meet a project's color scheme. Redwood siding was, until recently, a readily available cladding option. However, decades of over-harvesting of old growth redwood trees has led to lower availability, especially of higher grades. As a result, redwood pricing is now significantly higher than ever before.
Other Softwood Siding Options
Cypress is a softwood siding option. Cypress is durable and is lighter colored than cedar or redwood. Alaskan Yellow Cedar is another lighter toned softwood siding option. Both Cypress and Alaskan Yellow Cedar siding will take a stain. Both species are less available and are typically more expensive than cedar siding.
Softwoods such as spruce and pine siding usually don't last very long but they are available as a wood siding option in many areas.
Hardwood Siding Options
With the rising prices and lower availability of high quality softwood siding options, hardwood sidings have become more affordable comparatively. Most hardwood siding species also outperform softwoods in terms of durability, performance and life cycle. With the increase of installing wood sidings in rainscreen designs, hardwood sidings are seeing a huge surge in popularity.
Ipe Hardwood Siding
Ipe is a high-density hardwood that is exceptionally long lasting as a decking, cladding and exterior wood building material. As a wood siding option, Ipe is often specified for rainscreen siding designs, especially when an extremely durable natural wood siding is required. Ipe is a medium brown to olive brown to dark brown wood siding option with lots of tropical graining. Ipe can be finished as needed or left to weather to a gray patina.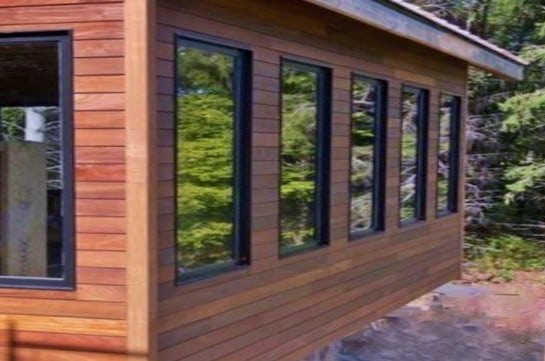 Ipe hardwood siding
Garapa Hardwood Siding
Garapa hardwood is a long-lasting pale yellow to amber colored wood siding. Garapa cladding can be stained to darker colors or left to weather to a silvery tone. Garapa wood siding is durable, and budget friendly. It is often less costly than cedar and other softwood siding options. Garapa wood siding works great in a rainscreen design for residential and commercial projects.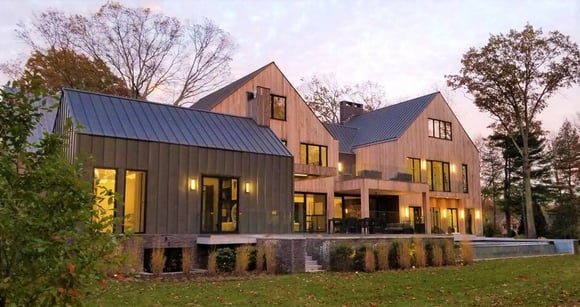 Garapa hardwood siding installed vertically in rainscreen assembly
FSC® Machiche Hardwood Siding
Machiche is an FSC Certified (Forest Stewardship Council®) hardwood siding material. Machiche has a chocolaty brown color and tropical wood graining. Machiche hardwood is exceptionally long lasting and eco-friendly wood siding. Like several other high-density hardwood sidings, Machiche wood siding can be stained to maintain a 'like new' wood appearance or allowed to weather out to a silvery gray patina, without affecting its performance.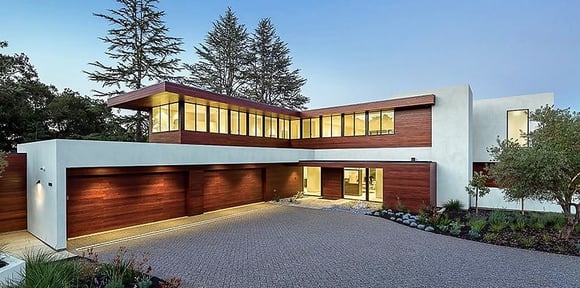 Machiche hardwood siding on California residence
Thermowood Siding Options
Thermowood siding is a great wood siding option for residential and commercial projects. The Thermowood process takes real wood, and using only heat and steam, 'cooks out' the sugars to create a very durable and highly stable wood siding. ThermoWood siding is a dark brown cladding that can be oil-finished to maintain new-wood appearance or allowed to weather to a silvery gray color over time.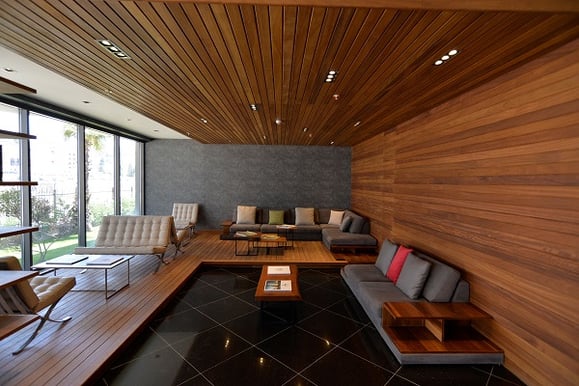 Thermally modified wood siding and soffits
Trespa Pura Siding Options
If you love the look of real wood, but aren't interested in maintaining or refinishing your siding, Trespa Pura sidings are an excellent option to consider. Trespa Pura is a manufactured HPL (high pressure laminate) siding option. Their unique process takes wood fiber and using heat, pressure and thermo-set resins to create a stunning cladding material. Trespa Pura siding is available in eight different wood decors, offering the beautiful look of wood siding without the usual maintenance requirements of real wood.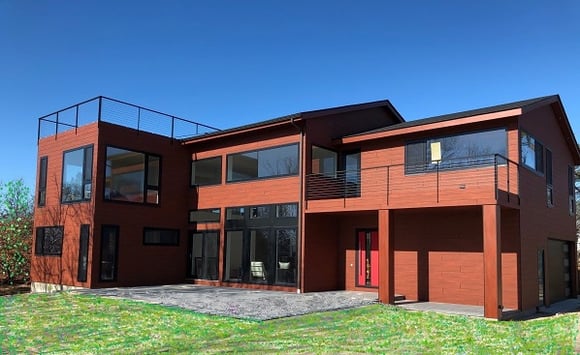 Trespa Pura NFC siding wood decors are a great option
Are you interested in more information about wood siding?
Check Out Wood Siding Galleries
Related Posts