When they first install their new hardwood decking, about half of our clients want to keep that 'like-new wood look' over time. To achieve that look, most deck owners will put an oil finish on their deck and re-oil it as needed. The other half, really like the naturally weathered silvery gray look. Interestingly enough, after about five years, we learned that the great majority of our clients tend to appreciate the natural weathered look of their deck boards. Because high density hardwoods last so long and perform so well, you can choose either option (oil finish or unfinished) and still have a beautiful deck that will serve you well for many years.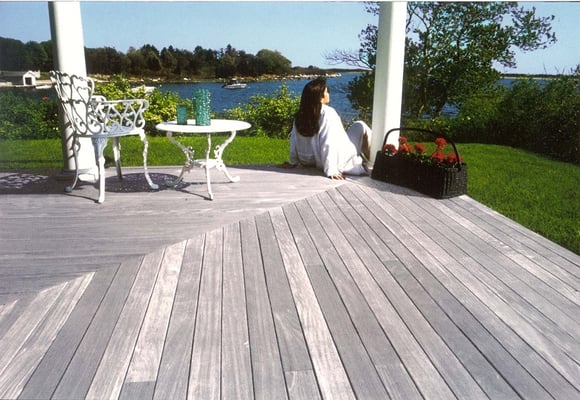 Low-maintenance, naturally weathered hardwood deck option
With durable hardwood species like Ipe, Cumaru, Machiche and Garapa decking, you don't have to worry about the performance of the decking over time, even if they are unfinished. Because of their exceptionally high density, these remarkable hardwoods will age gracefully to a silver gray color and perform well for many years. Softwood decking, on the other hand, need to be stained, sealed, painted or finished to perform well. So, if you like the gray weathered look for low maintenance wood decking, hardwood decking is the best place to start.
Why Let Your Hardwood Decking Weather to Gray Naturally?
Natural look- Hardwood decking can be left to weather to a natural silvery-gray patina

Distinguished appearance- The unique varying grain patterns of each hardwood deck board looks great when they turn to silver

Happiness- The natural silvery gray look reminds many of us of happy vacation memories at the beach, lakefront or seashore

Lasts a long time- The naturally weathered patina won't affect your deck's performance – hardwood decking is very durable

Enjoyment- No need to refinish your hardwood deck annually – just sit back and enjoy it

Low maintenance- Minimal maintenance required (other than periodic cleaning)
Still not sure which way to go? Learn more:
DOWNLOAD THE "HOW HARDWOODS WEATHER" GUIDE NOW
We hope you enjoyed this article. Please visit MataverdeDecking.com for more information about hardwood deck options, decking care and maintenance, the low maintenance decking option and more.