How to Finance an Outdoor Backyard Deck Project
Written by
Liza Sivek
on
A deck is a great investment for anyone who wants more enjoyment out of their current backyard. Having a deck gives you a space where you can go to relax, unwind, and entertain.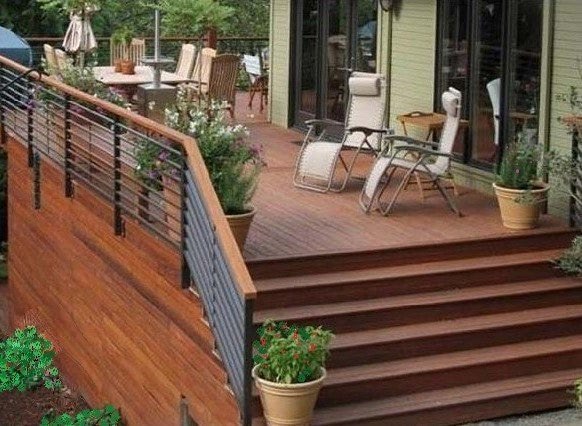 A natural wood deck is an investment in your home and your lifestyle.
There are many design options when it comes to building a deck. It can be as large and extravagant as you want it to be, but these additions can quickly add up. It's important that you create a design and plan for your deck before you start. Having a deck design plan in mind will help the process go much smoother.
---
Looking for deck design ideas?
Download the Deck Design Ideas Portfolio today!
---
To start this process, you'll want to work with an architect or professional contractor to design your deck. They'll help you figure out what the best layout and materials are to use. This can help you maximize the space you'll be working with.
When reviewing their price estimate, remember that it will reflect both the cost of labor and materials for the project. Though it can be tempting to opt for cheaper materials, it's usually not worth the sacrifice in quality. Work with your contractor to choose the best materials. You want your deck to be able to withstand all weather conditions and years of use.
CHECK OUT DECKING MATERIAL OPTIONS HERE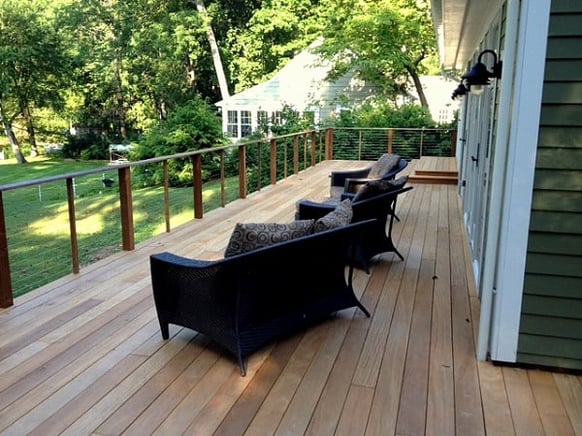 Choosing premium hardwood like this gorgeous Garapa decking ensures low maintenance cost over the lifetime of the deck.
DECK FINANCING OPTIONS TO CONSIDER
Once you have a plan in place and a budget set for your deck project, you'll need to decide which financial option you want to use to pay for it all. To help you in this decision, this article will outline a few of the most popular options to use for financing your deck build. There are many ways to finance your deck project. After consulting with many financial experts, here is a list of options to consider for your your dream deck.
Financing a Deck from your Savings Account
If you've been putting money into a savings account for a while, using it toward a deck could prove to be a valuable way to spend this money. If you don't have any current savings accumulated, don't worry, it's never too late to start. There are many ways to grow your account without adding stress to your life.
Putting money aside for a deck build could start with something as simple as depositing a small portion of each paycheck into your account, saving every $5 bill you receive, or collecting your spare change into a jar. These small acts will help your account grow faster than you may think, while also helping you be more mindful of how you spend your money.
With the recent surge in home renovation projects due to increased time spent at home during the pandemic, many contractors have had their services booked out far in advance. Thankfully, this gives you plenty of time to begin preparing and saving for an open availability.
Getting a Personal Loan to Finance your Deck Project
If you are looking to begin your deck build this spring or summer, the time to accumulate enough savings may be fleeting. Thankfully, there are several other options available for you to access on a quicker basis. One of the more popular options for financing major investments is a personal loan.
A personal loan can be obtained from most lending institutions such as your local bank, credit union, or even an online lender. These loans are beneficial for projects of this scale as they are easily accessible and typically carry lower interest rates than credit cards for those with good credit. Just be sure to guarantee that you will be able to pay this loan off during the introductory rate period, or you could face higher interest charges than expected.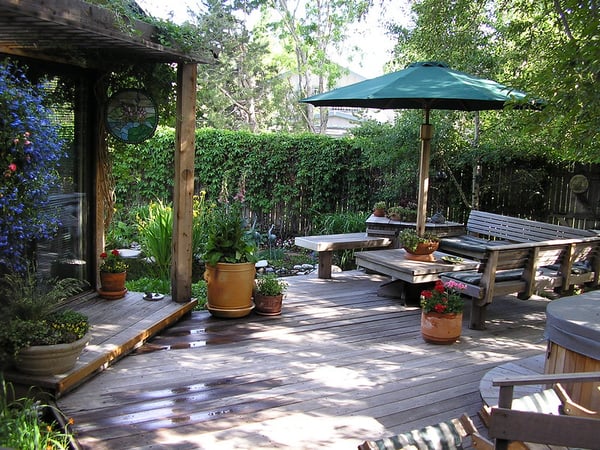 Plan to add a backyard deck to your garden area before Spring arrives!
Home Equity Loan for a Backyard Deck
As a homeowner, one of the greatest benefits of owning a home is the equity that you build over time. Home equity value is calculated by taking the difference in the current market value of your home and the amount that you owe on your mortgage. As a homeowner, you can borrow against this equity in the form of a loan. This money can then be used for almost any expense but is most commonly used to finance major home improvements.
This type of loan, known as a home equity loan, is a strong option for any homeowner thanks to its low interest rates and lump sum payment, which allows faster access to these funds. When using a home equity loan for home improvements, you may also qualify for tax deductions.
Just as true as it is with other loans, it's also important with this type of loan that you are confident in your ability to pay it off. Defaulting on this type of loan could cause you to lose your house as it is used as collateral for the bank in the loan agreement. Thankfully, the lower interest rate of these loans allows most homeowners to pay it off in a reasonable period of time.
Credit Card to Purchase Your Deck
If you are worried about the arrangement terms of a loan, then you may be considering a credit card. There are many providers that you can choose from when deciding on the right one for you. If you have a great credit score, you may be able to qualify for a card that has benefits for home improvement use.
Some credit card companies offer attractive introductory rates just for signing up for their services. Though these offers can be tempting, it's important to pay off your debt within the introductory period or your rates could skyrocket causing substantial interest gain. With any credit card application, it can be helpful to talk with a trusted financial advisor to better understand which option is best for you.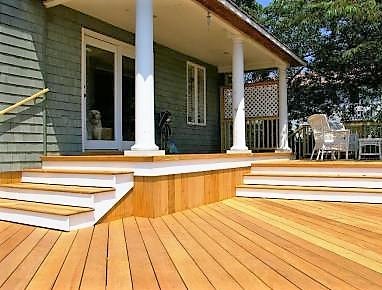 A premium Garapa wood deck is a great home improvement project to consider.
Future Return on Your Deck Investment
Though this isn't necessarily a direct financial option, one thing that is important to consider is the future return on investment that building a deck can have. A major home improvement like this could add significant value to your home's worth. A deck can also be an attractive selling point for potential buyers if you ever choose to sell your home in the future. This can often make your investment into the deck now worth it in the long run.
While any of these options carries its own risks and benefits, it's important to carefully research and consider each one. There should never be a rush when making an investment into a large-scale project like a deck build. In the end, it will all be well worth it, and you'll be enjoying many summers to come out on your new deck.
Want to learn the pros and cons of popular decking options?
Download the Ultimate Guide to Selecting the Right Decking today!
Comments
Related Posts