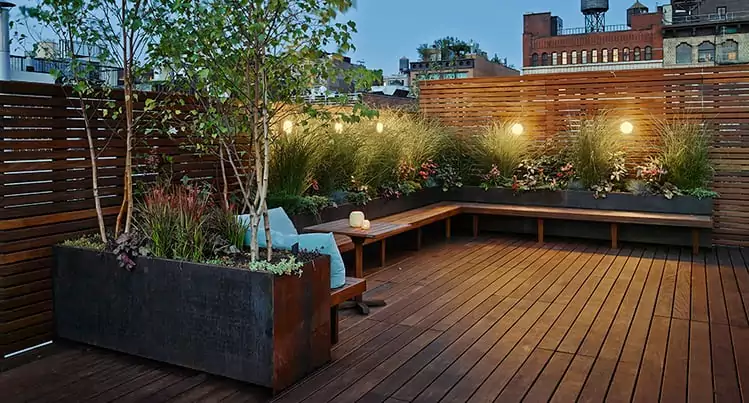 How to Select the Best Decking Material for your Deck Design
Written by
Chris Nolan
on
With so many decking material options, how do you decide what's best for you and your deck project design? Is deck material price your deciding factor? How about longevity? Or is it great looks? Long term performance? What about strength? Property value increase? Check out this informative article for more information.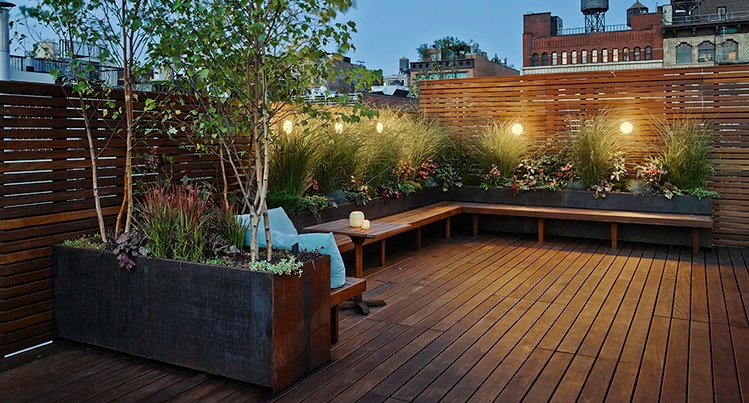 Before you get started, this article is an overview of your basic decking options to help you decide what the best decking material is for you. For a much deeper dive, we have a comprehensive publication called "The Ultimate Guide to Selecting the Right Decking Material". It was designed as an educational course for architects, has been very helpful and is packed with information about decking materials.
Download your own copy of the "Ultimate Guide to Selecting the Right Decking" today.
What are the Basic Decking Material Options
Decking materials are divided into two basic categories, synthetic decking, and real wood decking materials. Then there are some subcategories. Every decking material has its own pros and cons. Ultimately, it's your decision which decking material works best for you, and best meets your deck project design needs. Here's a list of the basic decking material options.
Synthetic Decking Material Options
Aluminum decking
Composite decking
"Capped" Composite decking
PVC and plastic decking
Wood Decking Material Options
Pressure treated decking (southern yellow pine, fir)
Softwood decking (cedar, redwood, fir)
Thermally modified decking (ash, hemlock)
Hardwood decking ('Philippine' mahoganies)
High-Density hardwood decking (Ipe, Cumaru, Machiche, Garapa, Jatoba)
What are the Pros and Cons of Synthetic Decking Material?
Pros and Cons of Aluminum Decking
Aluminum decking is a sturdy decking material option to consider. Lots of monochromatic colors to choose from with various non slip finishes.

Pros- strong, long-lasting, fire resistant and is available in many colors. Won't rot or decay. Easy to clean.
Cons- Aluminum decking is very expensive, can be noisy, and can scratch easily. Looks industrial. can get very slippery when icy.
Pros and Cons of Composite Decking
Composite decking is a mixture of wood flour (finely pulverized wood) and plastic.

Pros- Available in several neutral color tones, lower-medium priced
Cons- Can fade, retains mold, can deteriorate, and rot. Can "ugly out" quickly. Scratches, gouges, and burns cannot be sanded out. Limited strength, no structural integrity. Manufacturer's advertising can sometimes be confusing, pay close attention to what you are actually buying.


Pros and Cons of Capped Composite Decking
Capped composite decking attempts to cover the composite filler to minimize the potential for rot, decay and decking failure. Some capped materials are better than others. Pay attention to the thickness of the cap material and see if the PVC coating covers the grooves.

Pros- Protects the composite material better, medium to higher priced, color options, more fade resistant than composite decking. Easy to clean.
Cons- Susceptible to rot at the ends of the deck boards, and at any penetrations (screw holes, edges). Limited strength, no structural integrity. Pregrooved material is better but very expensive.
Pros and Cons of PVC and Plastic Decking
PVC and plastic decking materials were developed to eliminate the failure problems often found with the older composite decking materials. They have had some success, but PVC decking has its own set of strengths and weaknesses.

Pros- Looks nice, available in many colors and some simulated wood grain patterns, resists fading, resistant to mold and decay. Easy to clean.
Cons- Expensive, expands and contracts with heat and cold, can scratch and abrade easily. Burns, scratches and gouges can't be sanded out. Limited strength, no structural integrity. Tend to sag.
---
Want to learn more about decking material options?
Download the "Ultimate Guide to Selecting the Right Decking" today.
---
What are the Pros and Cons of Real Wood Decking Materials?
Ready for a 'wow' moment? We performed a real world aging test of all the best wood decking species at the time. Some wood decking species performed better than others. Check out how the various wood decking materials performed after 15 years of punishment in this 3 minute video.
Pros and Cons of Pressure Treated Wood Decking (Softwood)
Pressure treated softwood lumber is an excellent deck framing material. It's also the lowest cost decking material option. Pressure treated southern yellow pine decking has some strengths and weaknesses.

Pros – very strong, long-lasting, can be painted or stained to match your color scheme, lowest price decking material option. Is an excellent deck framing lumber component...decking not so much.
Cons – Can warp, twist, split, check, and crack easily. Must be repainted or re-stained to keep its good looks.
Pros and Cons of Western Red Cedar Decking (Softwood)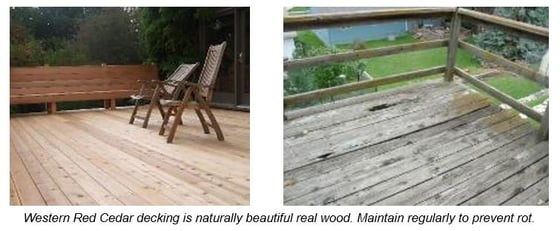 Pros – Beautiful, real wood decking, may be painted or stained, medium priced on lower grade material. Scratches can be sanded out.
Cons – Softer wood, should be re-painted or re-stained to maintain its good looks, tends to rot if not refinished regularly. Higher grades are harder to find and very expensive.
Thermally Modified Wood Decking
Thermally modified wood decking begins as a standard kiln dried wood product. The wood is then steam heated at high temperatures to 'cook' the sugars out. After the process is complete, the thermally modified wood decking becomes very stable (minimal expansion and contraction). And because the sugars are removed, becomes very rot and insect resistant.

Pros – Beautiful, real wood decking, thermal modification makes the wood very stable and rot resistant, may be painted or stained, scratches can be sanded out. Medium priced.
Cons – More brittle than hardwood decking, should be refinished as needed, unless a silvery gray patina is desirable.
RELATED: Thermally Modified Wood Decking info
RELATED: Thermally Modified Wood Decking Project galleries
Pros and Cons of Philippine "Mahogany" Decking
Philippine 'mahogany' is a general term that refers to over 40 Shorea subspecies that are not true mahoganies at all. Some of the subspecies are more or less durable than others. They work best for porch flooring in covered spaces to perform best. Regardless of the subspecies, they will need to be refinished and maintained regularly to prevent rot, decay, and failure.

Pros – Gorgeous, can be stained or painted, excellent for porch flooring and three season rooms. Medium priced for lower grade subspecies.
Cons – lower grades are not very durable, can rot and must be refinished to maintain good looks. Higher grade subspecies are moderately durable and expensive.
Pros and Cons of High Density Hardwood Decking (Ipe, Machiche, Cumaru, Garapa)
High density hardwood decking is sustainably harvested and available in many tropical species that are stunningly beautiful, highly durable, very hard, and exceptionally strong. These are among the longest lasting affordable wood decking species on earth.

Pros – naturally beautiful, incredibly strong, highly resistant to decay, rot, and insects. Extremely hard to scratch, gouge or burn. Several species can last 40 years and longer. Lowest life-cycle cost decking material. Can be oil finished for added beauty. Medium priced.
Cons – harder to install (unless using pre-grooved decking). Can be refinished unless you would like the material to silver out. Some species are higher priced.
RELATED: Hardwood Decking Options
RELATED: Hardwood Decking Project Galleries
How Much Does Decking Material Cost?
When looking at the initial decking material price alone, be careful. Some of the lowest priced decking materials don't last very long. Others may be usable but may 'ugly out' quickly. Here's a snapshot of current decking material prices, per square foot for easier price comparisons.
Additional Information about Decking Prices
It's also important to put the price of the decking material into perspective. The decking material itself is only one part of a new deck project. When you add the cost of the deck frame, railings, stairs, labor, building permits, the decking itself is usually less than one third of the entire deck project cost. Here's a comparison chart of total deck pricing including all materials, railings and labor costs for a typical sized deck.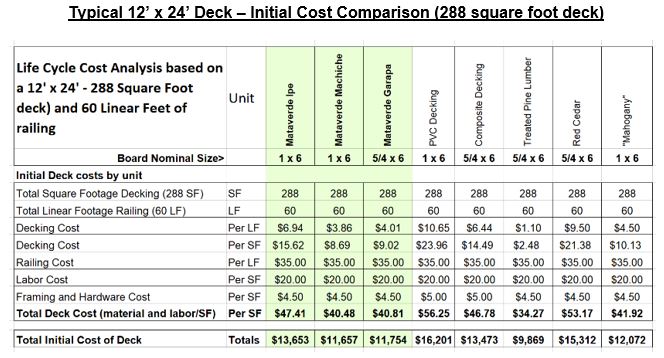 Always check with local suppliers and contractors in your area for current pricing and availability.
How Long Will Different Decking Materials Last?
How long a decking material will last is a great question. If a decking board becomes structurally unsound, it's an easy decision. The deck board (or all of them) will need to be replaced. Any decking that has rotted, decayed, decomposed, has severe splits or other problems is a safety concern that demands an immediate response.
On the other hand, sometimes the usable lifespan of various decking materials is totally your call. For example, if a deck board starts to 'ugly out', it may be structurally sound, and you don't need to replace it. But you might want to replace it anyway.
Nobody sees the deck joists, posts and deck framing. But everybody sees the decking. It's the face of your deck. If your decking has gotten ratty looking, it's a personal choice how long you can stand to look at it. Some decking will last longer and look better with regular maintenance.
Here's a chart with the average expected usable lifespan of various decking material options. These may vary by location, usage, and the amount of care and maintenance you want to participate in.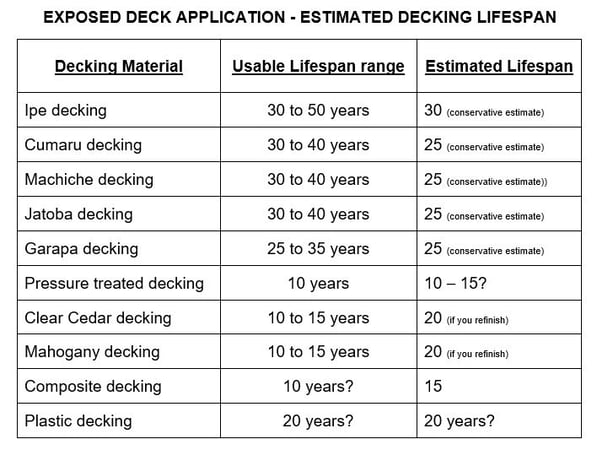 Does a Deck Add Value to a Home or Property?
Absolutely. Year after year, a backyard deck is considered the best return on investment of any major home repair or remodeling project. Decks add real cash value to your home or property. Typically, the nicer the deck, the better the resale value. And the real beauty is, that you get to enjoy your deck before cashing in when you sell your home.
Above and beyond the resale value of your home, a luxurious deck can be a major factor in the sale of your home. Can potential buyers see themselves sitting, dining, enjoying, and relaxing on your deck? Does your deck capture their hearts? If so, your deck is a gift that can be passed on to others.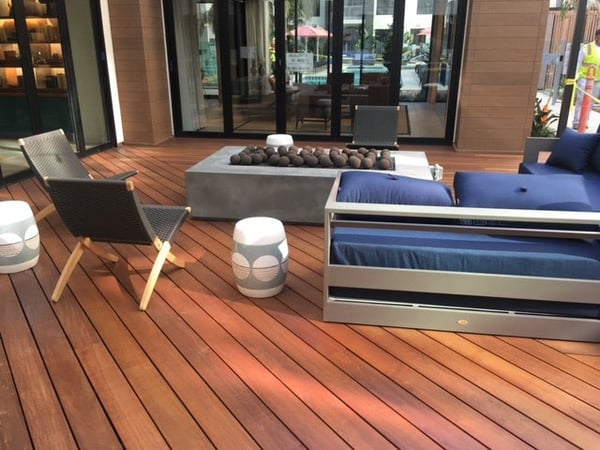 In many areas of the country, an Ipe hardwood deck is a major selling feature for a home. It's often listed and highlighted as a benefit in real estate appraisals and advertisements. Your choice of a decking material matters, not just to you, but to others, too. It's the face of your deck. Why not make it smile? Choose your decking material wisely and make the best decision for you.
---
Want to learn more about decking material options?
Download the "Ultimate Guide to Selecting the Right Decking" today.
---
Need a little inspiration for your new deck design?
Download the 60 page "Deck Design Ideas Portfolio" with other 150 deck ideas today.
Related Posts